Hampton + Hudson

| Mia Yakel
Hampton + Hudson

| Mia Yakel
Let's face it. Us ATLiens spend a lot of time in the bars. And usually our time is divided between watching the Dirty Birds raise our hopes up so high we think this could actually be the year... or watching the Dirty Birds let us down, yet again. But sometimes, we don't care about football at all and would rather sip on a damn fine beer and eat a damn fine meal. For the times when you want the latter and don't feel like snacking on pretzels and cheese puffs (though there's nothing wrong with that), we've curated a list of the best bar snacks in the ATL and where to find them.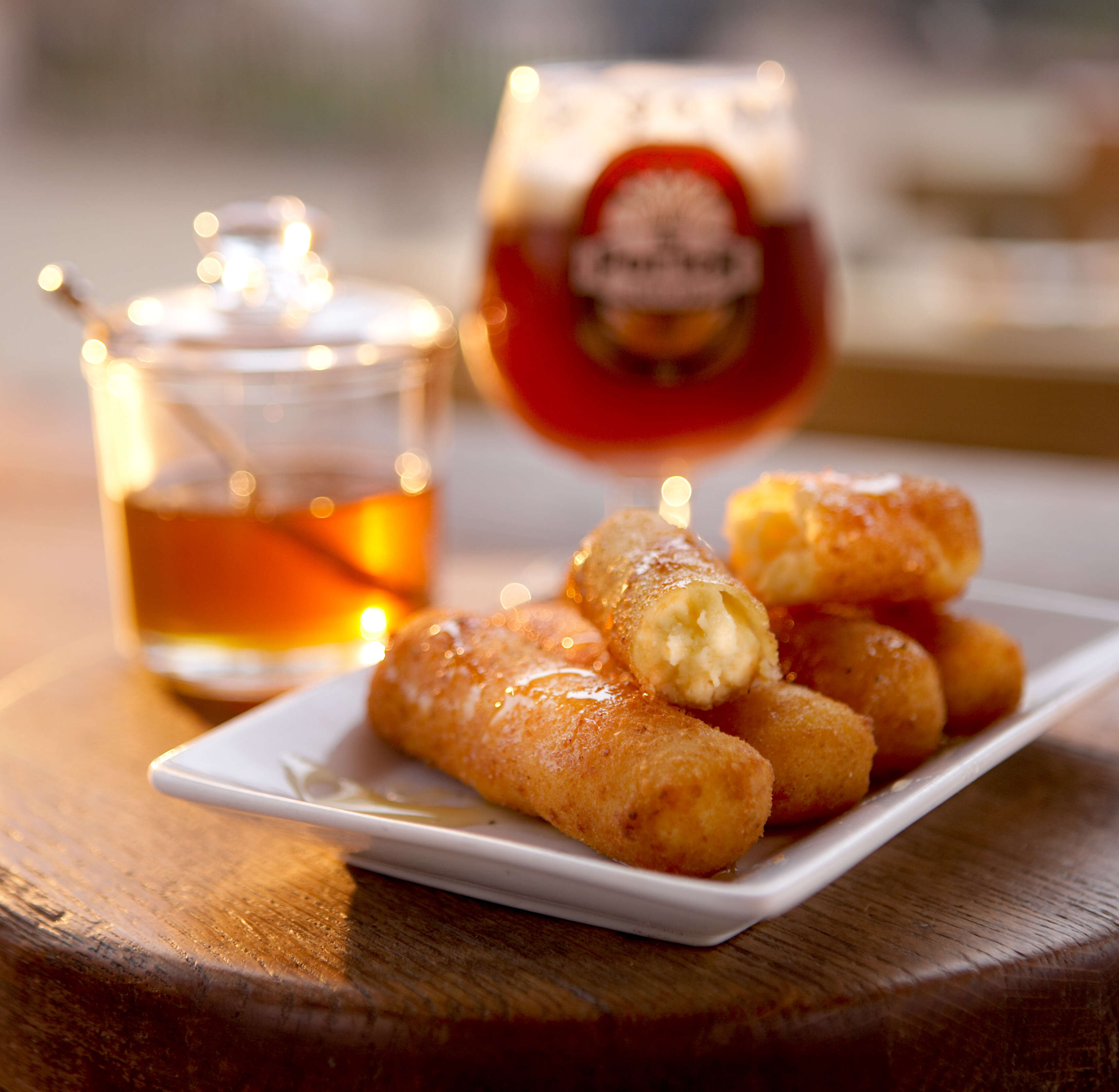 Goat cheese fritters
Little Five Points
The fanciest piece of fried cheese you'll ever encounter. It's ostensibly a very gooey take on the mozzarella stick topped with what is probably the fanciest honey you'll ever encounter. And you'll need to pair it with a whiskey. The list here is extensive and expertly curated.
BBQ egg rolls
Midtown
BBQ pork and collard greens: the makings of a great Sunday cookout. But you can do even better. Wrap it all up in an egg roll, deep-fry it, top it with Sriracha ranch sauce and mustard BBQ... and then order up another round.
Pomme frites with two dipping sauces
Decatur
The pomme frites at this Decatur spot come with two dipping sauces... and you'll have a total of 12 to choose from that run the gamut of flavors like massaman curry, mango-peppadew catsup, and pepper gravy. But our favorites have to be the garlic aioli and goat cheese fondue.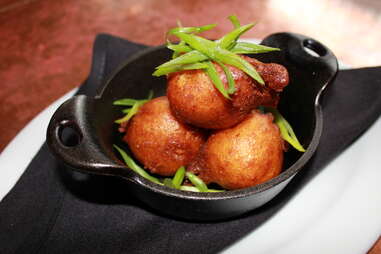 Pimento cheese and corn fritters
West Midtown
These cheesy, crunchy $6 fried balls of dough are an absolute crowd favorite at Ormsby's. Pop 'em in before a competitive game of bocce ball (Ormsby's has an indoor league), while cheering on your favorite team (the Falcons, duh), or after beating your friends at any one of Ormsby's many board games.
White Cheddar fondue
Little Five Points
You know how some places serve soft pretzels with a side of cheese dip? Well, this is a mixture of Vermont Cheddar, fontina, and Gruyere cheeses. All melted together with a side of Bavarian pretzel. Add an extra pretzel for $3 more.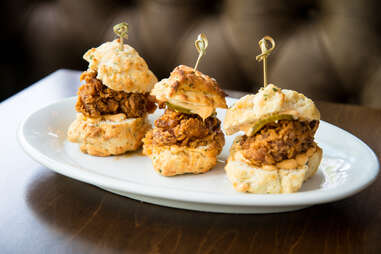 Chicken biscuit sliders
Inman Park
Here's what we've got here: hot fried chicken, buttermilk tabasco aioli, and pickles on a fresh, fall herb biscuit. These magnificent sliders come three to a plate and are served all week long. If you're really hungry, grab an order of Hangover Fries which are served covered in pork verde chili, cheese curds, and an egg on top.
Smoked wings
Old Fourth Ward
Don't let the dive bar vibe fool you -- the food at The Local is impressive, and not just by dive standards. Their wings may just be the best wings in Atlanta. They're initially smoked and then flash-fried, making them deliciously crispy and fall-off-the-bone at the same time.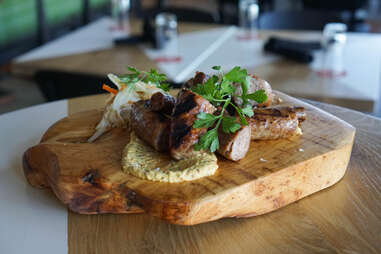 A board o' sausages
Ponce City Market
At rooftop restaurant Nine Mile, you can get an entire board of bratwurst, kielbasa, and merguez (a Tunisian beef sausage). The meat plate comes with sauerkraut and beer mustard and is meant to share... whilst admiring the Atlanta skyline. And be sure to check out/admire their beer list, with heavy hitters like Creature Comforts' Athena Paradiso, Founder's Green Zebra, and Cigar City's gose all gracing the lineup.
Maine mussels and andouille
Buckhead
These steamed mussels offer a little bit of a kick, thanks to the chunks of andouille sausage and charred jalapeño. But you can balance out the heat by sopping up the delicious white wine fennel butter broth with a grilled baguette... and wine. Don't forget to try the wine.
Sign up here for our daily Atlanta email and be the first to get all the food/drink/fun the ATL has to offer.