You can't go to a Falcon's game every night, and it's not like you'd ever go see the Hawks play (yup, the NBA season's about to start... again), so it's safe to say you'll probably spend a lot of nights out drinking... and, if you're lucky, chasing said drinks with the city's best bar snacks.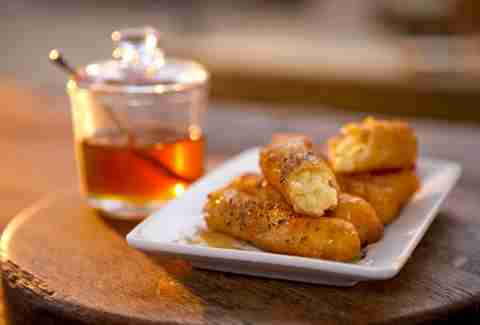 Best Sweetness: Goat Cheese Fritters
The Porter, Little Five Points
The fanciest piece of fried cheese you'll ever encounter -- a gooey take on the mozzarella stick -- topped with what is probably the fanciest honey you'll ever encounter, which presumably looks even better than she did when she got all dressed up to go out with Michael and met Ginuwine.
Best Ring of Fire: Fire & Spice Onion Rings
Max Lager's, Downtown
Fresh-cut onion rings with house beer batter are great, but fresh-cut onion rings with house beer batter that's spiced with jalapeños are... um, something even better than that.
Most Exclusive Meat: Holeman Burger
Holeman & Finch, South Buckhead
The undeniable awesomeness of this double-patty'd thing of beauty is partly owed to the fact there're only 24 available each night at 10p on the dot. Oh, but you can get unlimited stacks during brunch on Sundays.
Best Southern Food-sion: BBQ Egg Rolls
Cypress Street Pint & Plate, Midtown
BBQ pork and collard greens. Sounds like a great Sunday cookout. You can do even better. Wrap it in an egg roll, deep fry, top it with Sriracha ranch sauce, and that's your church right there.
Best Use of Seafood: Jumbo Lump Crab Mac 'n' Cheese
P'Cheen, Inman Park
In an apparent attempt to make you jumbo, the crew at P'Cheen has taken some already perfectly awesome mac 'n' cheese, and then added heaps of delicious crab meat.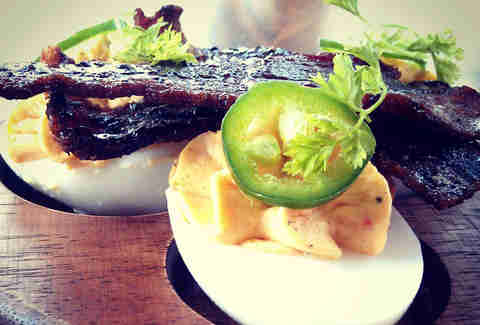 Most-Desired at a Picnic: Deviled Duck Eggs with Candied Bacon
TAP, Midtown
Topped with what is probably the best combination of candy and bacon since John and Kevin (briefly) appeared together in Planes, Trains & Automobiles, these Deviled Duck Eggs also get a kick from fresh jalapeño.
Freshest Fritter: Pimento Cheese and Corn Fritters
Ormsby's, West Midtown
No one knows what's in pimento cheese, or what the Hawks did in the offseason to make up for loosing Josh Smith, but no one'll care about the former after popping one of these crunchy fritters into their mouth.