If there's one thing you've gotta do this fall, it's... well, these 20 things... and start packing on the pounds for winter, but don't worry, we've rounded up the five most delicious new bar snacks in the ATL so you can get started right away.
Homemade Pizza Rolls
Joystick Gamebar (address and info)
Old Fourth Ward
Bad Dog Taqueria has set up residency in Joystick's kitchen so you'll have the tastiest morsels to eat while guiding Ms. Pac-Man toward her... um, significantly less tasty white dots. The best option? Pepperoni and mozzarella deep-fried in a crunchy wrap and dunked in a bold house marinara. Pro tip: get 'em with a side of boniato (white sweet potato) fries with habanero ketchup & Jack 'n Coke mayo. That's the power-up you needed.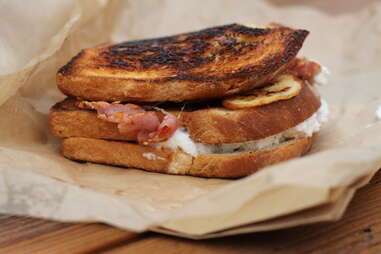 Fluffernutter
Ladybird Grove & Mess Hall (address and info)
Old Fourth Ward
Forget the campfire, sit beside the BeltLine, grab a smoky cocktail, and dig into grilled white bread, slathered in hazelnut butter, marshmallow crème, and layered with banana chips and bacon. As a bonus, your sticky fingers will help you grip your drink glass much better.
Fried okra
Wahoo! Grill (address and info)
Decatur
You're not eating Southern food unless you insist that all your vegetables are deep-fried... as well as these crispy green (and healthy?) pieces of okra that're paired with a horseradish remoulade to fancy things up. The chef even recommends a delicious Chardonnay wine pairing. Yeah, you fancy now.
Boss Hog
Villains Wicked Heroes (address and info)
Midtown
This pile of Southern gooeyness, which involves shoestring fries, ranch, and "pork scraps" (all drenched in hot pimento cheese) is so good even the Duke boys would eat 'em.
Catfish Brandade
The Luminary (address and info)
Inman Park
These French hush puppies are probably what Louis the 14th would eat... if he lived in the ATL. They start with catfish and potatoes, are served with aioli and giardiniera for flavor, and probably go pretty well with Champagne. But since you're at a bar, you can find that out for yourself.

Sign up here for our daily Atlanta email and be the first to get all the food/drink/fun the ATL has to offer.