Atlanta's Best Bars for Absurdly Cheap Food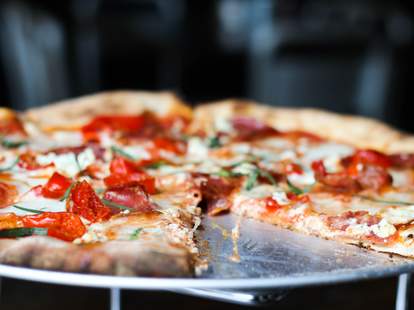 Like King of Pops and a hot summer day, some things are meant for each other -- and that includes good drinks and good food. But just because you're trying to pinch pennies doesn't mean you have to settle on a late-night Taco Bell run. Luckily, plenty of bars in the city are serving wallet-friendly menu items that are anything but boring bar fare. From wood-fired pizza to brisket tacos that cost less than a few hours of parking at Ponce City Market, here's where to get the most delicious bar food -- on the cheap -- in ATL.
East Atlanta Village
The deal: Free pizza if you buy two draft beers after 11pm
Unlike some of the more dive bar-type spots in EAV, this gastropub is equally great for grabbing pre-Earl show grub as it is for a date night or dinner with parents. Even better (and it does get better), if you order a pair of draft beers between 11pm and 2am any night of the week, you'll get a free 10in cheese pizza with it. This ain't no freezer-aisle pizza either -- Argosy's signature pies are made in an open wood-fired oven.
Virginia-Highland
The deal: $1 draft PBRs and $1 fish tacos on Sundays
This Shaun Doty joint is all about a good weekly special, from $2 burgers on Tuesdays to $5 fish & chips on Fridays. But for those looking to save big on food and fare, the dollar PBR & fish tacos Sunday special simply cannot be beat. Add in a seat on their sizable patio on a warm summer night, and you've got yourself a damn good time for less than $5.
Edgewood
The deal: $2 tacos, Tecate, and tequila shots on Tuesdays
While this Edgewood Avenue bar has been mostly infiltrated by the Buckhead crowd on weekends, it's still a solid weeknight spot. Case in point: Tuesdays means you can snag a can of Tecate, a shot of tequila, and one of the fresh-made tacos -- choose from catfish, brisket, tofu, or lamb -- for just two bucks each.
Righteous Room

| Jon Whittaker/Courtesy of the Righteous Room
Poncey-Highland
The deal: $7 veggie chili cheese wedges
If you play your cards right, the most money you'll spend at this place will be for songs on the jukebox. While the "munchies" menu includes appealing beer pairings like battered onion straws, hot dogs, and jumbo chicken wings, we recommend going all in on the veggie chili cheese wedges -- potato wedges drenched in melted cheese and topped with RR's meat-free chili.
Cabbagetown
The deal: $7 burritos everyday
While Estoria's known for its rowdy late-night scene, it's also a downright delightful place for sliding into a booth at brunch or enjoying dinner on the sizable patio. Plus, the grub here will never disappoint: the grilled pimento-cheese sandwich is messy (in the absolute best way), the B.L.T. with goat cheese-stuffed green tomatoes is on a whole nother level, and the burritos (braised beef brisket, jerk chicken, Thai peanut tofu, and spicy crunchy pork roll varieties) will fill you up for the price of a house cocktail at most bars.
Old Fourth Ward
The deal: $3 hot dogs, tacos, and sliders everyday
There's not much info out there about this neighborhood bar. Basically, if you know, then you go. With minimal lighting and a vibe that's not quite dive but not quite sports, this spot attracts a diverse crowd of ATLiens. After a menu update that came around the same time it slapped a "no smoking" sign on the door (finally), patrons can now chow down on a variety of bar eats, like the saison-style hot dog topped with chili-ginger mayo, carrots, daikon pickles, jalapeños, and cilantro, or a Hong Kong pulled pork slider with mu-shu plum BBQ sauce and shredded cabbage. Order up.
East Atlanta Village
The deal: $3 Nashville hot chicken sliders after 11pm
Monday through Saturday, you can pop into this indoor/outdoor bar after 11pm and get busy with its late-night menu. The sliders -- including the Nashville hot chicken slider with pickles, the Sloppy Jose slider with chorizo and white cheddar, or the Carolina pulled pork slider with house slaw -- are so cheap that you can fill up on three for less than a Hamilton.
East Atlanta Village
The deal: $9 Irish nachos (aka tot-chos) every day
You may think this EAV bar/music venue would settle on offering up generic bar food, but you'd be oh-so-wrong. Check its Twitter page to find out what special the kitchen's churning out each day, or go for inventive options like the guacamole burger, perfectly salty boiled peanuts, catfish po-boy, or Irish nachos -- aka its signature Earl nachos, with tater tots instead of chips.

Sign up here for our daily Atlanta email and be the first to get all the food/drink/fun the ATL has to offer.
Caroline Cox is a writer, editor, content marketing specialist, and bar-food connoisseur in Atlanta, Georgia. Follow her on Twitter and Instagram at @carolinecox.