The first time Steve Hartsock, owner of Socks' Love Barbecue in Cumming, had brisket was at Fox Bros Bar B-Q a little over 10 years ago. "I was introduced to a whole new style, a whole new realm of barbecue," he says. "I didn't really get to experience brisket or anything much outside of pork until I moved to Atlanta [from Columbus, Georgia]."
Before twin brothers Jonathan and Justin Fox opened their Candler Park location in 2007, barbecue in Atlanta was pretty pork-driven. "When we first opened, pork was the main seller," says Jonathan Fox, one half of the Fox Bros. duo. "We hardly sold any brisket, and, I would say, within the last five or six years, brisket has finally surpassed pork as our number-one seller."
Fox recalls that barbecue institutions like Fat Matt's and Sprayberry's Barbecue in Newnan reigned supreme, and when Fox Bros. first opened, people were confused by their methods. "It took a while for it to take off, but after some sticking to our guns and doing what we do, we finally got around to winning over the masses," says Fox. Now people wait hours to feast on smoked meats, including brisket, and other Texas-inspired treats like Frito pie and, on certain days, chicken-fried steak.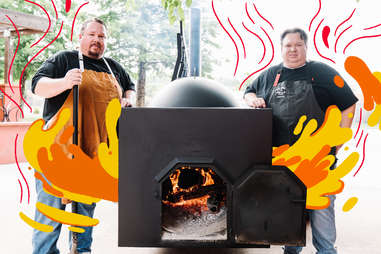 While the Fox brothers paved the way for Texa-fied barbecue in Atlanta, there are still purely Southern barbecue options around. Anna Phelps opened her restaurant, Anna's BBQ, in 2013 in the Kirkwood neighborhood. "When I opened it, I didn't know of a good barbecue place, to be honest. I didn't know of a good one, until I got on the scene," she laughs.
"From what I hear, a lot of people try to do the Memphis-style barbecue. I'm just strictly Southern because this is where I'm from and that's what I grew up eating. I'm strictly Southern with my vegetables and my meat," says Phelps who cooks her brisket overnight for 12 hours and then uses chicken scraps to make her collard greens. "We pick our collard greens every other day. We have fresh greens and fresh green beans. I think it's different from a lot of places because I know a lot of places do use canned greens," she says. She also uses a special house-made rub, but, "of course I can't tell you what's in it."
Today, Hartsock describes Atlanta's barbecue scene as eclectic. From the sausage and beef ribs to turkey ribs to brisket injected with miso, there's a barbecue style for everyone. Here's where to get some 'cue around Atlanta.
East Lake
The brainchild of Todd Richards and Josh Lee, Lake & Oak has a laid back, welcoming vibe in addition to plenty of smoked meats. Popular options on the menu include rib tips, smoked wings, and the pulled pork sandwich. There are plenty of beers to cool down with, too, which is especially great if you're sitting on their patio.
How to order: Dine in, takeout (order online)
Cumming
The brainchild of Steve Hartsock, Socks' Love is a bit OTP in Cumming, but worth the drive. The restaurant is currently open for takeout and serves up a mix of Hartsock's favorite things. In addition to brisket, you'll find smoked sausage, turkey, and pulled pork. Don't forget the sides! The "OMG" macaroni and cheese is made with rigatoni noodles that soak up the cheesy sauce. The one thing you won't find on the menu? Brunswick stew. He's had people get mad at him for not having it on the menu, but, he says, "I didn't like it [growing up]. I would tolerate it, but I wouldn't ever order it. So, if I had the opportunity to put it on my menu, I didn't care to."
How to order: Takeout only
Kirkwood
Anna Phelps took the plunge to become a Black woman pitmaster in 2013 without any prior professional cooking experience. Now, her restaurant has hours-long waits so people can chow down on brisket, turkey ribs, and pulled pork. Don't forget an order of the macaroni and cheese. The casual space offers some indoor seating but there's also a patio out front with plenty of outdoor seating, too.
How to order: Patio seating only, walk-up or order online
Summerhill
Opening a barbecue restaurant after running a southernized Jewish deli may not seem like the logical next step, but, for Todd Ginsburg, it was. "I talked to Todd a lot when he was getting into barbecue and trying to figure out how and what to cook on, give him suggestions," says Fox. "He's got great sides and they're doing a great focus on different meats and stuff like that." At the Summerhill restaurant, Ginsburg uses wood smokers to produce tender chopped beef, jalapeño cheddar sausage, and smoked chicken. On Sundays, you can purchase hot smoked salmon which is incredibly tender and definitely not something you find at most barbecue restaurants in Atlanta. You can't go wrong when it comes to the creative sides, but the beet and jalapeño slaw is a standout.
How to order: Dine in, takeout, outdoor seating available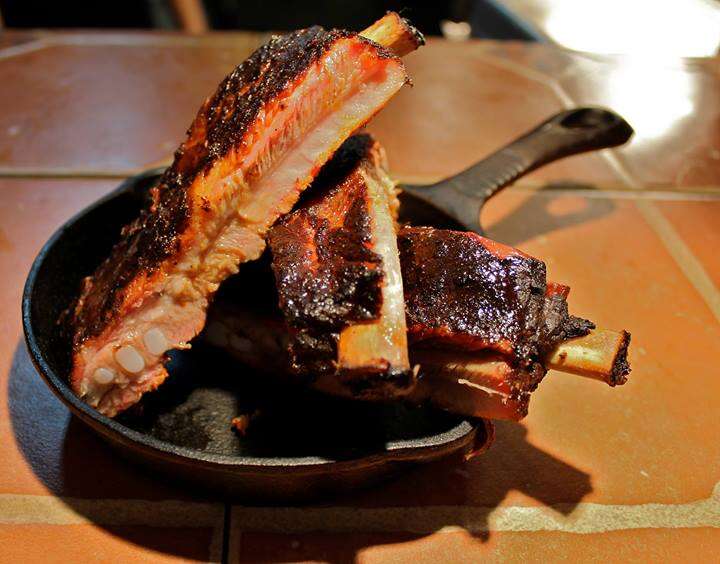 Cumberland
There's barely any seating at Heirloom Market, found in the Cumberland area adjacent to a nondescript convenience store, but that doesn't stop throngs of people from lining up outside the restaurant. "When you go out to eat barbecue and want something different: Heirloom," says Fox "Cody and his wife are doing a great job at creating diversity in barbecue."
The creation of husband and wife chefs Cody Taylor and Jiyeon Lee (the latter was a pop star in a former life), Heirloom Market features smoked meats with a Korean twist. The smoked brisket is injected with miso, the pulled chicken is marinated in gochujang sauce, and the pork is spicy Korean-style. Besides the meats are the drool-worthy sides like the macaroni and cheese punched up with kimchi, fried sweet potatoes tossed in a soy-ginger sauce, and kimchi coleslaw. Don't overlook the fried chicken, either, available on Tuesdays.
How to order: Takeout only, order online
Morningside
When Hartsock thinks of comfort food, he thinks of ribs that fall off the bone. "I almost don't want to say fall off the bone, because a lot of people don't really shoot for that. I mean, there's a fine line between fall off the bone and overdone, and I think Fat Matt's nails it," says Hartsock. The barbecue joint in Morningside has been open since 1990 and is an Atlanta institution. There are zero frills, but the energy is high especially in non-pandemic times with a full slate of blues performers. Make sure to get the ribs. They're currently open for takeout.
How to order: Dine in or order takeout (404-607-1622)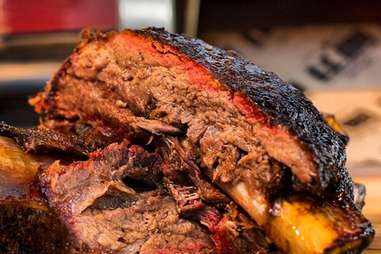 Multiple locations
Grand Champion started in Roswell and now has two other locations (with a third on the way) in the Atlanta area. The Hog Father sandwich is a delight with 14-hour smoked pork, slaw, and North Carolina sauce and the beef short rib plate (available on Friday and Saturday only) is great if you're feeling extra carnivorous. Most importantly, though, don't leave without a side of the macaroni and cheese. "When I tried theirs, it just changed my whole attitude towards homemade mac and cheese," says Hartsock. "I still, to this day, don't know exactly how they do it. And I haven't had it in a long time, but those guys, if I went there today, I would get a pint of it, and try my best to eat it all."
How to order: Takeout
Candler Park
The original location is in Candler Park, but they have a forthcoming spot opening on the Upper Westside soon. The Candler Park location is reopening its dining room on June 1. Obviously, the brisket is legendary, as are the many ways you can get it. Try the brisket "burger," brisket topped with bacon, pickles, onion, melted pimento cheese, and jalapeño mayo on a brioche bun, or the plate served with two sides (one of those sides better be the Fox-a-roni, a hearty combo of mac and cheese and Brunswick stew). Hartsock especially loves their wings which are smoked and available in quantities of six, 12, and 24.
How to order: Dine in or takeout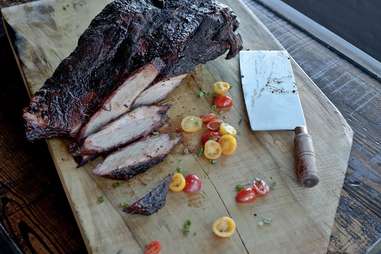 Poncey-Highland
Asian-influenced barbecue is a delicious combination at this Poncey-Highland eatery. Siblings Howard and Anita Hsu grew up in the restaurant industry and know how to make bellies happy with creative dishes like coconut lemongrass wings, barbecue nachos topped with pulled pork, charred corn, and queso fresco, and pimento cheese wontons served with a Thai chili sauce. When it comes to meats, you can't go wrong with the Curb Market spare ribs (in Wu Tang sauce) or the house-smoked brisket.
How to order: Dine in or takeout
Kirkwood
Phelps doesn't go out for barbecue often ("I smell barbecue all day, every day, I really don't want it right now." But, she does occasionally go for the carnivorous offerings at Sgt. Wyatt's, located off Memorial Drive in Kirkwood. The building looks like a shack, and there's no seating, but that doesn't keep people from flocking to the spot for ribs, pig's ear sandwiches, and sides like candied yams and cornbread.
How to order: Takeout only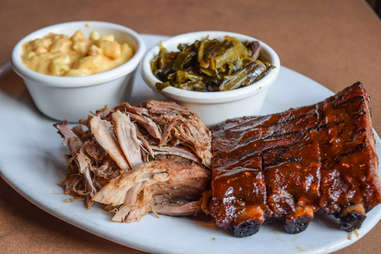 Virginia-Highland
D.B.A., one of Fox's go-tos, is found in Virginia-Highland. The menu offers classic St. Louis ribs, brisket, and pulled chicken. The real treats, though, are the creative sandwiches. If you're looking to load up, try the Archie Bunker with smoked pulled pork topped with macaroni and cheese, barbecue sauce, and cheddar on Texas Toast.
How to order: Dine in or takeout
Lia Picard is an Atlanta-based journalist writing about food, travel, and a variety of other topics. Her work has appeared in The Washington Post, Bon Appetit, and CNN Travel.