After a night of making some seriously bad decisions, starting your day with one of Atlanta's best boozy brunch deals (bottomless Bloody Marys, anyone?) might not be a good decision. Instead, you might be better off inhaling one of the ATL's 10 most important AM-eat items. Now if only someone had assembled a list like that...
Comfy Chicken Biscuit
Home Grown (address and info)
Reynoldstown
The East side's best breakfast spot feeds you with fresh veggies grown from their own gardens and meat from... um, all around Georgia. Their open-faced biscuit with insanely crispy and juicy fried chicken drowned in an amazing sausage gravy is a must-have.
French toast
Highland Bakery (address and info)
Old Fourth Ward
This local legend has one of the richest and deepest breakfast menus in the game, but the standout is the French toast with monstrously thick slices of challah that are covered with seasonal fruits, French cream, brown sugar, and all the syrup you can handle.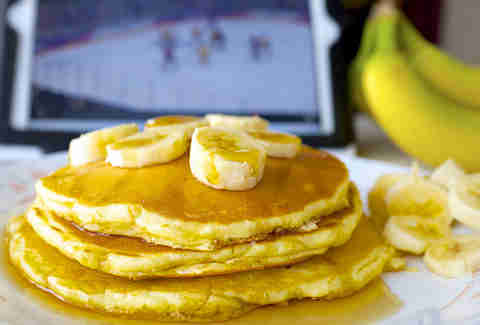 Caramelized banana pancakes
Ria's Bluebird (address and info)
Grant Park
The New York Times calling them the "world's best pancakes" is the main reason Ria's little parking lot on Memorial is so packed with cars that belong to people packing their not-so-little midsections with golden flapjacks topped with things like pecans, bananas, and chocolate chips.
Biscuits with cranberry apple butter
The Flying Biscuit Cafe (address and info)
Midtown
Atlanta's most iconic side dish is perfect for any mood you find yourself in. Hungry? Check. Happy? Check. Making awkward small talk on a Sunday morning after making a "new friend" last night? Definitely check.
Bagel with lox & capers
Goldberg's Bagel Company & Deli (address and info)
Northside
It combines this classic NYC breakfast sandwich with a touch of the Southern flavor, which makes it obvious why Goldberg's is Atlanta's best bagel spot: it's got the bagel game on... sorry'boutthis!... lox.
Challah French toast
Sun in My Belly (address and info)
Buckhead
Those in Buckhead needing thick, egg-caked sweetness can do no better than SIMB's toast du France, which is split in two and stuffed with fresh fruit.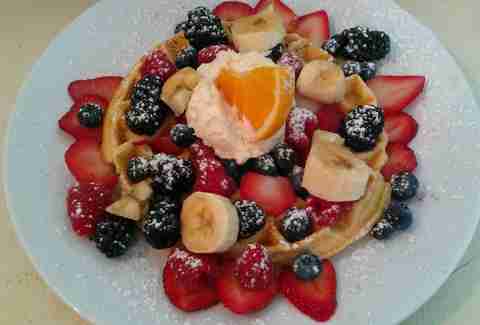 Joy's Big Berry Belgian Waffle
Joy Cafe (address and info)
Buckhead
That toasty brown slab of ridged batter can barely hold the stacks of fresh fruit and cream that threaten to ruin its very foundation. Fortunately, it'll hold at least until your eager fork plunges through its defenses, and it succumbs to the unstoppable forces of your appetite.
Skillet Country Ham
Silver Skillet (address and info)
Westside
This is the great-Granddaddy of Atlanta breakfast spots. Will Ferrell (as Ron Burgundy), Clint Eastwood, Dave Chappelle, and Guy Fieri are just a few who have graced its hallowed booths, where the signature dish is the country ham with eggs, and biscuits with their "red eye" gravy.
The egg sandwich
Le Petit Marche (address and info)
Kirkwood
Kirkwood has one great breakfast dish with many equally great options. Your bread, for example, can be almost anything, but go big with the croissant, cram it full of bacon or sausage, add cheese, and then stuff whatever else you want in the remaining space. It's your challenge to make it all fit.
Breakfast quesadilla
R. Thomas Deluxe Grill (address and info)
South Buckhead
South Buckhead's best 24-hour place (with the best talking parrots!) has all the standards, but the one signature that you need to consume is a little odd: it's the breakfast quesadilla, wich is the perfect combo of eggs, bacon, cheese, and a "healthy" dose of greens that taste anything but.
This list -- and all the rest -- look even sexier in our iPhone app. Get it now!