It's true, Atlanta's got some serious brunch game, but breakfast is more than just a little tomato juice and liquor plus a plate of eggs on a Sunday afternoon. So we rounded up the best places to grab a biscuit, some grits, waffles, fried chicken, and all your other AM favorites on a daily basis. Feast your eyes...
Cabbagetown
What you're getting: The Comfy Chicken Biscuit
This biscuit is as close to being made completely out of butter as is scientifically possible. On top is a locally farmed piece of fried chicken that's gleefully drowning in sausage gravy. Pro tip: snag a spot at the counter for frequent coffee refills.
Kirkwood
What you're getting: The challah French toast
Thicker-than-an-Atlanta stripper challah is egged and fried. Their honey-enriched ricotta cheese and whatever fresh, seasonal fruit they have on hand are almost too pretty to eat. But real beauty is on the inside, where it belongs.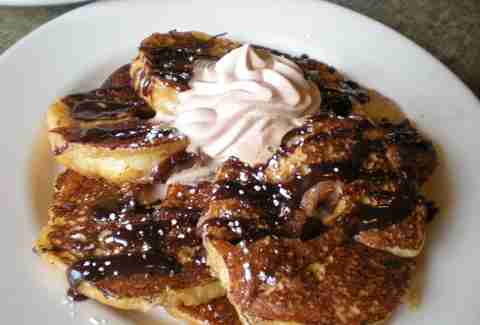 Candler Park
What you're getting: Buttermilk, buckwheat, or even gluten-free pancakes
Don't let the local-sourcing and veggie-consciousness make you think they don't roll rich and delicious. They soak these cakes in their strawberry-rhubarb sauce, whipped cream, and top them with seasonal-appropriate fruit.
Westside
What you're getting: The Southern Breakfast
Two battered and fried pork chops, two eggs, grits, gravy, and a biscuit prepare you for another ATL day like nothing else. There is a reason that every star from Eastwood to Ferrell eat here. It's good food and good people. What other reason do you need?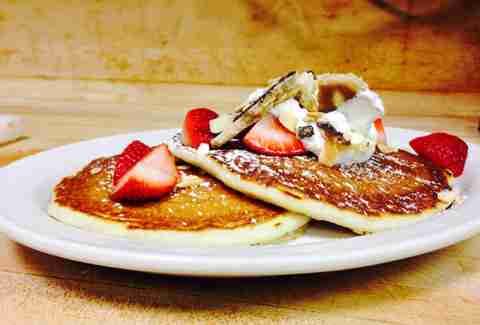 Grant Park
What you're getting: Buttermilk pancakes (with toasted Georgia pecans, caramelized bananas, and chocolate chips)
Ms. Pell's legacy is in each stack of these flat, round, delicious, sweet, and savory love-circles.
Multiple locations
What you're getting: The biscuits (obviously)
Besides being perfect with just some butter and their house apple jam, the biscuits are the perfect carrier for every other menu item. Stuff 'em with grits, sausage, steak, and bacon -- you're an adult. Heck, you can even get a Benedict on a biscuit. It incorporates a layer of pimento cheese, poached eggs, their infamous turkey bacon, and a gentle layer of hollandaise.
Westside
What you're getting: Fresh strawberries and cream
The delicious, fried puff is sliced down the middle, slathered with a fresh strawberry cream, and piled with fresh strawberries on top of that. Oh, it's dusted with powdered sugar, too. If you want something a little less delicate, eating one of Chef Kamal Grant stuffed donut sandwiches in the morning will show the boss who the real player in the office.
Buckhead
What you're getting: The pimento omelet and the day's special
Smoked bacon, pimento cheese, and red pepper jelly are always on the menu. But keep on eye on the specials board because the fried chicken biscuit pops up regularly, and the pancake specialties are worth the wait outside their white deck.
Multiple locations
What you're getting: The garlic bagel and lox
Freshly boiled bagels are still done with the original Jewish-Grandmother recipe that has dominated Atlanta for over 40 years. Top it with tomato slices, fresh onion slices, a little leaf lettuce, capers, and buttery smoked salmon, and you just found the perfect breakfast sandwich.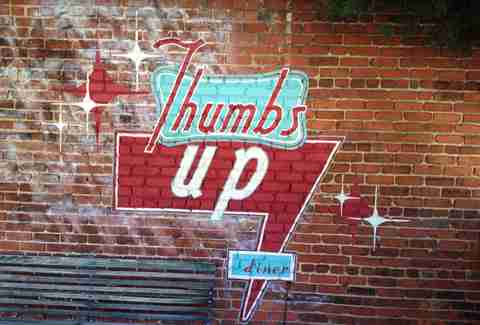 Multiple locations
What you're getting: Build-your-own breakfast plate
You're the architect, and your tools should include a few eggs (with cheese), grits (with cheese), two slices of ham, a pecan pancake, and a Belgian waffle (with pecans). You can throw in some fried catfish, too, if you're a real Southern gentleman.
Westside
What you're getting: The omelet
Fill their fluffy eggs with whatever your heart desires: Pecan-smoked bacon, ham, sausage, roast turkey, and a half dozen cheeses are appropriate choices. Keep your eyes on the specials though, because ingredients like crab and arugula find their way on there on a regular basis.

Everywhere
What you're getting: Actually, not waffles
You don't need us to tell you about the Waffle House, but ever since the first location opened in Avondale, the hash browns have been the king of breakfast in Atlanta. Anyone who's spent more than two 2ams at WH knows you smother, cover, and top them with onions, cheese, and chili. Peppers, tomatoes, ham, and mushrooms are all cherries on your fried potato sundae.

Sign up here for our daily Atlanta email and be the first to get all the food/drink/fun the ATL has to offer.