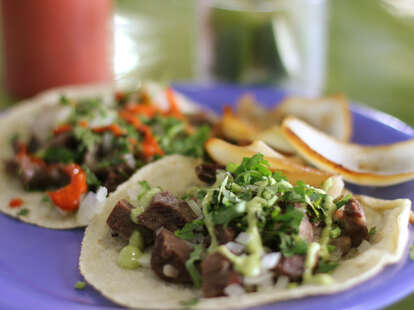 El Rey Del Taco

| Sebastian Davis/Thrillist
El Rey Del Taco

| Sebastian Davis/Thrillist
Spanning across roughly three miles and multiple counties from Atlanta proper to the suburbs of Buford, GA, Buford Highway is a multi-ethnic linear community that many consider to be the holy grail of ethnic food in metro Atlanta. This stretch of highway boasts impressive shopping centers and strip malls that are home to a variety of international cuisine, including Mexican, Bangladeshi, Korean, and Chinese. Originally attracting immigrants to the area due to all the construction surrounding the 1996 Olympics, Buford Hwy continues to be a go-to spot for communities of various nationalities. Fun fact: the neighborhood is home to the highest concentration of foreign-born residents in the U.S. If you are visiting and would like help deciding where to go for the best of the best international food and drink in Atlanta, you've come to the right spot.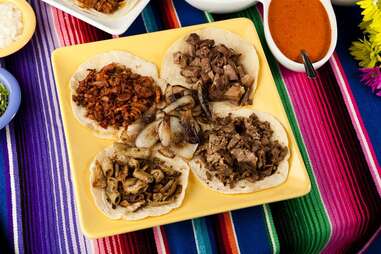 5288 Buford Hwy NE
El Rey del Taco has one of the best tacos in Atlanta and serves up Mexican fare -- including fresh, handmade tortillas -- on a late-night schedule (the restaurant is open until 5am). Some menu highlights include the pork belly quesadilla and the lengua taco. Wash it all down with a classic margarita or michelada.
4825 Buford Hwy NE
If it's dim sum you're after, Canton House offers traditional Cantonese cuisine that's a favorite of the local Chinese community. The Peking-style pork chop and steamed rice with Chinese sausage are not to be missed, and neither are any varieties of Chinese hot pot (seafood bean curd and black mussel with garlic and black pepper are two spectacular choices).
4005 Buford Hwy NE
A combination plate featuring pho and a half banh mi, a buy-five-get-one-free banh mi takeout special, and fresh French bread every day are only a few of the reasons to check out this popular and inexpensive Vietnamese spot. It's also the best banh mi you'll find in the greater ATL area. You shouldn't need any more reasons to drop by.
4337 Buford Hwy Suite 170
Popular for its "Cajun-Asian" cuisine, Crawfish Shack Seafood serves up traditional Cajun food with a Vietnamese twist (think of flavors like lemongrass in a crawfish boil). Menu items include seafood platters of crab, crawfish, and mussels for up to four people, boudin balls, fried red snapper po-boys, and a king crab Cajun boil. The restaurant also sells fresh fish by the pound, making it a bona fide Buford Hwy favorite.
3011 Buford Hwy
There are plenty of karaoke options on Buford Hwy, but if you're looking for maximum entertainment while you kick back cocktails, we encourage you to check out Lips Atlanta, a "drag show meets dinner theater." Lips, a longtime New York favorite that's made a home in Atlanta since 2013, has been described as "Ken and Barbie's dream house on acid." Take it all in and watch from a seat at the bar (order a Kick the Bitch to the Curb -- a raspberry vodka and rum concoction). There is no cover; simply a two-drink minimum you'll have no problem hitting.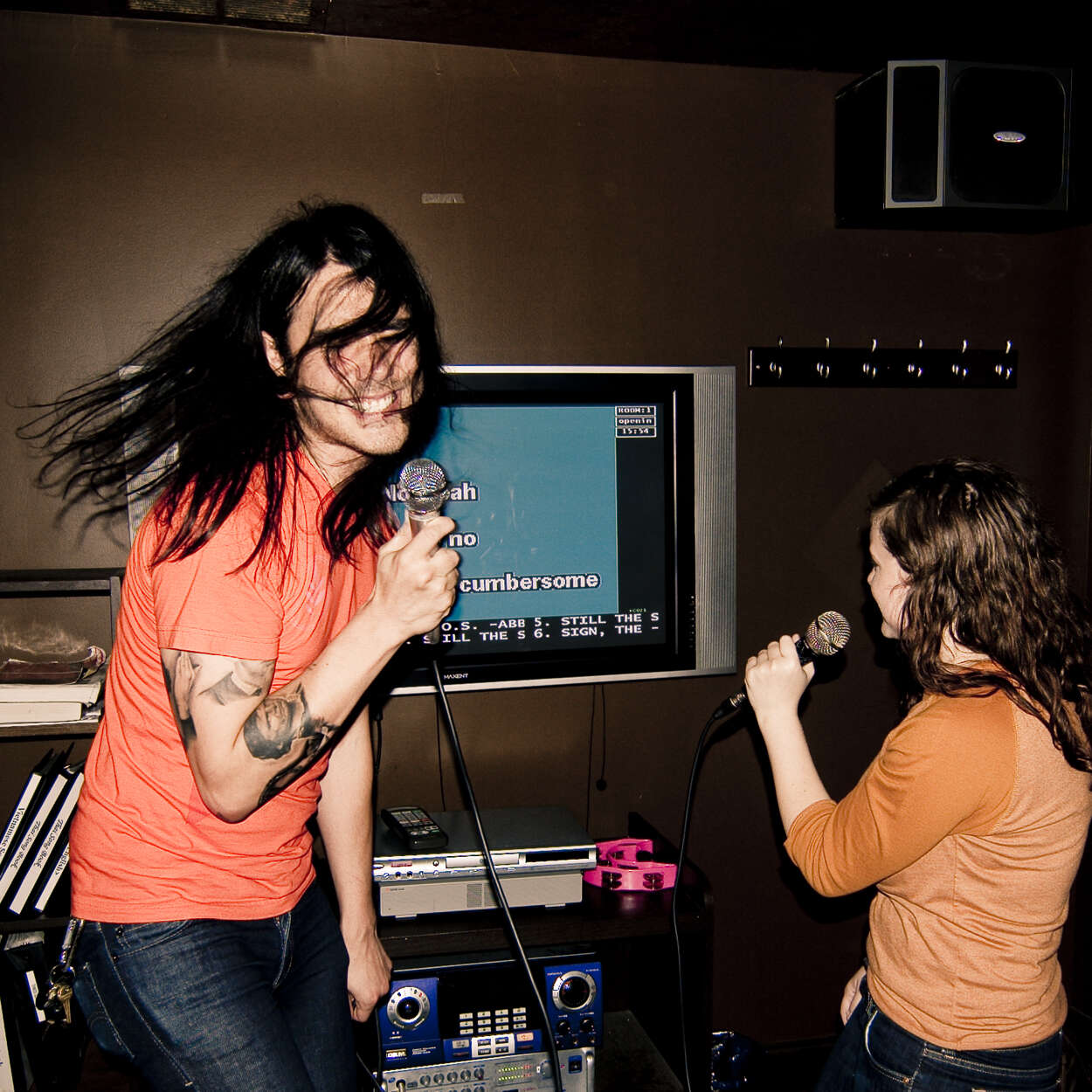 5979 Buford Hwy
Any "Where to Drink on Buford Highway" list is simply incomplete without mention of Karaoke Melody. This Buford favorite features private karaoke rooms that make up the entire club (reservations are $50/hour). With a mile-long karaoke song list, sake on the cocktail menu, and two locations now on the Hwy, Karaoke Melody is sure to be involved in stories that begin with "You'll never believe what happened last night... "
2900 Buford Hwy
If a classic dive bar is more your thing, make your way to The Rusty Nail Pub. Look for the giant 18ft "gun" and smoker -- a working smoker the pub uses to smoke BBQ -- out in the parking lot. Whether it's a low-key vibe, trivia (Thursdays at 8pm; Saturdays at 9pm), cheap pitchers of beer, or a jukebox with over a thousand amazing options, come find out why this watering hole is known as the "Cheers of the South."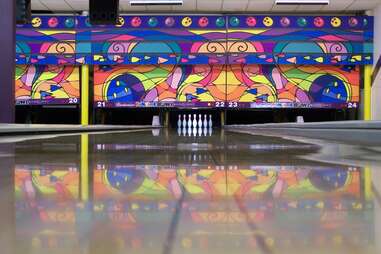 3285 Buford Hwy
After you've had your share of delicious tacos and beer pitchers, indulge in some nostalgic late-night bowling at this 24-lane alley. On Friday and Saturday evenings, bowlers are treated to "Cosmic Bowling," complete with glow lanes and black and dancing lights.
2200 Buford Hwy
For those looking for daytime entertainment, head over to the Buford Community Center. Some of the main attractions are the live theater and a vaudeville act. On the ground floor of the main building you'll find the Buford Museum, which is worth checking out, especially if you want to be the Buford expert of your group -- and every group needs a Buford expert. Come see a library collection of funky Georgia history books, as well as a Buford Artists Past and Present exhibit.
5600 Buford Hwy
The Buford Highway Farmers Market is located inside a mega-sized grocery store and features produce (as well as meat and seafood) sourced from various international locations like Mexico, Central and South America, the Caribbean, West Africa, China, Thailand, Vietnam, and more. The market also offers cooking classes, in-store demos, and is open from 8am to 10pm seven days a week.
Sign up here for our daily Atlanta email and be the first to get all the food/drink/fun the ATL has to offer.
Teresa Finney is a food writer and recipe developer in Atlanta. Follow her on Twitter at @teresatothemax for cat GIFs and recipe tips.