Sure, it was nice of us to tell you about the best neighborhood restaurant in every ATL 'hood, but what if instead of going to Varasano's in Buckhead, Inman Park's One Eared Stag, etc., you just want a great burger?
For that, you'd need someone to scour the city for the best burger in each one of Atlanta's 'hoods, or something. Oh, wait...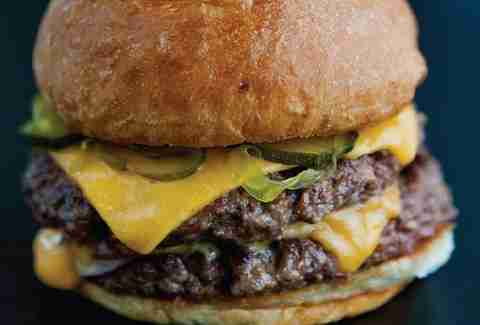 Buckhead
Holeman & Finch (address and info)
What you're getting: The Hole & Finch Burger
If H&F sold the greatest burger in Buckhead (and one of the 33 best burgers in the country) all the time, there'd probably be a constant traffic jam on Peachtree. So, maybe it's a good thing that only 24 of these double-stacks on a house-made bun, with ketchup, mustard, and pickles are available each night. Maybe.
Midtown
Cypress Street Pint & Plate (address and info)
What you're getting: Sublime Donut Burger
Would you rather have a half-pound burger with cheddar, caramelized onion, and applewood bacon, or a couple of warm, glazed donuts from Sublime? Who cares when you can have both?!
Little Five Points
The Vortex (address and info)
What you're getting: Fat Elvis
Fried bananas, peanut butter, and bacon are all the things The King held dear, but it's the addition of a big hunk o' beef that'll have you saying "I Want You, I Need You, I Love You" when this sucker gets to the table.
Downtown
Grindhouse Killer Burgers (address and info) 
What you're getting: Double Cowboy Style with cheese
Two succulent patties with bacon, chedda', and sauce are topped with enough onions rings to fill a 10-gallon hat. So mosey on down to the Sweet Auburn Market for lunch and set a spell, because this one will carry you for the long haul.
Highlands
YEAH! BURGER (address and info)
What you're getting: Fig & Goat Cheese
It's easy to convince yourself this double-stack of grass-fed beef is healthy when they top it with with hydroponic arugula, fig jam, caramelized onions, and local goat cheese... so you should probably go ahead and get two of 'em.
East Atlanta
Elder Tree Public House (address and info)
What you're getting: The Spur
Served on brioche bun, topped with sautéed portabellas & onions, and garnished with a tangy/creamy bleu cheese & stout mustard combo, this soccer bar's burger is made with lamb, and despite a name that evokes the London Premiership club Tottenham Hotspur, it is actually pretty good.
Kirkwood
Ann's Snack Bar (address and info)
What you're getting: The Ghetto Burger
Even its name is gangster, and that's exactly how "Miss Ann" will act if you cross any of her eight rules for ordering one of these double-patty delights, which're full of things the body needs like bacon, chili, cheese, onions, lettuce, and tomatoes.
Decatur
Cozy Burger Town (address and info)
What you're getting: Mexican Taco Burger
This solid meat-disc is topped with something chili-esque, which's held in place by the melty cheese of your choice, thrown on a bun, and served with tortilla chips instead of fries for that authentic, South-of-the-border falva. South of the Georgia border anyway.
Westside
Ssam Burger (address and info)
What you're getting: Kimcheese
Beef and kimchi are the combination you didn't know you were missing in your life. The Sriracha, which is literally on everything at Ssam, pops in your mouth. The slightly sweet bun brings you back down to Earth. The provolone cheese is just there to say "hi". You'll give it a nod back before gobbling it in far fewer bites than you imagined.
Ponce
FLIP Burger (address and info)
What you're getting: Southern
As if a unique chicken-fried beef patty wasn't enough, Chef Blais is topping this sucker with pimento cheese, b&b pickles, and a coca-cola ketchup that'll make you... sorry'boutthis!... flip when you try it.
This list -- and all the rest -- look even sexier in our iPhone app. Get it now!