A burger is usually just a burger. They're mostly the same rounded, flattened meat-frisbees thrown on top of a circular mound of baked bread and topped with a tiny salad and your favorite sauce. But there are always those who are willing to strive for excellence in the exquisite art of burger-making, and --fortunately for their financial goals -- they are also willing to charge about $10 more than we expected to pay for a damn burger. However, those burgers are so damn good that we pay up every time, with pleasure. Here, Atlantans, are the best burgers currently being grilled in our great greasy city. You might want to bring a $20.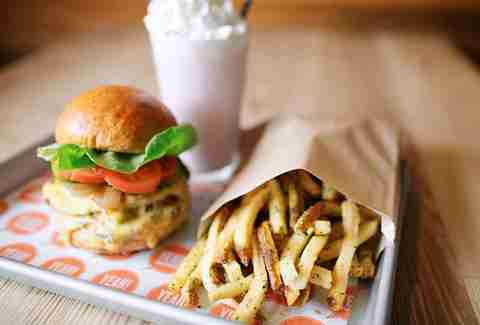 All-American
YEAH! Burger
Address and Info
Westside/Home Park
The "healthy" option in town is a double stack of grass-fed beef with organic American cheese, hydroponic lettuce, pickles, and caramelized onions. The uber-special YEAH! sauce tops off this burger and, if nothing else, makes sure it doesn't actually taste like health food.
Burger Stack
Fred's Meat & Bread
Address and Info
Krog St. Market
Chef Todd Ginsberg created the Bocado Burger Stack. He left in 2012 and opened The General Muir, where he created a new version. Now at Fred's, one of Ginsberg's Krog Street Market stand, you can get a faster but still delicious double-pattied burger of crisp-seared ground beef on bread from his TGM Breads company -- in four to seven minutes -- simply accented with American cheese, mayo, and bread & butter pickles.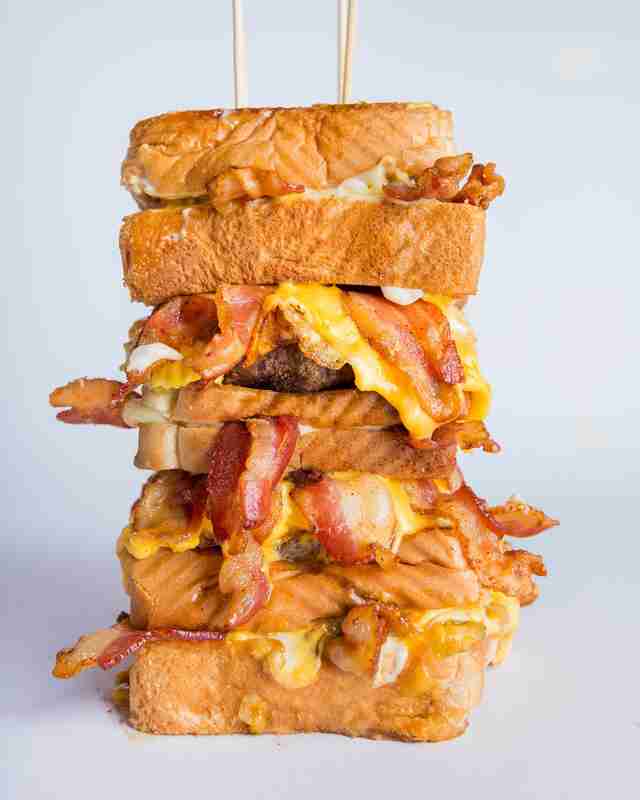 Triple Coronary Bypass
The Vortex
Address and Info
Little Five Points
The most-layered burger award is easily bestowed inside the skull. It includes three beef patties, three fried eggs, 14 slices of American cheese, 10 slices of bacon, and two grilled cheese sandwich buns. A rich basin of french fries and tater tots swims in the house cheese sauce, so make plenty of nomming room.
Wrecking Bar Burger
Wrecking Bar Brewpub
Address and Info
Inman Park
The fact that you're eating a burger in a place that brews its own beer is alluring enough, but let's talk about the signature burger. It's made using grass-fed beef from Southeast Family Farms (a network of generational GA farmers organized by beef purveyor Halperns'), whose juiciness and flavor mix perfectly with shreds of iceberg lettuce, vine-ripe tomatoes, fontal cheese, mustard, and dill pickle. If this sounds perfect as is, just wait until they add the bacon slices.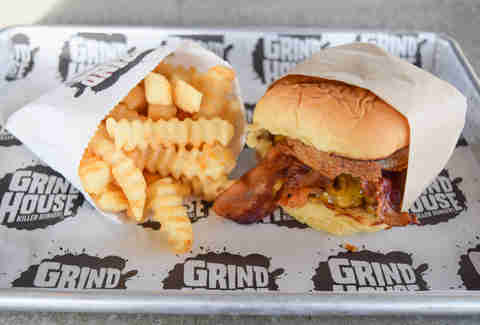 Cowboy Style burger
Grindhouse Killer Burgers
Address and Info
Morningside
The house grind of dry-aged chuck and brisket is almost hidden beneath the slabs of other stuff like cheddar cheese, thick-cut bacon, and thick-cut, golden-brown Vidalia onions rings. Oh, and if that's not enough, they put BBQ sauce on there, too.
The Burger*
Muss & Turner's
Address and Info
Vinings
The way the white cheddar cheese lays between the shiny French bun, atop a single 6oz patty of Aberdeen Angus beef that's grilled on a Big Green Egg reminds you of the security blanket you grew up clinging to for happiness in your youth. Then you feel the burn of the poblano pepper underneath the beef, which is coolly balanced by a layer of cilantro aioli. And you realize you're a grown-up, and even happier with life than you were as a kid. This is the burger of adulthood.
The meatstick
One Eared Stag
Address and Info
Inman Park
The name is, well, interesting... but the flavor of this surreptitious lunch-only burger is what really arouses your tastebuds. The bun is from Alon's, the two patties are made of 80% pastured Oregon beef and 20% Iowa-farmed bacon, and… well, do you really need more detail? How about this: the menu doesn't even tell you what it is. It just says "meatstick, fries 12." Order it, and get a healthy serving of satisfaction in your mouth.
Bocado burger stack
Bocado
Address and Info
Westside
The Westside's best burger is something you need to experience: house-made mayo and American cheese set the stage; two 3oz patties of brisket, chuck, and short rib are the stars; and a next-level bun and pile of butter pickles, the encore.
Grass-fed beef burger
Miller Union
Address and Info
West Midtown
Between the sesame seed-speckled buns of chef Steven Satterfield's lunchtime-only carnivorous creation is melted sharp cheddar, smoked ketchup, lettuce, tomato, aioli, and the sustainably raised local (White Oak Pastures) ground chuck that gave it the nickname "The Daily Grind," which you should care about, even though you don't, because it's so damn good that you'd eat it if the cow was raised in a BDSM dungeon.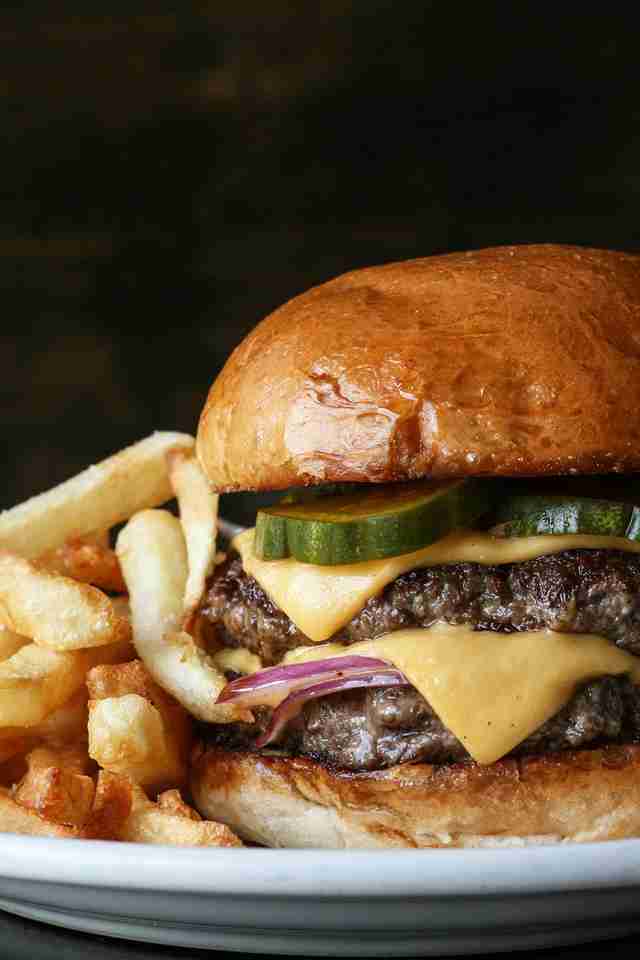 Cheeseburger
H & F Burger
Address and Info
Ponce City Market
It was only a matter of time before Linton Hopkins realized that the bar-only burger served at Holeman & Finch was big enough to be a solo act. Now, with its own PCM burger stand, ATL's most famous griddled double cheeseburger -- which in some ways inspired almost everything that came after it, like Nas' first album -- is much easier to stuff your face with. They get it out to you in under 10 minutes, and it's still high-quality, with the perfectly sized, butter-toasted H&F Bread Co. buns, house-made ketchup, mustard, and pickles. It's definitely still the champ.

Sign up here for our daily Atlanta email and be the first to get all the food/drink/fun the ATL has to offer.