The Best Burgers in Atlanta, Ranked by Our National Burger Critic
Editor's Note: This story is the 13th entry in Thrillist's Burger Quest, Kevin Alexander's yearlong mission to find America's best cheeseburger. Follow along @ThrillistBurgerQuest, and use #ThrillistBurgerQuest to let Kevin know places he needs to hit.
Atlanta is underrated. I know that sounds strange to the people who live there, but nationally, people kind of hate on Atlanta. People in the South hate on it for being big and unwieldy and too much like the North, people in the North hate on it for unspecified reasons that might have to do with the 1996 Olympics, and it just generally has a little bit of a bad national rep. But after spending days roaming everywhere from Smyrna and Bankhead, to the Old Fourth Ward, Cabbagetown, Little Five Points, Kirkwood, and all the places in between, I have to say: I've got a crush on this city.
The traffic still sucks, and makes no sense at any point, but there are tons of distinct, cool neighborhoods all doing their own thing, and I really don't think enough people outside of greater Atlanta know just what they're missing. But my advice is: KEEP IT THAT WAY. It's much better being a best-kept secret than over-hyped.
And now that I'm done with my state of the city editorial, let's talk burgers. My co-pilot for this trip was none other than Mike Jordan, our original Thrillist Atlanta editor, noted wordsmith about town, proud Morehouse alum, and distinguished Cam'ron lyric historian. Over two days, he took me to 10 of the best and most famous burger spots in ATL AND a mostly empty sports bar where we saw Usher hanging out by himself watching baseball. Atlanta is the best.
In case you're new to my rankings, here are some guidelines: If the restaurant had multiple burgers, I tried to order its signature burger, or if that was too outlandish and stunt-y, the closest to a classic cheeseburger. If it came with options, I always picked American cheese and grilled onions. If you think I missed something, please write in to the show Atlanta and tell them to do a sketch based on my idiocy, or fax me some swear words. But until then, here is my ranking of the 10 best burgers in Atlanta.
10. Greasy Spoon Burger
Pretty much anyone I knew from Atlanta told me I had to go here. "You walk into a skull, man," said one friend. "It's an Atlanta legend," said another chef. And yes, I did walk into a skull, only to immediately see a skeleton on a motorcycle holding a knife in its teeth, and, as such, I guess I got sucked into the Vortex. While I sat at the bar around 11am, the guy to my left was drinking gin on the rocks and telling a story about knocking himself unconscious after a particularly raucous night, the best part being when he finished the story by admitting it wasn't ideal because he was "an elected official."

Anyway, let's discuss the burger! Most of Vortex's burgers are basically Double Dare food challenges, stunt behemoths that test the limits of what stomachs are capable of processing given a limited time frame. Like the Triple Coronary Bypass, which -- wait, I'm just going to quote the menu:
"We use 2 diner-style patty melts, and a bacon grilled cheese sandwich as buns. Ingredients: 4 slices of Texas toast, 2 slices of white bread,
24-oz. of sirloin, 18 slices of American cheese, three fried eggs, 18 strips of bacon and 8-oz. of mayo. Served with 20-oz. of spuds topped with
16-oz. of Cheesy-Cheese Goo, and bacon bits. Estimated Calories (w/side): 7,160." And that's not even the biggest one. See what I mean?

I opted for the Greasy Spoon, because it sounded most like the type of burger I'm into, with its griddled patties, American, shredded lettuce, etc. The issue was -- the patties were still gigantic for a double burger, especially one purporting to be in the "old school diner burger" section. The bun also wasn't toasted, which is one of my pet peeves, and the meat was overcooked. The pickles and the homemade diner relish added some nice acid, but that's about it. Delicious potato salad with bacon and cheese though.
Mike Jordan/Thrillist
9. The Burger
This was my first stop in Atlanta, as I was meeting Mike, who was posted up outside making deals and drinking the fantastic Emergency Drinking Beer from Wild Heaven. M & T's sits in one of those fancy mixed-use complexes Atlanta seems to love, but has a casual daytime vibe. The Burger is "Big Green Egg grilled," which gives it a great griddled char, though it was overcooked.

The French bun is soft, and perfectly toasty and buttery -- in fact, the meat is gloriously salty and buttery as well, but, if anything, the entire thing leans too heavily into the fattiness (meat, Cheddar, cilantro aioli, etc.) without much balancing acid (uncooked red onion, though the side pickle was delicious). Some easy fixes, and this is a contender, me thinks.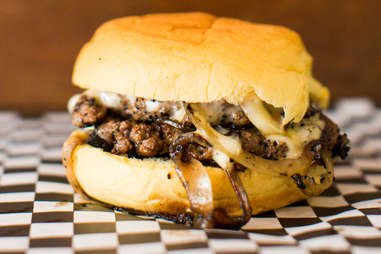 Kimberly Murray/Thrillist
8. Double Cheeseburger
Cabbagetown might be my favorite neighborhood name in the country, even more so when I learned that the original name of the 'hood comes from two stories both involving massive cabbage spillage. The Little's store has been around since the '20s, and though it's changed hands, it still feels very much like a neighborhood place where you'd go for everything from a sandwich to a pack of Big League Chew (NOTE: I don't actually know if they have Big League Chew).

The burger feels very much like the Oklahoma fried onion burgers: small, slider-esque, with those grilled onions, mustard, mayo, and pickle. The char on the meat was intense, almost to the point where it felt slightly burned, but luckily that didn't come through in the taste. The steamed bun congealed with the meat and those charred onions to give it that classic onion burger flavor. I swear, if I closed my eyes, I could've easily been standing in El Reno, being awkwardly judged by all the people wondering why a man in a Celtics T-shirt was taking pictures of their street signs.
Kimberly Murray/Thrillist
7. Grindhouse Style Burger
I'll admit to thinking that I was just going to find this burger average, as soon as I saw one in the airport. But this just goes to show how little I know about anything. The Grindhouse burger was for real with an amazing potato bun that was well-toasted, and some of the best grilled onions I've had on my trip around the country.

I dug the shredded lettuce blending in nicely with special sauce, and those crinkled hamburger dill pickles offering up some acid to cut through the American and buttery meat. My only squabble (underrated word) with the entire burger was that the grind on the meat was a little more dense than I would've preferred. But, especially considering I tend to judge the places with multiple locations a little harder, this was a revelation of sorts.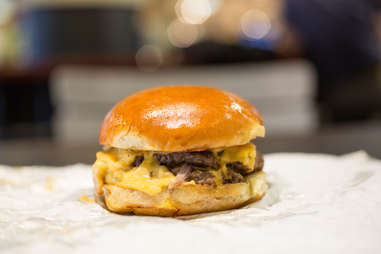 Kimberly Murray/Thrillist
6. Cheeseburger
The place where it all began. You could make a decent argument that when Holeman and Finch started serving its limited edition late-night double burger, that ushered a new era of burger infatuation, and brought about many other places that copied the speakeasy style. I'd had the burger years ago during those early heady days, so I was excited to come back and do it all again.

I tried the burger at both Holeman and Finch and the burger-focused spinoff H&F Burger and it was indeed as I remember: double cheeseburger, well-griddled on a butter toasted, house-made pain de mie bun. And it, friends, is a very solid double cheeseburger. But there are some issues; the bun, while well toasted, is over-buttered, so the top ends up shiny like a pretzel you'd get at a baseball game. The thinly sliced red onions are good, but both times I got the burger they were amassed in the center, so the outside bites of the burger don't get the acid balance from the onions. Pickles are delicious, I just wish there were more. The actual meat itself is tasty: great grind, salty and melds with the American. It's very good; the hype is just so deafening, it's hard not to expect to be completely blown away.
Mike Jordan/Thrillist
5. The Stack
I'm going to be honest -- when you call yourself a burger "boutique," it makes me feel a little bit nauseous. And so when Mike and I rolled into Richard Blais' little burger chain, I was ready to dislike it. But damn if the Stack burger didn't make me change my mind.

Basically an In-N-Out style clone, the bun flaked a bit but was well-griddled, the meat was slightly over-cooked but flavorful, and the bread and butter pickles and fantastic grilled onions meshed with the secret sauce, American, and shredded lettuce to give it that really well-executed West Coast-style burger flavor. Keep the burger joint, Richard, just maybe change the name?
Mike Jordan/Thrillist
4. Bocado Burger Stack (Westside-style)
Mike and I walked in on a Tuesday and sat at the bar, because I've read in lifestyle magazines that it makes me look cool and local. I looked around for Usher, but sadly did not see him (yet). We opted to get the stack "Westside" style, which meant with grilled onions, special sauce, lettuce, and tomato. As I live on the West Coast, this seemed logical and delicious. Mike, however, informed me that this was a controversial move, and there was some tension for a little while, until we started quoting lyrics from Cam'ron's 2004 classic "Down and Out" featuring Kanye.

Since there were no street mergers to legislate, we just ate the burger, and it was damn good. The meat had a fantastic grind -- loose enough, but really well griddled and heaped with American cheese so that it all blended together. The sesame bun stayed out of the way, and the Westside accoutrement actually helped to cut through all that fat and offer up some cold, crunchy relief and acid from the special sauce, SO THERE MIKE. I just wished they shredded the lettuce so it didn't slide all around when I bit into the burger, but other than that, I'm a Bocado fan.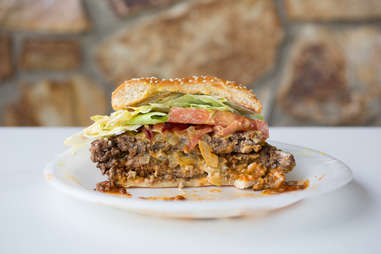 Kimberly Murray/Thrillist
3. The Ghetto Burger
I get anxiety in new situations when I'm not sure of the rules, and there just happen to be eight of them at Ann's. And though Ann passed away last year, the snack bar is still famous for strict adherence to said rules, only having eight counter seats, and only serving people all at once. Luckily, I came in on the later end of lunch, and so I was able to get in rather quickly with limited anguish. I can't tell you how relieved I was.

The burger to get is the Ghetto burger, which is essentially a double cheeseburger with chili, bacon, and grilled onions. Now this breaks most of my rules, but it is the signature burger, and was named best burger in the US by the arbiters of food opines at the Wall Street Journal and SO REALLY I HAD NO CHOICE, OKAY? The bun is toasted just enough to give you a couple of bites before the chili starts to make its way through the bottom, and those bites are truly magical. The mixture of all of the different elements -- the salty crispy bacon, the spicy meaty moisture in the chili, the acid in the mustard, the butter in the grilled onions, it all comes together and makes you realize why a place like this needs such strict rules. If you just let people loose on this tasty of a delicacy, there would be anarchy.
Kevin Alexander/Thrillist
2. The Meatstick
I came into One Eared Stag at the end of lunch, and no one was there. And not in the exaggerated, metaphorical way. I mean, when I walked in, there wasn't even someone in the front of the restaurant. I honestly thought they were closed, or I was about to be on Punk'd. But then the bartender who was not Ashton Kutcher came out from the back and set down a menu for me, and I was relieved. But then I didn't see a burger, and I was stressed out again.

"You guys do a burger, right?" I asked tentatively, after ordering a drink. "Oh yeah," she said. "It's just not on the menu. It's called the Meatstick. It's really good." She was right. As is the rule in Atlanta, it was a stack, but this Painted Hills chuck stack also had Iowa bacon in the grind, but not in that stunt-ish way of the 50/50 bacon burgers you see all over the place. The bacon gave it a stability and saltiness that balanced well with the loose grind of the meat. It was perfectly cooked with thin, raw white onion that gave some bite but didn't overwhelm. Combine that with the bread and butter pickles and secret sauce for acid, and a bun that I'd heard mixed reviews on, but personally found delicious and well toasted, and you get one of the best burgers in Atlanta.
Kevin Alexander/Thrillist
1. Burger Stack
When I rolled into the Krog Street Market, I had no idea what it was. And considering, by the time I got to Fred's, I was on burger No. 8 in Atlanta, I frankly didn't want to eat a burger at all. I wanted anything else, actually, and Krog Street had everything -- hot chicken, dumplings, craft beers, GRATIS SPARKLING WATER, everything, dammit.

And Fred's had this sexy menu filled with all sorts of other tempting meats and breads. Like an Italian Grinder. And a fried chicken sandwich. And a catfish po-boy. But, as our venerable man in Atlanta Mike Jordan told me, "act like a damn professional," so I sighed, ordered the Burger Stack and a ginger ale, and braced myself for average. That never happened.

The burger stack at Fred's is the perfect burger stack. The cheese is so well-melted, it almost feels like a grilled cheese with meat inside it. Everything is so perfectly griddled and blended together, and the pickles give it some acid, and sesame seed bun is delicious and greasy, and eating it makes me feel more American and more handsome and like I could re-take the SAT IIs and do slightly better in verbal. It is the best burger in Atlanta. Maybe celebrate by washing it down with some of that free sparkling water.
Sign up here for our daily Atlanta email and be the first to get all the food/drink/fun the ATL has to offer.