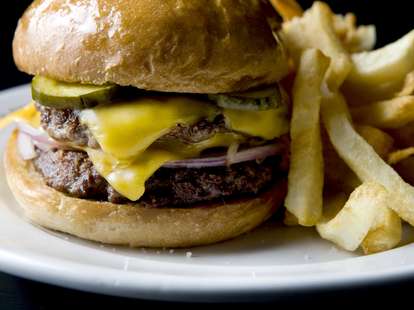 The Pedigree
Lucky's Burger & Brew (address and info)
Roswell
Named for the owner's dog, Lucky's Burger & Brew doesn't just offer a fun, laid-back atmosphere fit for a dog, but also for people too, mostly thanks to a menu full of sandwiches with dog-inspired names. The classic Pedigree boasts 7oz of hand-formed beef, melted shredded cheddar, and sizzling applewood bacon on a toasty bun, it's as flawless as its namesake. A side of salty sweet potato fries is a must.
The Burger
Muss & Turner's (address and info)
Smyrna
A neighborhood joint that's equal parts simple and sophisticated, Muss & Turner's slings some of the state's best sandwiches. Its signature, The Burger, features a French bun smeared with zesty cilantro aioli and stuffed with local Joyce Farms grass-fed beef, roasted poblano peppers, red onions, and gooey cheddar. Slightly spicy, incredibly flavorful, and utterly unique, you'll regret not having one sooner.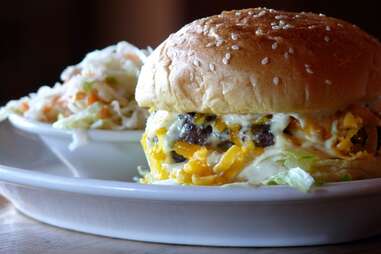 The House Caesar Burger
The Brickery Grill & Bar (address and info)
Sandy Springs
This Sandy Springs institution has been serving burgers since 1992. Its house specialty, the House Caesar Burger, is a straight-up handful of happy. Tender beef is topped with shredded lettuce, grated cheese, and tons of cool, creamy, Parmesan Caesar dressing.
Bocado Burger Stack
Bocado Burger (address and info)
Alpharetta
So popular it literally launched a new restaurant, Bocado Burger features Bocado's iconic, next-level Burger Stack: two sizzling, free-range Black Angus patties topped with smooth American cheese, and bread & butter pickles on a fresh, toasty bun. This is nothing short of a gift from the meat gods. Enjoy it with a hand-spun buttermilk milkshake and know, without a doubt, you can now die happy.
The Lockhart Legend
Grub Burger Bar (address and info)
Multiple locations
We love all the great burgers made here, but there's just something about the Lockhart Legend that makes it irresistable. Ground in-house daily, this all-beef patty is topped with applewood-smoked bacon, cheddar cheese, its infamous homemade Dr Pepper BBQ sauce, two thick and juicy hand-battered onion rings, and sliced dill pickles. It is veritable meat mountain. Climb it. With your mouth.
The Sink
Local Republic (address and info)
Lawrenceville
This place just gets it. It serves good, reasonably priced sandwiches, craft beer and wine, and this burger, which starts with local Brasstown Beef, then gets sharp melted cheddar, crisp bacon, pickled jalapeños, a hot, sunny egg, and whatever else the kitchen wants to stuff between two buns. Be warned: these masterpieces are huge, so come hungry.
Jake's Sloppy Slaw Burger
The Red Eyed Mule (address and info)
Marietta
A little hole-in-the-wall spot, The Red Eyed Mule makes killer breakfasts, but screw that, you're here for Jake's Sloppy Slaw Burger: buttered, grilled Texas Toast hosts 6oz of hand-formed, juicy Black Angus beef topped with creamy, crunchy coleslaw and its spicy, signature Sloppy Jimmy sauce. It all mingles together to make a burger of truly otherworldly deliciousness.
The Slawpy Burger
Hop Alley Brew Pub (address and info)
Alpharetta
Using a 'build-your-own' premise, you can get pretty much whatever you want, whenever you want it here, but its weekly burger specials, like the Slawpy Burger, are where it's at. Choose from Certified Angus all-beef burgers or half bacon/half beef burgers and add a zesty coating of dry spice rub, cheddar, Tabasco-fried onions, pickles, honey-mustard BBQ sauce, and a pile of slaw. It's pairs perfectly with the craft beers served here.
The Village
Village Burger (address and info)
Dunwoody
A laid-back spot with reliably delicious eats, Village Burger combines big flavor and big servings. Don't miss The Village burger, two fresh Angus patties that come cooked and topped however you want.
The Steakhouse
The Salt Factory Pub (address and info)
Roswell
An industrial, sleek gastropub, The Salt Factory Pub has great burgers -- and brews -- in spades. The Steakhouse Burger, a hearty beef patty, boasts applewood smoked bacon, cheddar, crispy onions, and house-made BBQ sauce. Sounds choice on its own, right? Then they add a perfect, over easy egg and stuff it all between two big, fluffy, juice-absorbing buns and plenty of fries for soppin' up every delicious morsel. Add a cold beer for maximum satisfaction.

Jimmy's Special Burger
Rhea's Take Out Foods (address and info)
Roswell
It's not fancy, and it's not supposed to be. Basically OTP Atlanta's answer to Ann's Snack Shack, Rhea's offers whatever it damn well pleases, and you'll be thankful you're lucky enough to eat it. No frills, just greasy, meaty, melt-in-your-mouth deliciousness, served on buttered, grilled French bread and topped with things like sweet, smoky bacon and gooey melted cheese, Jimmy's Special Burger can't be missed.
Sign up here for our daily Atlanta email and be the first to get all the food/drink/fun the ATL has to offer.