5 Atlanta burritos you must consume
Atlanta The best thing you can eat is... well, a nearby brunch with bottomless booze, obviously. But the second best thing you can eat is one of Atlanta's five best burritos, which are made with things like beef brisket, shredded BBQ chicken, and a sincere desire to make you buy bigger pants, presumably.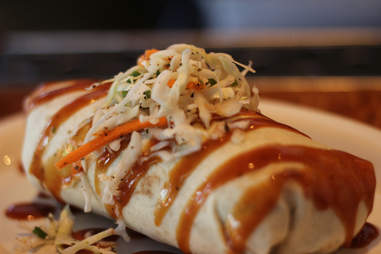 Sebastian Davis
Elmyriachi: Jimmy Mucho
The burrito geniuses at Elmyr have made their Kirkwood outpost home to the Jimmy Mucho: a meat-laden giant (we recommend going with the brisket), topped in BBQ sauce and curtido (fermented cabbage slaw) that can't fit in your hands let alone your stomach. Or can it?! Continue Reading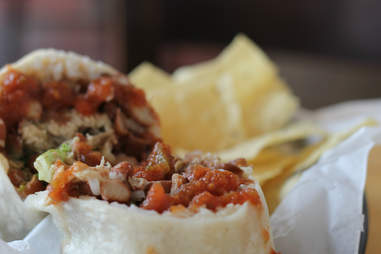 Sebastian Davis
Bell Street Burritos: Chicken & Broccoli
The new brick-and-mortar outpost in South Buckhead is still giving you all the favorites that made the Sweet Auburn Market location such a hit, plus a few specials like this suspiciously green vegetable-heavy but still loaded with cheesy goodness option.


Sebastian Davis
El Ponce: BBQ Chicken Burrito
This Ponce institution isn't El Azteca anymore. Now their name is simply Spanish for "The Ponce", and they're serving up things like this Southern-Mexican hybrid that stuffs shredded BBQ-sauced chicken into a toasty flour tortilla and tops it with warm, melted cheese.
Raging Burrito & Taco: Pineapple Jerk Chicken Burrito
The last outpost of this once all-conquering "world food"-slinger is wrapping sweet and spicy flavors in a spinach burrito, and topping it with delicious relish.
Sebastian Davis
Moe's: The Homewrecker
Atlanta's burrito behemoth isn't just sitting on its laurels. Instead, they're now adding mountains of a new spicy guac to both the inside and outside of their signature burrito. But be careful: if you eat too much of it, you won't be able to attract any actual homewreckers.