As the results of Super Bowls 25, 26, 27, AND 28 can attest, the best that Buffalo's got to offer is usually second-rate... except when it comes to one thing: wings. To be fair though, Atlanta's chicken-wing game is right up there with any city, and, to prove it, we put together a list of the eight best examples from a town that hasn't lost nearly as many Super Bowls as Buffalo.
Smoked-n-Fried Wings, DBA Barbecue
Virginia Highland
The VaHi barbecue joint first smokes their wings so that flavor permeates all the way to the bone, then fries 'em up crispy so that sauces like habanero-mustard and Hotlanta Hot adhere thoroughly. Isn't science awesome?!
Biddy Wings, Chick-a-Biddy
Atlantic Station
The Atlantic Station chicken shack dishes out locally sourced bird pieces in flavors like Wood-Grilled Piri Piri, Spicy Green Tabasco, and even a Thai Chili number w/ peanuts sprinkled on top.
Jerk Wings, Cafe Circa
O4W
Feeling like a jerk? You're either A) pretty self-aware, a**hole, or B) in the mood for this O4W bistro's island-inspired wings glazed in ginger BBQ sauce.
Pa'Zings, Calypso Wings
Downtown
These now-world-famous monstrosities are the product of an unnatural union between pepperoni pizza and chicken wing, and are... naturally... REALLY FREAKIN' DELICIOUS!
Smoked Wings, Fox Bros Bar-B-Q
Delkab
Opened by some dudes who have to try really hard not to call their sister's boyfriend David Silver during holidays really know their chicken, this spot serves up jumbo-sized, hickory-smoked wings tossed in a house-made hot sauce.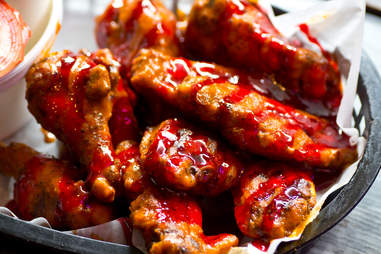 Strawberry/Sriracha Wings, Jack's Pizza & Wings
Virginia Highland
The VaHi watering hole's got a ton of different wing flavors (garlic Parm, Stupid Hot, honey bourbon, wasabi, etc.), but if you don't get the strawberry/Sriracha, with its perfect balance of sweet and spicy, then you don't know jack about... um, ordering at Jack's.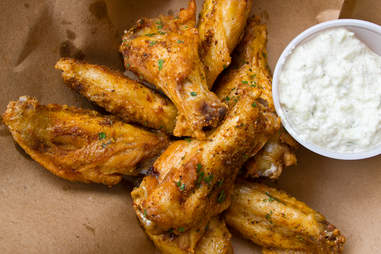 El's Wings, Muss & Turner's
Smyrna
This dining destination in The Vinings has spiced-up their wings with ras el hanout, lemon, and tzatziki, which is a Greek appetizer made with strained yogurt, despite the fact that it would probably be even better if yogurt could just relax a little.
JR Crickets
Midtown
This Atlanta institution has been serving up whole flocks of flightless bird since 1982, and if you think all those years of experience means they know what they're doing with these lightly sauced wings, or that The Bills should have won at least one of their Super Bowls... guess what? You're right!