Courtesy of Bone Lick BBQ
Courtesy of Bone Lick BBQ
Atlanta is really good at frying chicken. So good, in fact, that frying up chicken wings isn't a problem. No, the problem is picking the very best wings, unless you've got some sweet men's lifestyle site hooking you up with a list of the ATL's nine best wing spots. Oh, wait!
East Atlanta Village
A Chinese take-out spot with a beefy, sandwich-based name that serves really, really great... um, wings? Yup. But don't take our word for it, and don't show-up for lunch, because they don't open until 4pm. They make up for it, however, by delivering until 3am, so keep that number in your favorites for after you make a few questionable choices.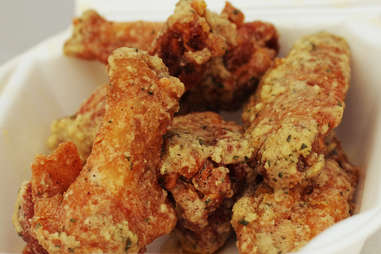 Metropolitan
A great spot to stop by on the way back from Florida, or if you just missed the exit to Hartsfield, this little wing joint right off 85 has a deep selection of flavors and sauces to sample. You get the full range up and down the heat scale, and the garlic Parm provides a dryer, cheesier diversion from the usual orangey, lip-burning options.
Decatur
Wings are the ideal dish for a Korean/Southern hybrid menu, and Sobban
executes up to these lofty expectations. The crispy skin is rolled around in a sweet chili ginger sauce, and then gets a shower of fresh peppers, green onions, and other secret savories. Is that a hint of peanut? Only chef Jiyeon Lee knows.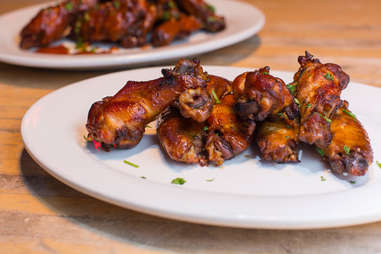 Westside
Mike LaSage marinates these wings for a two full days inside of his divey, yet not dirty, Huff Rd watering and meat-eating hole, and then he slow smokes them for a flavor that penetrates all the way, unlike a flash fry.
Various locations
Being a local chain usually means that you're really good at something people love so much that they want to do you again and again. Already one of the city's best spots to grab a beer, T.Mac does wings just as well, and the popularity of its poultry pieces may be why it's replacing the "Taco" in its name with a "T," since it only has a few tacos, and 36 wings.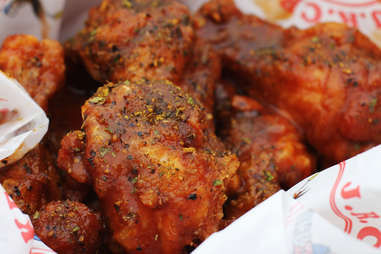 Various locations
J.R. won't let the fact that his original place on Spring St burned down stop him from slapping chicken into styrofoam for you to savor. Now off Ponce in that converted IHOP/Asian place/parking spot for the Fox, these wings are everything that is Atlanta. Take a selfie with the cricket, and take home a dozen "Dirty Birds" for when you need BBQ and lemon-pepper together.
Atlantic Station
Marinated in African chilis, grilled with a touch of scorch, and then sauced with garlic and cilantro, these wings take you on a little bit of a different trip. Unless you don't want to go on said trip, in which case the classic Buffalo style available too.
Midtown
What barely qualifies as a strip mall on Ponce has the best Asian-inspired wing place, and it will be occupied by a line of locals most any time. Fret not, there's a quick turn around after you place your order at the counter and grab a seat on one of the black plastic seats. Relax. Enjoy the picture of Dominique taped to the glass and your order of braised wings in the sweet pepper sauce.
Westside
There's a little trailer outside the Georgia Dome that smells of deliciously fried wings late into the night, and as one of Atlanta's best food shacks, it's a great destination for tailgating before a game, a concert, or if you want to wait out the Westside traffic on a Tuesday. Or, you know, if you just want some sweet wings.
Sign up here for our daily Atlanta email and be the first to get all the food/drink/fun the ATL has to offer.