<strong>Revolution Donuts |&nbsp;</strong>Whitney Ott/Thrillist
Donuts. All your favorite television characters love them (Liz Lemon, Homer Simpson, Dale Cooper, Buster Bluth... the list goes on), which means they must be good, as TV would never lie. Donuts are also a cultural icon representing a sort of shorthand for cop jokes and business meetings... something we all have probably taken part in. Therefore, donuts are the great unifier... especially these ones you'll find around ATL.

Decatur
Everything at Revolution is handmade, all-natural, fresh, and best of all -- whether you're vegan or gluten-sensitive -- you can still enjoy. Stuffed with the likes of ham, bacon, and more, everything you get will impress you, but the peach sliders (pillowy soft doughnuts crammed with sweet, juicy Georgia peaches) will cement your love for the Peach State.
Marietta
Have you ever heard of a California-style donut? We hadn't either until we wandered into this unassuming little spot located in a Marietta strip mall. They offer nearly 40 kinds of donuts and flavors, as well as fritters, coffees, and more. While their seasonal offerings (like cranberry) are amazing, it's their rich, creamy, cannoli donut that takes the cake... err... donut. Donut cake.
Brookhaven
Bon Glaze offers up unique, intricate gourmet donuts with an equally upscale presentation of donuts on display. Not only do they serve sides of bacon in natural wood-smoked, candied, candied cayenne, and chocolate dipped, but their donut flavors include bacon butterscotch, balsamic caramel sea salt, and apple streusel. That's essentially the entire food pyramid in donut form.
Westside
These hefty dough circles are wildly delicious and some even come filled with the likes of rich raspberry jam, lemon curd, or luscious cream. The Saturday-only maple bacon cheddar donut will surely pull you out of bed after a long Friday night.
Alpharetta
How does a shop that specializes in soup and sandwiches end up in a donut roundup? Three little words that are wonderful on their own and then even better all together: Grilled Cheese Donut. But that's not all -- they also offer an abundance of donut sandwiches, including the King: a donut crammed with fresh banana, peanut butter, mascarpone, and mozzarella. If you were sleeping on Tom and Chee, it's time to wake up.
East Atlanta
In addition to have solid donuts (the Black Raspberry jam stuffed number is especially good) and more at great, wallet-friendly prices, they're open all night. Which is good for you, and cops. So you know, be cool man. Be cool.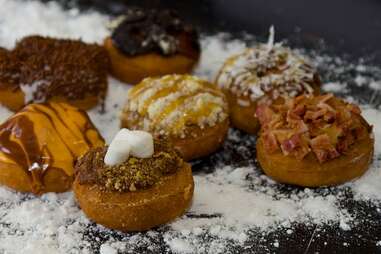 Sandy Springs
Da Vinci's Donuts has earned rave reviews for their tiny, custom made donuts. The moist, cakey bites are incredibly delicious on their own, but are otherworldly when it comes to their countless toppings. All told, you can enjoy over 70 varieties -- and because they're so small, there's less guilt (and treadmill time), so you know, go crazy.
Marietta
Taking a nod from bakeries of yore, Tip Top Donuts offers fresh, homemade baked treats with classic flavors, friendly service, and low prices. Their apple and blueberry fritters are on point, but a freshly made glazed donut is the move.
Norcross
Super cheap and high quality don't always mix, but they do at Sarah Donuts. What they lack in experimental flavors, they more than make up for in quality and taste. Don't expect to find a s'mores donut or a maple bacon cruller here -- this old-school shop is all about simple, handmade, classics. They also sell out quick, so show up early.
Love free donuts? Find out where to stock up for this year's National Donut Day on Friday, June 2, 2017.
Sign up here for our daily Thrillist email, and get your fix of the best in food/drink/fun.
Brook Bolen may be in a sugar coma now, due to her commitment to investigatory journalism. Follow her @redvelvetfemme to find out.