Order These Atlanta Takeout Dishes, And Other Ways to Support the Service Industry
Hangover fries, turkey spaghetti, and bourbon chicken wings.
Presented By
As COVID-19 continues to keep Atlanta on lockdown, it's important to keep supporting small businesses that are being hit incredibly hard. Thinking about your local restaurants and bars, you can support by buying gift cards, purchasing merch, or leaving glowing Google reviews. But the best way to keep their kitchens open is to actually order food.

While staying home and preparing your own food is definitely encouraged, you're destined to crave that weekly special from your favorite lunch spot eventually. There are plenty of restaurants still keeping their kitchens open to the public, so do yourself a favor and get amazing dishes curbside or delivered right to your door. Here is your guide to the best Atlanta restaurants currently offering takeout or delivery service.
Our vegan friends need food, too, and as of now, Recess is one of the best plant-based options for vegans and vegetarians alike. The beloved Krog Street Market mainstay has extensive breakfast, lunch, and dinner options, making it even easier to get the veggies you need while you quarantine.
Cost: $12; available for pickup or delivery through Chow Now
Hampton + Hudson transitioned into an online store for the time being in order to combat the spread of COVID-19, providing delivery and curbside pickup options for customers instead of a typical dine-in experience. In addition to a salivating menu, ther restaurant is offering family-sized meals and household necessities such as toilet paper, soap, milk, and eggs. Delivery minimums land at $25 with an additional $5 fee that directly supports the staff, so grab a bite and stock up on a few groceries.
Cost: $10; order online
Those who frequent the Downtown location likely have fond late-night memories at Kelz as its Friday and Saturday hours boast a ridiculous stretch from 11am to 5am. After wrapping up your not-so-wholesome activities, it's the go-to spot for late-night cuisine that's actually worth your money. While you're probably not looking for post-club food right about now, Kelz Kitchen's College Park location offers delivery, presenting a great option for the night-owls out there.
Cost: $8; order through the restaurant's app
For those looking for a night of seafood without leaving the comfort of their home, Bon Ton is now available for delivery. Named one of the 75 best restaurants in the city by Atlanta Magazine, Bon Ton boasts fish-centric brunch and lunch menus, featuring everything from simple fried baskets to $100 crab feasts.
Cost: $14; order on Doordash, Uber Eats, and Zifty
Delivery can still be gourmet, and Murphy's is one of the premier restaurants in the city to expand its delivery services. Executive Chef Andy Tran and his team at Murphy's have made some changes to their menu to support guests and families trying their best to stay at home. Currently delivering breakfast, lunch, dinner, and desserts, the restaurant has also made Chef Tran's Sunday family to-go dinners available every day for the foreseeable future.
Cost: $15; order takeout by calling 404.872.0904 or delivery through Zifty
One of the many Krog Street Market restaurants now offering delivery and curbside pickup, Bell Street Burritos also has two additional locations in Tucker and at the border of Midtown and Buckhead, and all of them deliver. Praised with the distinction of the best burrito in Atlanta by Creative Loafing, Atlanta Magazine, and the AJC, Bell Street Burritos is sure to be your plug for burritos, quesadillas, and tacos. Plus, orders over $20 come with a free roll of individually packaged toilet paper.
Cost: $7.25; order delivery though Chow Now
Some dishes just won't taste the same at home, and Thai food is definitely on that list. Before you even attempt your favorite recipe and ruin perfectly good groceries, place an order at Tuk Tuk Thai Food Loft. You can't go wrong with their classic chicken pad Thai recipe, but there are plenty of curries and street noodles worth sampling, too.
Cost: $15; order delivery though Chow Now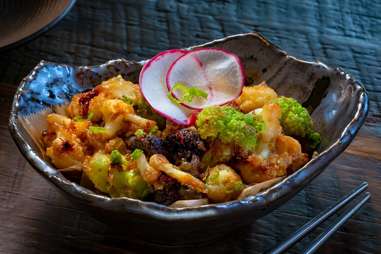 For those in the perimeter area who have been craving Asian cuisine, Fūdo is exactly what you need. With a robust menu featuring sushi, donburi, soups, and more, the restaurant has curbside service and takeout available from 12-9pm -- as well as free friendly delivery.
Cost: $6; order takeout by calling 678.691.7088 and delivery through DoorDash
We're finally starting to get that perfect ice cream cone weather, so don't fight the feeling -- make quarantine life a little sweeter with ice cream delivered to your doorstep. Jack's Ice Cream and Sorbets is offering takeout and same-day delivery options with frozen treats that you won't find in a typical grocery store run.
Cost: $14 minimum for deliveries to the Tri-Cities, Inman Park, and Old Fourth Ward areas; $30 minimum for delivery outside those areas
Social distancing is one thing, but life without pizza? Unfathomable. Luckily, both Savage Pizza locations are still supporting take-out, pickup, and delivery services while they've barred customers from dining in. Although the retro aesthetic of the Little Five Points location will be missed, some savagery is better than no savagery.
Cost: $15.95 for a medium; order by phone 404.523.0500
Atlanta is home to some amazing global cuisine, and now is the perfect opportunity to bring delicious food from around the world into your home. We Suki Suki is a multicultural community market where you can find ramen, Morrachan food, baos, and more. It has also moved into a pickup, take-out, and delivery only model.
Cost: $11; Suki Suki is curbside pick-up only; Poke Burri is available for delivery on order Uber Eats, Zifty, Postmates, and other platforms
This wouldn't be an Atlanta food piece without mentioning chicken wings, and Jack's makes some of the city's best ones. The graffiti-clad is now offering delivery and discounted takeout. Whether you're craving something more traditional like the fabled lemon pepper wet or one of their remixed flavors like sriracha or strawberry, Jack's Pizza & Wings has got you covered while you quarantine and chill.
Cost: $7.50; delivery through Uber Eats and Grubhub
Your brunch, dinner, and late-night cravings haven't changed just because you're staying safe indoors. Fortunately you can still get all of your favorite dishes delivered right to your door, while also supporting the restaurant industry that has given you so many meals and memories. Uber Eats is making it possible for you to give directly to your favorite restaurants at checkout, and 100% of contributions go directly to the restaurants. You can also eat, save, and support local restaurants with a one-month free trial of their Eats Pass. Uber will give $1 to the Restaurant Employee Relief Fund for every new Eats Pass subscriber. See app for details.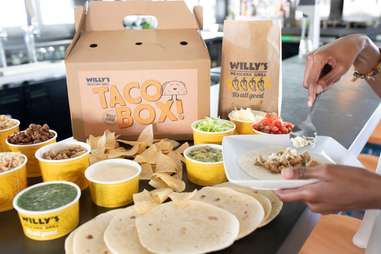 Georgia's favorite Mexican spot is joining the efforts to keep families fed during the fight against COVID-19. In addition to its normal menu, Willy's is offering taco boxes -- which consist of one or two proteins, cheese, sour cream, pico de gallo, lettuce, soft flour and/or hard corn tortillas, salsa, black and/or pinto beans, rice, and chips -- for takeout, curbside pickup, and delivery. The economical box feeds four to six people, and in honor of these tough times, Willy's is currently running a $5-off discount.
Cost: $30; order through DoorDash
When you get the craving for a good burger, you're not going to want to brave the fast food drive-thrus for a subpar burger. That's where Wonderkid comes in. The Atlanta Dairies restaurant is preparing breakfast, cocktail kits, and sandwiches for delivery and pickup, but the real prize here is the Wonder Burger, which can be made with a beef or plant-based patty.
Cost: $12; order through Grubhub, Uber Eats, and DoorDash
Don't let the name fool you -- San Francisco Coffee is a local string of coffee shops that could seriously use your support. Grabbing a really good cup of joe has become a bit tougher recently, and San Francisco Coffee is one of the few coffee shops in the city who is delivering coffee right to your door. The shop also has teas and assorted pastries available, and all you have to do to ensure morning delivery is to submit your order by 5pm the day before.
Cost: $24; order through the shop's website
Sign up here for our daily Atlanta email and be the first to get all the food/drink/fun the ATL has to offer.
Joshua Robinson is a contributor for Thrillist who isn't letting this coronavirus prevent him from getting good food, and he hopes you aren't either.