When you think of the Buford Highway, the first thing that comes to mind is probably Sheriff T. Justice, but the second is probably what an injustice it is that you don't speak Korean, Spanish, Vietnamese, or Thai well enough to find the best stuff along Atlanta's most diverse dining drag. Well, that's ok, because we did it for you...
5. Plaza Fiesta Food Court
What you're ordering: The Pambazo
Legend tells of a sandwich made from torta bread dipped in ranchero sauce, filled with chorizo sausage, potatoes, lettuce, cheese & sour cream. It goes by the name "Pambazo", and it is real. The true legend is about a guy supposedly foolish enough to eat it without a knife and fork.
4. Nam Phuong
What you're ordering: Bot Chiên
Vietnamese street food is awfully far away usually, so the pros at Nam Phuong are here to make you these pan-fried rice cakes mixed w/ egg, scallions & a shton of other stuff... just imagine Danang had Waffle Houses, and these are the hash browns.
3. Taqueria La Carreta
What you're ordering: Cabeza, Lengua, and Chorizo Taco Trio
Tacos are tacos, right? No, señor, and I'll thank you to mind your tongue. Speaking of which, that's what "lengua" means, and it's slow-cooked, then combined w/ beef cheek & chorizo sausage.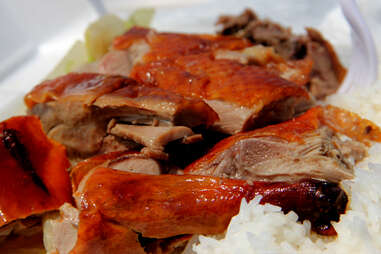 2. Hòa Bình Deli
What you're ordering: Rotisserie Duck
Tucked inside this specialty supermarket are racks of deliciously rotisseried ducks begging for you to pick the meat off the bone. Healthy eaters will skip the crispy skin, but that's almost as foolish as that guy who ate the Pambozo without utensils just crazy.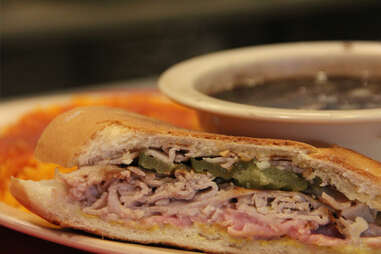 1. Havana Restaurant
What you're ordering: The Cuban Plate
The lines out the door around lunchtime suggest that 1) a dish that starts with two kinds of pork and goes from there probably sounds great in any language, and 2) there's a reason Havana's been open since the year before Smokey and the Bandit came out.