The Braves' new stadium, SunTrust Park, opened just in time for the 2017 season. Yes, there's still a little construction on the highway until 2018, so you'll definitely have to face some mean traffic on 285 to get there, but once you arrive you'll not only have the comfort of being in a fresh new ballpark, you'll also have a lot of seriously good options for drinking and dining. We toured the stadium and culled all the best spots (and listed what section they're in), so no matter how the season turns out, at least you'll be well fed.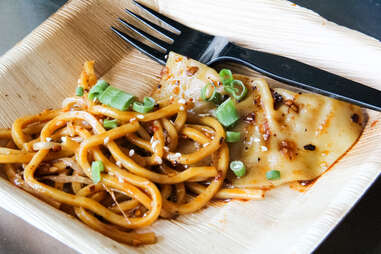 Intentional Wok
Section 148
If you've lived in ATL more than a year and haven't had Gu's Dumplings, you eat the wrong foods and don't have the right friends. You can correct both (maybe) now that Gu's has a dumpling cart named for that classically defeatist pitching strategy. However they make their way to SunTrust, all that matters is that the boiled dumplings don't lose a bit of flavor. The cart also sells noodle bowls.
Hugh Acheson's First & Third Hot Dog and Sausage Shack
Section 156
Chef Hugh Acheson has mastered Southern food from pickled veggies to Hoppin' John, but now the man is bringing together fans of baseball and Cheddar bratwurst, Italian sausages, and other tube-wrapped links of meat. His team cooks them on a Mongolian grill, and sandwiches them between butter-toasted Martin's potato rolls. Some are custom-blended from Buckhead beef, others are sourced from Austell's own Patak Meat Products (Polish kielbasa and andouille). There are also self-serve cocktails, because that's how it should always be when you watch baseball.
Potato Cutter
Section 138
This one's simple. Fresh Idaho potatoes are loaded into a cylindrical chamber one at a time, then pushed with air pressure through a slicing grid before falling into a bucket as perfect little raw French fries. They're fried and seasoned with garlic or exotic flavors like chili lime, and you can get them in small baskets or sharable buckets.
Braves Big Bite
Section 113
This concession stand may not have a big celebrity name next to it, but you can bite its big celebrity bone, or the tender, juicy pork chop that hugs it. Braves foodservice provider Delaware North created the tomahawk pork chop -- a giant, multi-pork-chop sandwich -- out of a crazy-big, sesame-seeded potato bun, topped with collard green slaw and Alabama white BBQ sauce. All you have to do is figure out how to hold it and eat it at once without harming yourself.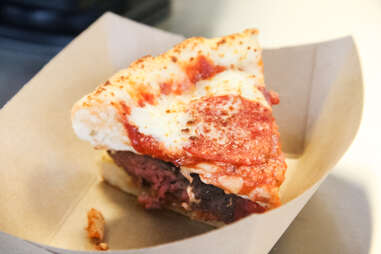 The Slice
Section 150
Triangular portions of extra-large pies are what you'll get here. And they're made with herbed San Marzano tomato sauce, Italian mozzarella, and a stone-fired crust. If that simply won't do, you can get the Burgerizza: a 24oz ground chuck burger sandwiched between two 8in pepperoni pizzas, layered with a 1/4lb of hickory-smoked bacon and slapped with six aged Cheddar cheese slices. If that's not enough, you need help. But until you make the dietician appointment, just get one of the Ricotta- and cream cheese-filled cannolis.
Fox Bros.
Section 150
Barbecue is always a great choice when you're watching baseball, but Fox Bros. at a Braves game is the next level. The famous chopped BBQ brisket sliders are smoked at a ballpark stand and served with a side of coleslaw and baked beans.
Taco Factory
Section 151
Order a trio of street tacos -- pork pernil, slow-roasted beef barbacoa, and marinated grilled chicken -- at this bright orange booth. They're made with flour tortillas and topped with cabbage slaw and pickled egg radishes from Bartow, GA's East Georgia Produce. If you're into that Louisiana po-boy lifestyle, go for the blackened catfish tacos topped with Cajun remoulade. While you're nearby you can also hit Sandlot Snacks and grab an oven-baked Script A pretzel, twisted into the shape of the Braves' A logo and served with cheese dip.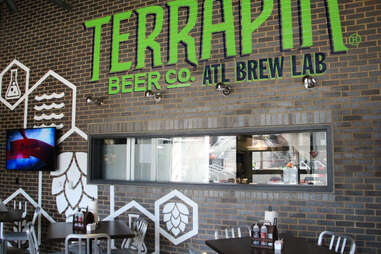 Terrapin Taproom
Section 161
Perhaps the biggest news here is the arrival of Terrapin -- the Braves official craft beer -- in the form of their ATL Brew Lab, which is the Athens brewing company's first true pilot system, according to Beer Street Journal. The five-barrel brewing system is setup with 10 barrels for fermentation, all of which are used to make the experimental and exclusive brews available at the games. In addition to those special beers, you can get other Terrapin favorites like Hopsecutioner, Hi-5, and Sound Czech.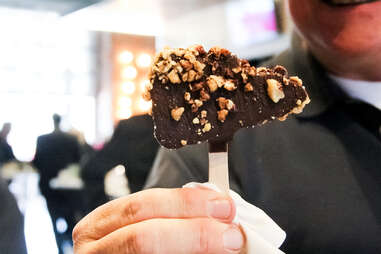 High Road Craft Creamery
Ballpark Sweets (Five locations)
ATL's own High Road Craft Creamery serves custom-designed tomahawk-shaped ice cream bars. Neat.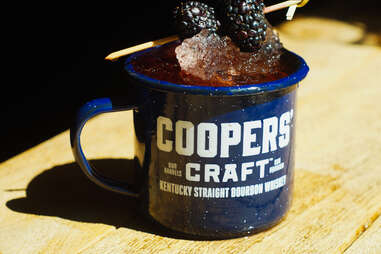 Coopers' Craft Bourbon Bar
Section 216
If you came to drink more than beer, you'll find the Coopers' Craft Bourbon Bar on the first base side of the Terrace Level. The Louisville, KY-based bourbon serves sessionable cocktails like the Braves Bramble, which along with bourbon includes smoked rosemary, blackberry syrup, and lemon-lime soda.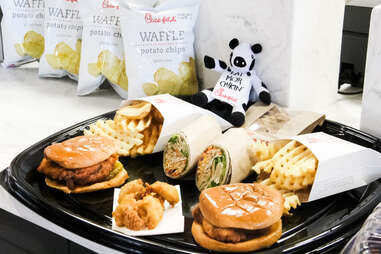 Chick-fil-A
Section 143
And of course, because you demanded it but didn't even know it, there's a Chick-fil-A and a Waffle House. Yes, IN the ballpark. You're welcome ATL. Don't forget to watch the game!
Sign up here for our daily Atlanta email and be the first to get all the food/drink/fun the ATL has to offer.
Mike Jordan feels a lil' better about the traffic situation coming to I-75/285 knowing he can eat and drink like a Hall-of-Famer once he gets to SunTrust Park. Tweet him at @michaelbjordan and check him on IG at @mikejordanatl.