Judging by the number of things we deep fry in Atlanta, it's clear most people say "yes" when asked if they "want fries with that." But sometimes we want fries all on their own. Or covered in cheese curds. Bottom line, whether or not they come with a great burger, we want 'em, so here are the ATL's 11 best fries...
 
Okonomiyaki Style Fries
Illegal Food (address and info)
Virginia Highlands
These fries, conveniently located at a restaurant you need to try now, may not be easy to pronounce, but they're unlike any spuds in town because they're topped with three sauces, bonito flakes, sesame seeds, and more. So good, they're almost worth learning how to pronounce "okonomiyaki."
Truffle Parmesan Fries
JCT Kitchen & Bar (address and info)
Westside
You come to Ford Fry's first restaurant for "Angry" Mussels or Sunday Supper, but then you smell an order of the Truffle-Parmesan Fries going by. Do the right thing.
Pub frites
Leon's Full Service (address and info)
Decatur
Does it come as a surprise that one of the best cocktail bars in the country offers a way to soak up said best cocktails in the country? Heck, these pub frites, served with sauces like smoked tomato mayonnaise and goat cheese fondue make Leon's a destination even without the drinks.
Herb fries
Bocado (address and info)
Westside
Chef Todd Ginsberg knows his way around fried potatoes: he created three of the recipes listed here. Bocado's fries, tossed in butter, garlic, and herbs, were his firstborn, and alongside the epic Double Stack Burger, they hold their own just fine.
Cumin fries
Fred's Meat & Bread (address and info)
Inman Park
The lines at Krog Street Market's sandwich darling may be daunting, but they're worth braving for these thick-cut, spiced fries and harissa mayo.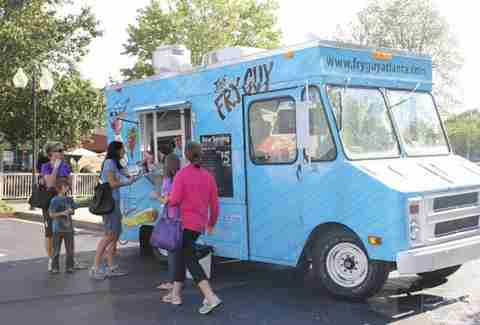 Cone of fries
The Fry Guy (address and info)
Various locations
Jobe, The Fry Guy, only makes one thing: chicken. Psych! Try the cone of fries with a unique sauce like malt aioli next time you see him at a festival.
Poutine
Bantam + Biddy (address and info)
Various locations
What do you get when you combine duck fat fries, local cheese curds, and gravy? The best thing ever to be inspired by Canada since... um, ever?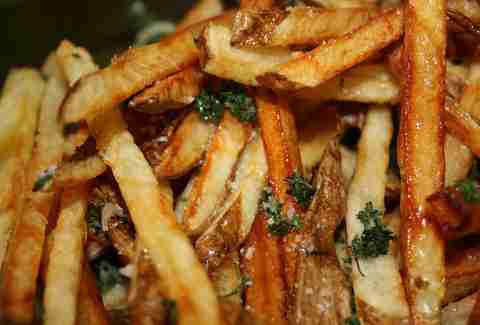 Noni's Fries
Noni's (address and info)
Old Fourth Ward
Noni's, like any respectable hipster institution, wears two hats: that of an Italian-inspired deli and that of a PBR-fueled nightclub. We're sending you there for the piles of garlicky Parmesan fries, but the dance parties are okay too.
Belgian fries
The Porter Beer Bar (address and info)
Little Five Points
You'll never guess what the Belgian fries pair well with at this beer bar. No, really: they suggest Lagunitas Dogtown Pale Ale, because they pair beers with Every. Menu. Item.
Poutine
The General Muir (address and info)
Druid Hills/Emory
The poutine at this Jewish deli ain't kosher... err, maybe it is, how should we know? What we do know is that it combines crispy fries, gravy, cheddar cheese curds, and fried house-made pastrami, and is totally delicious.
Sesame Fries
Yumbii (address and info)
Various locations
What makes the fries at Atlanta's OG food truck "far out food?" Well, they're round. But also, they're topped with sesame, soy, and chili, plus they're accompanied by chipotle ketchup. Far out, man.
Sign up here for our daily Atlanta email and be the first to get all the food/drink/fun the ATL has to offer.