If there is one dish that Atlanta should always dominate, it's the one at Turner Field... at least until the Braves move OTP in 2017. After that, we'll just have to settle for the glorious king of Southern comfort food: fried chicken. Whether it's cooked up in massive double-­fryers, seasoned skillets, or thanks to that weirdo in Piedmont Park, a Fry­Daddy in the back of a van, this fried chicken proves that the ATL's got breaded poultry on lock...
The Colonnade Restaurant
Morningside
This eats institution's 87yrs-old, and is on Cheshire Bridge, so yeah, there're gonna be some blue hairs there, but there's also a bar with heavy pours, over two-dozen regular sides (rice & giblet gravy!), and enough kinds of fried bird to keep you busy for a month.
Busy Bee Cafe
West End
The specialty is a 12­hr-­marinated masterpiece that draws fans from Macon to Marietta. The only way to top it is... um, with their pan gravy, which is so good, it'll make you swear out loud. But watch your mouth, or Miss Sheila behind the counter will watch it for you.
Chop Chop Restaurant
Reynoldstown
Locals on Memorial have tried to keep this grocery/ lottery/ meat­-and­-three (where the cashier may or may not speak English) a secret for years, but too bad: deep fried poultry is a universal language that we all understand.
Pittypat's Porch
Downtown
Somehow, their fried fowl is even better when "Big Mama" is working the floor, and when you wash it down with a glass (or three) of "Pittypat's Punch", a moonshine and fruit juice cocktail that'll get you in the mood to grab a rocking chair and "set a spell".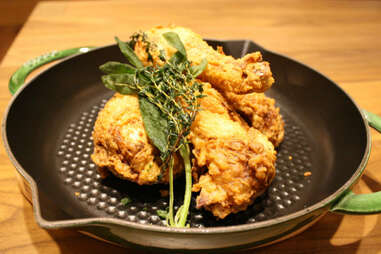 Sway
Downtown
Go ahead and scoff at the idea of a hotel restaurant slinging next-level fried chicken. That just means there'll be more of the giant skillet full of meat w/crispy rosemary they're serving at Sway, in the Downtown Hyatt, for us.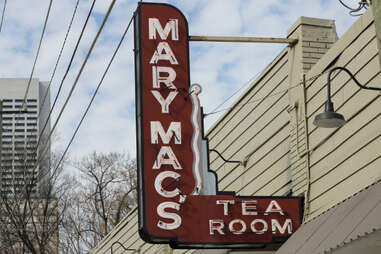 Mary Mac's Tea Room
Old Fourth Ward
A restaurant so old, it was a go­-to pre­game spot for Atlanta Crackers fans, and is still home to fried bird so famous, people have tried to steal/replicate the recipe countless times, but like Atlanta's other famous birds, the Falcons, wining the Super Bowl... it just can't be done.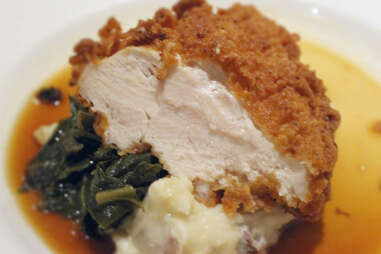 South City Kitchen
Midtown
When it comes to frying anything -- a stack of fried green tomatoes, their buttermilk­-drenched fried chicken -- SCK is... sorry'boutthis!... s­i­c­k, and gladly pours enough sweet cocktails (the gin-/ lemon-heavy "I­75", etc.) to make sure you are, too.
The Watershed on Peachtree
Brookwood Hills
Brined in a way that would make Chick-fil-A support gay marriage! jealous, what started as a Wednesday night­-only offering has exploded into a can't-miss dish that's available at... lunchtime on Wednesday too!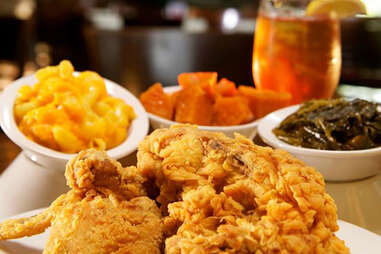 Paschal's
Castleberry Hill
Forget the stupid Midtown club that Bieber stopped in last week, Paschal's has entertained Dizzy Gillespie, Aretha Franklin, and Dr. Martin Luther King, Jr., mostly because of their incredibly juicy 1940's fried chicken recipe, which they're practically daring you to dip in their cheese grits before taking a bite. Do it. DO IT!