If there's one thing Atlanta does better than any other place it's... well, these 20 things... but we're also really, really good at fried food. So good, in fact, that restaurants are always coming up with new ways to put their fryers to use, as evidenced by our list of the five best fried foods to eat in Atlanta:
Ranch & Cheddar Pork Rinds
The Painted Pin (address and info)
Lindbergh
Hot, fresh-out-of-the-fryer pork skins are immediately dusted in a ranch and a cheddar powder, not to be confused with Powder cheddar, most of which Jeff Goldblum spent on black- and/or horn-rimmed glasses, presumably.
Hot chicken sandwich
Southbound (address and info)
Chamblee
The bird is brined, breaded, and dry-spiced with Schezuan chili before being kissed by the fryer. A fried green tomato, goat cheese, pineapple habanero jam, house-made Schezuan mayo, and a Bibb leaf complete the brioche stack. Oh, they're open Sundays too, unlike another not-to-be-named fried chicken sandwich place.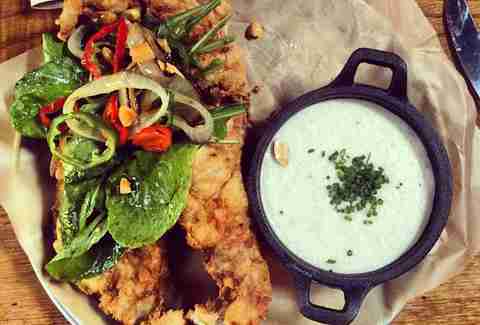 Country fried ham steak
Ladybird Grove & Mess Hall (address and info)
Old Fourth Ward
There aren't many things more quintessentially Southern than fried ham, aka battered ham steak strips covered with peppers, greens & peanuts and served with a soup-sized bowl of white gravy.
Reginella
Varuni Napoli (address and info)
Morningside
This giant fried calzone is crammed with Fior di latte mozzarella, Buffalo ricotta, Pecorino Romano, corbarino tomatoes, and salami, then topped with extra virgin olive oil and basil. Anything with that many vowels in its description has to be delizioso.  
Boniato fries
Joystick Gamebar (address and info)
Old Fourth Ward
Bad Dog Taqueria's takeover of Joystick means much more than just tacos: the boniato is the South American white sweet potato you didn't know you needed until it was fried and served with sweet Jack & Coke mayo and a spicy habanero ketchup.
Sign up here for our daily Atlanta email and be the first to get all the food/drink/fun the ATL has to offer.