In a city that prides itself on Southern staples in all their deep-fried, butter-slathered glory, it's easy to go overboard on buckets of chicken and buttermilk biscuits with an extra-large sweet tea on the side. It's also easy to avoid said buckets of poultry and lighten things up a bit -- if you know where to look. Lucky for you, we've rounded up a scintillating list of the best places to find the foods your body will assuredly thank you for later.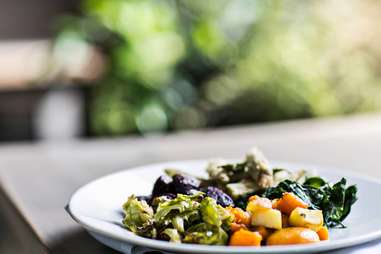 Westside
When a restaurant has a James Beard-nominated chef, you know it's going to be good. But when he (Steven Satterfield) is also dubbed the "Vegetable Shaman" by the New York Times and literally wrote the book on how to make veggies taste delicious, you know it's going to be incredibly good for you, too. The menu changes weekly, but always has plenty of gems, like griddled chicken with fall squash or goat cheese ravioli with mushroom, beets, and sunchokes.
Buckhead
OK, so True Food Kitchen MAY be a chain and it MAY be located in a shopping mall. But that doesn't mean the food is bland or bad for you. In fact, it's quite the opposite. All of the dishes align with Dr. Andrew Weil's anti-inflammatory diet -- in other words, this food will help you feel better and live longer. With flavorful options like kale guacamole, spaghetti squash casserole, or spicy panang curry, it also all tastes market fresh and amazing.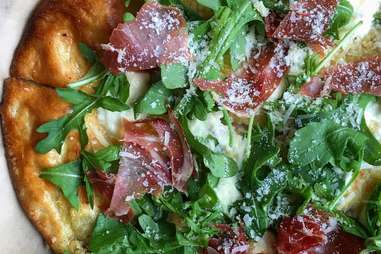 Ponce City Market
NYC-based chef Jonathan Waxman's farm-to-table fare has migrated down south into this airy, urban spot, tucked in a corner of Ponce City Market (thankfully, it's the one PCM restaurant that takes reservations). Yes, there's pizza and pasta if you're down for carbs. But if your goal for 2017 is to eat more greens, start with the kale salad -- it may be the best in town. Pair it with the roasted chicken for a perfect low-carb meal.
Old Fourth Ward
This restaurant/live music venue offers plenty of vegan and gluten-free options alongside some classic comfort foods. There's a crunchy salad with farro verde, arugula, fennel, butternut squash, and more that you can top with chicken, shrimp, tofu, or steak. Or go for the cast-iron catch of the day. You'll also want to try their vegan take on tater tots with sweet whipped tofu, Szechuan cherry jam, and fried sage.
Old Fourth Ward
With one of the best indoor-outdoor dining scenes in ATL, Ladybird serves up spectacular food and delicious drinks right on the Beltline. While the butternut squash and kale dip only sounds healthy, other options actually are: the farm vegetable board or the steelhead trout with bok choy, ginger-garlic vinaigrette, and scallions. At brunch, go for the avocado toast or granola with seasonal fruit and local yogurt.
Westside
The double-stacked burger is always a winning pick at this industrial Westside spot. But don't let it outshine some of the lighter and equally-as-delicious options on the menu. Focus on the red quinoa salad with avocado or citrus and beets with tzatziki to start, then go for the seared trout or flounder with sweet corn risotto for a great meal that won't weigh you down.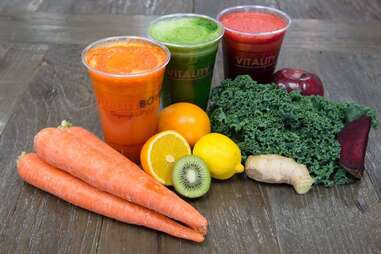 Midtown
Need a healthy option in Midtown, like, right now? This new fast-casual spot -- a California import -- serves up antioxidant-packed juices, smoothies, acai bowls, salads, and sandwiches (with gluten-free bread as an option). The best part: The smoothies and bowls are 100% filler-free: no ice, added sugars, or artificial anything. If you're over acai, they also have pitaya or graviola as base options for your bowl.
Midtown
This daytime spot has the requisite gut-buster options like a classic Cuban sandwich, but it's also a great place to pick up a relatively healthy salad or made-from-scratch soup. Stop by at brunch for the incredibly satisfying avocado toast, topped with a poached egg (note: While the cafe is moving to Midtown, you can still place to-go orders at the Buckhead location).
Buckhead, Dunwoody, Decatur
Good news that keeps on giving: Burgers aren't always bad for you. The menu at this Atlanta-based chain is entirely sourced from local farms, and the beef is 100% grass-fed. You can't go wrong when you build your own burger (just go easy on the mayo and bacon), but if you want to up your veggie intake, get the house-made quinoa veggie burger topped with marinated beets and balsamic onions.
Decatur
The pool tables and shuffleboard are deceptive -- this place doesn't serve basic bar food. The menu from Chef Savannah Sasser, a former vegetarian turned butcher, offers vegan-friendly options, including a smoked squash burger with vegan cashew cheese, cauliflower mac & "cheese," and even a crispy Brussels sprouts sandwich. After you've eaten all those veggies, treat yourself to a house-brewed beer. You've earned it.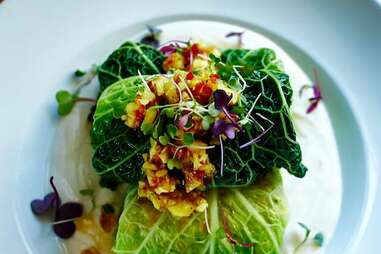 Roswell
While it may be famed for its fried chicken, owner Ryan Pernice says he wants to show Southern food doesn't have to be "deep-fried with three sticks of butter." To prove his point, there's a seasonal vegetable plate as an entree. Still eating meat? Go on "Paleo Wednesdays" to choose from grain-free options like baby back ribs with chipotle sweet potato and greens or grass-fed beef chili with sweet potato fries.
Sign up here for our daily Atlanta email and be the first to get all the food/drink/fun the ATL has to offer.
Locke Hughes is a freelance writer who recently moved to ATL from NYC, and quickly realized that more Southern food + less walking = pants that no longer fit.