The term "Indian food" is an overarching catchall for a type of cuisine that's as diverse as the regions it hails from (and it's from a country with a population of 1.2 billion). It's also a cuisine that can be difficult to find and enjoy if you don't know where to look. Thankfully, there are some crafty chefs readily serving up classics and new takes alike throughout ATL. Here's where to find the best...
Recommended Video
This Restaurant Gives Brunch a Punjabi Twist
Buckhead
Started in Decatur -- and likely the most popular Punjabi restaurant in ATL -- Bho knows from its 12 successful years of slangin' some of the best chicken tikka masala in Decatur how to please palates through a variety of North Indian tapas. Though the flagship location closed last year, the Buckhead space and the Emory resto-market are doing just fine, thanks in part to a mass of flavor-filled yet approachable dishes. In addition to events (jazz brunch with Indian food) and cooking classes where you can learn spice and ingredient differences between regions of India, you can also follow the Twitter account to locate the food truck, which is worth chasing, if only for a veggie samosa.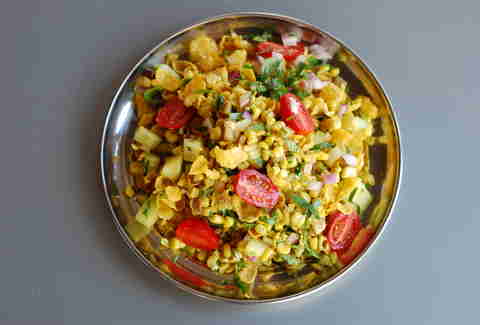 Decatur
Obviously the cuisine originated in India, but the first CP was opened in Asheville, NC, back in 2009. It blew up enough that the owners decided to give their Indian street food a try in Downtown Decatur. It's big on providing Atlanta a glimpse into the culinary culture of eating on-the-go, but without skipping out on "the harmony of textures, flavors (sweet, savory, sour, salty, and spicy), aromas, and overall sensations." And though you might expect a place selling street snacks to cut corners on sourcing proteins and produce, it gets most of the meat and veggies from local and regional farmers and purveyors (chicken and catfish from NC). In fact, Chai will reach out as far as South America for tilapia, and yes -- even Pennsylvania for sustainably raised lamb, which you'll understand when you bite into the Maharaja burger, seasoned with ginger, garlic, mint, and ground pistachio.
Ponce City Market
Adding a bit of Persian flavor to Indian street food, Botiwalla is the Chai Pani family's PCM tribute to the chef's West Indian granddad, who owned an Irani cafe (the only one in the town of Ahmednagar) where you could get tea and kababs prepared by a Persian who'd emigrated to India around the early 20th century. The result here is Indo-Persian (Parsi) cuisine in a buzzy space that mixes savory "chaat" snacks (fried smashed fingerling potatoes, lamb sliders, half-tandoori fried chicken), tamarind-ginger-glazed Desi spare ribs, and other wonders of the deliciously integrated world we live in.
Druid Hills
Repping Buford Hwy is already a sign that Panahar's menu is going to lean authentic, and definitely lower-frills on the decor side. That said, it puts considerable effort into making each meal modernized and keeping new guests coming back with incentives like owner-distributed coupons for your next visit (tip: invest in good disguises!). Said owner even abandoned his original career goal to be a Georgia Tech-educated engineer to be the first Bangladeshi restaurant in the Atlanta area. Now he'll serve you a grand buffet of yogurt-laced tandoori, mixed rice biryani dishes with various meats (chicken, beef, lamb, shrimp, etc.), and goat dishes diversely prepared with coconut milk, sauteed veggies and peppers, mustard oil, and more. FYI -- expect spicy dishes to be tear-inducing. It's also BYOB!
Decatur
Putting dessert first, even in the name, Gokul is named after the sweet homeland of Vishnu himself, so expect heavenly, sugary creations like badam barfi, which sounds like something you wouldn't eat but is actually a buttery almond candy that's cut into squares, and is tasty as hell. There are also weirder options like the saffron-/pistachio-flavored milk shake with Indian ice cream, black jelly beans, and actual noodles. You can order those, plus namkeen (Indian snacks) straight from the website, and pick 'em up after staying to enjoy all-veggie meal options ranging from heavy (deep-fried, chickpea and flower-dipped spicy mashed potato balls), to somewhat-lighter stuff like garlic veggie fried rice and a few eggplant curries.
Chamblee
A 20-year staple of northeast ATL, Himalayas is visited by people who want heritage food but need control over the degree of spice applied to their meals. Therefore, you can ask the cook to significantly scale up/down the mildness or heat -- whether it's the lower-burn lamb boti masala or the fiery lemon goat vindaloo -- without losing the flavor that comes from having tandoori cooked in a traditional charcoal-fired clay oven. Hit the $10 lunch buffet early (it shuts down at 2:30) to maximize choices, but definitely enjoy the fluffy naan, mulligatawny soup, the cheesy saag paneer, and the shrimp with lentils, which are customer favorites and tend to be quickly depleted and restocked.
Decatur
Bringing the food styles of various regions (North Indian, South Indian, Gujarat) together for an exceptional vegetarian dining experience, Chatpatti is 24 years deep in the business of serving authentic unleavened breads, specialty chaats like spicy flour crisps with lentil donuts, rolled chickpea flour flats, deep-fried green chilis, and even breakfast-friendly meals like the potato-, onion- and cheese-filled rice and lentil crepe.
Old Fourth Ward
Asha Gomez is one of Atlanta's most respected chefs, so even when her amazing-but-tragically-undersupported restaurant Cardamom Hill shut down a few years ago (tough location), it didn't stop her from bringing an "Indian patisserie" concept closer to inner-city dwellers. Kathi rolls like green masala goat with caramelized onions call out to your belly, while "winter specials" like roasted/blackened, banana-leaf-wrapped steamed chicken with ginger-pomegranate molasses sauce and sticky coconut brown rice sing indulgent songs to your soul. Since you're already afterlife-doomed at this point, go ahead and try amazing pastries like chocolate chilli cake, and be thankful for whatever spirits are still blessing your stomach.
Midtown
While many Indian restaurants choose comfortable, home-style decor, Tabla's interior is way sexier, with a contemporary lounge atmosphere that contrasts nicely with traditional cuisine. Tabla added a bit of fusion into small plates like octopus with tandoori roasted mustard oil and cream marinade, a great selection of tacos (Indian pickled marinated chicken thigh), a load of curried meat plates, and main dishes like coconut-ginger halibut filet. Then there's the bar, which lets you kick the night off with Indian beers such as Kingfish or Taj Mahal, or spice-infused liqueur cocktails like the chai Old Fashioned, or the Cognac/sherry/applejack brandy/allspice East India.
Sign up here for our daily Atlanta email and be the first to get all the food/drink/fun the ATL has to offer.