Atlanta's famous for many things. Like being irrationally passionate about Cabbagetown. Or boasting some of the nation's best gas station food. Conversely, if there's one thing it's not famous for, it's definitely its free-flowing traffic. Oh, and excellent Italian food. However,  judging by our top picks below, maybe it should be...
Recommended Video
Acquired Taste: Blood Rice Cakes With Timothy DeLaGhetto and Justina Valentine
Buckhead
Before opening the doors of its Atlanta location, this Miami-born Italian eatery won Bravo TV's Best New Restaurant television competition. The Buckhead Atlanta version mixes Old World and mid-century modern on the design front for a fancy, elegant feel. Antipasti dishes include creamy polenta meatballs, while pizze (the "e" proves that it's really Italian) choices range from spicy salami, roasted pepper, and house-made-to-order mozzarella, to the "Sunday Gravy" with meatballs and jalapeños. Keep room for the short rib risotto or the braised beef, pork ragu, and veal pappardelle alla Bolognese, then pile on the sweet via the flourless chocolate ganache cake with hazelnut gelato.
Roswell
The Italian at O.M. is Roman, and the flavor is worth the drive even if you live in Rome, GA (actually, especially if you live there). Operated by two Roswell High grads who brought lessons from their global culinary travels back home, the space balances casual and formal, with hearty starters that include Neapolitan braised veal meatballs and spicy fennel pork sausage. There are also select pies like the truffle/mushroom/fontina Funghi, handmade pastas like the Tagliolini di Mare (lobster, lump crab, shrimp, Sicilian tomatoes, and seafood broth), and standard specialties like wood-finished Mediterranean branzino. Don't worry about picking the right wine -- one of the brothers is a sommelier who made sure the cellar could stock 2,000 bottles. Have a glass to celebrate the just-launched lunch menu, which features specialities like corzetti (rapini pesto) pasta, and sandwiches like the salami "La Pietra" -- spicy coppa, arugula, balsamic vinegar, and pecorino on country bread.
Ponce City Market
Since Bellina is partially an Italian deli/market and part-cafe/-ristorante, you can stop in and purchase imported Italian meats, cheeses, and whatever else they're selling, or take to the back and sit down for a full-service meal. Chef Gizzy Barton earned her stripes working with Kevin Rathbun at KR Steakbar, and also worked South City Kitchen and Restaurant Eugene, so she knows how to turn locally farmed meats and produce into major meals like spicy braised half-chicken and slow-cooked beef and pork ragu with fresh-made pappardelle (even the eggs are local). It also offers cooking classes (pasta making), wine tastings, and private dining, plus the bar features inventive buzzers like "Peanuts & Coke" (salt-roasted-peanut-infused amaro & soda), a rum and balsamic vinaigrette number called Treno Fantasma, natural wines (nothing but grapes), and a few hard-to-find Italian beers that aren't Stella.
Alpharetta
Much like George Jefferson's various rants, this restaurant was inspired by the flavors of Florence, and is big on "for the table" communal dinners that feed your whole group. The airy, open space offers great views over the chef's counters, and the patio offers alfresco dining and a bar window, in case you want to drink while shopping around the Avalon complex, which may or may not be a good idea after having a couple glasses of wine. So just sit down and eat Northern Italian favorites like black pepper tagliatelle with carbonara, pork tesa, egg yolk & pecorino romano, or the tender veal chop scaloppine with smash-fried fingerlings. Check the amazing wine menu before you go -- bottles range from $31 to $350, and are separated into various regions, including Piedmont, Tuscany, and Calabria.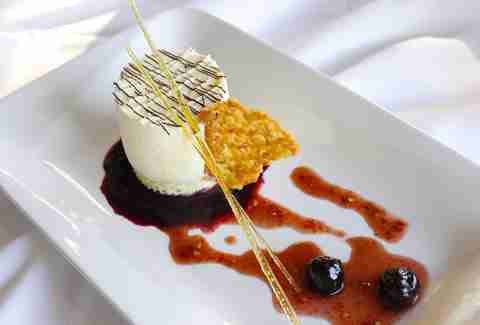 Buckhead
With 30 years in business, this Buckhead Life Group restaurant has graduated to old-guard status, but is still high on the list in terms of ATL favorites and is still the spot to beat on various local and national food awards lists. Sure, their penchant for showing off celebrity photos on the website is a bit cheesy, but not as deliciously so as their lasagna espressa with veal Bolognese, local wild mushrooms, and Parmigiano-Reggiano bechamel. They're also famous for their linguini frutti di mare, but if you're feeling ritzy you can get the $100/person five-course wine dinner, or go adventurous on the October regional menu, where you can order serious plates like slow-braised wild boar in Sangiovese wine with pappardelle pasta, or the Agnello 3 Volte ("The Three Ways of Lamb"), which is braised lamb cheeks, a grilled lamb chop, and house lamb sausage.
Decatur
No. 246 dishes out inventive Italian fare inspired by authentic flavors and local ingredients in a sleek, modern space that somehow makes the food feel even more convincingly Italian. From pasta to wood-fired oven-baked pizzas, the entirety of the menu is delicious, but it's the meatball appetizer that can't be glossed over. Made from fresh pork, veal, and beef, dusted with basil and Parmesan, and served on a bed of spicy tomato sauce, these meatballs definitely put all others to shame.
Inman Park
For more than a decade, Atlantans have been transporting themselves to the Old Country with every bite from Sotto Sotto. Cozy and warm, it not only offers delectable, freshly made pasta dishes daily, but also has an 100% Italian wine menu which complements any choice beautifully. To help ease the pain of wondering what delicious meal to get, order the risotti (known to us Americans as "risotto") for maximum Italian effect. It's unbelievably creamy and velvety and bursting with bright, delicate cheeses and brilliant, tender bits of veggies and meats. It's simple and satisfying. And somehow even better if you eat it on the charming outdoor terrace.
Inman Park
You have to go into a meal here mentally and emotionally prepared to eat unseemly amounts of carbs and delicious fats. For proof, look no further than the ever-popular 20-yolk tagliatelle. It's freshly made tagliatelle pasta smothered in a decadent sauce of 20 lush egg yolks and laced with an unexpected bite of Tuscan kale kimchi. This makes every bite as explosively spectacular as it is unexpected. And if you're worried about calories or cholesterol? Stop. The kale kimchi totally cancels that out... probably.
Virginia Highlands
Translating to "The Table" in Italian and with the motto "Pasta Perfected," La Tavola has the kind of warm, upscale ambience and food your mom would make if she were a native Italian. And also, you know, a really talented chef. Naturally, you're getting the squid ink linguine. Beautifully black, perfectly al dente linguine tossed with deliciously briny squid ink and tender pieces of succulent calamari, lively Thai basil pesto, and Calabrian peppers that enhance and balance the blend of flavors and textures perfectly.
Buckhead
Widely known for its seafood-centric menu, St. Cecilia has some of the city's most flavor-rich and fanciful Italian foods. By blending coastal Italian dishes with Southern ingredients, it creates unexpected treats. Start with shared plates like the Alaskan king crab with silky avocado, ginger-pickled carrot & serrano and the cobia tartare with cucumber gelee, melon, pink peppercorn, and trout roe. Then, move on to the agnolotti with tender red wine-braised beef short rib, Parmigiana cream, and sage. There's also a phenomenal warm apricot cake with toffee, orange, and cardamom, but you'll be so stuffed by then you probably shouldn't order it. Just kidding! Do it.
Buckhead
A native of the Amalfi Coast of Southern Italy, Antonio Noviello has owned and operated Nino's since 1982. In that time, he's earned a lot of recognition from local diners and celebrities (and publications) for his authentic Italian classics, many of which are original recipes brought from Italy. Standouts include carefully executed pasta dishes like the fettuccine alla Michela with fresh sautéed shrimp and scallops in a lightly spiced saffron cream sauce, and the spaghetti al peperoncino eva, featuring delicious red pepper-infused pasta tossed with fresh shrimp and artichokes in a garlic and olive oil sauce.
Sign up here for our daily Atlanta email and be the first to get all the food/drink/fun the ATL has to offer.