What's better than fried chicken or the food at Atlanta's best "shackstaurants"? Well, more fried chicken/food from the ATL's best "shackstaurants," obviously. And maybe also some gloriously gooey mac and cheese, which is why we've rounded up the city's nine best dishes. Dig in...
Best food truck mac & cheese: Just Mac
Mac the Cheese Truck (address and info)
Buford
This rolling wagon of milky destiny stuffs it in sandwiches, casseroles it w/chicken & broccoli, tops it with all the fixings from an enchilada, and just serves it on its own, flavored w/cheddar or fontina.
Best original recipe: Triple Cheese Macaroni
OK Cafe (address and info)
Buckhead
Your lunch lady never served "cafeteria-style" mac with the kind of deliciously twisty and buttery sauce-covered pasta you'll find at this (wayyy-more-than) OK cafe.
Best use of white cheddar: Vickery's Mac n' Cheese
Vickery's (address and info)
Ormewood Park
For over 30yrs (in what used to be an old lady's house in Midtown), these folks've been serving down home eats like fried mac & marinara, and this tube-based white cheddar number, topped with cracked black pepper that probably makes past visitors to the home (ahem, Margaret Mitchell), proud.
Best mac that doesn't look like mac & cheese: Fox-a-Roni
Fox Bros. Bar-B-Q (address and info)
Candler Park
The lone piece of shell-shaped pasta breaking the surface of this Brunswick stew is like a shark fin warning you about the dangerously delicious mac and cheese you're about to stuff between your... waitforit!... Jaws.
Best use of multiple cheeses: Four-Cheese Mac-and-Cheese
South City Kitchen (address and info)
Midtown
The exact blend is a house secret, so don't try bribing your server, just grab a Blood Orange Bourbon Smash and enjoy your own personal mini-skillet of the kind of eats your grandma would have made if it wasn't completely irresponsible to waste that much cheese.
Best use of cheese that isn't cheese: Macaroni and Head Cheese
The Spence (address and info)
Midtown
No, "head cheese" isn't a dairy product that got a promotion, it's a kind of jellied meat (usually from an actual pig's head) that gets awesomely crispy when Richard Blais bakes it on top of a cauldron of bubbly elbow pasta.
Best hand-held mac: Fried Mac n' Cheese Bites
The Barrelhouse (address and info)
Midtown
Your late-night eats fantasies have come to life in the form of fistfuls of cheesy mac, rolled in breadcrumbs, fried, and sided with red pepper aioli. Oh, and at $3, there's no better cure for whatever whiskey-induced ailments you're suffering from.
Best for a baller: Park 75 "Mac & Cheese"
Park 75 (address and info)
Midtown
The mack-daddy of Atlanta's mac boasts rock shrimp and jumbo lump crab soaked in a light, cheesy cream sauce and tossed with some sweet spiral pasta.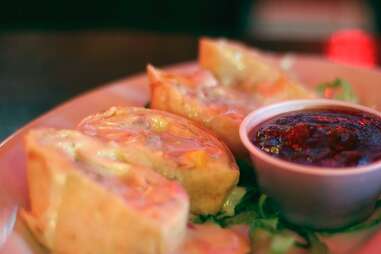 Best use of mac as stuffing: Mac 'N' Cheesy-Changa
The Vortex (address and info)
Little Five Points
Roll pulled pork and rich, cheesy tubes of mac into a tortilla, deep-fry it, and then top it with even more melted cheese and BBQ sauce. Oh, you can't? Then let The Vortex do it for you. Then, even better, let the kind of hot, tattooed waitresses they don't have at shackstaurants bring it to you.
Sign up here for our daily Atlanta email and be the first to get all the food/drink/fun the ATL has to offer.