The 9 Best Mac & Cheese Dishes in Atlanta Right Now
It may almost be summer, but there's another important time in Atlanta, and that's the season for soul food, which is approximately 365 days a year. And since nothing represents soul food like mac & cheese, we've rounded up the best, cheesiest, most over-the-top mac & cheeses right now.
Inman Park
What you're getting: Braised Greens Mac & Cheese
Southerners are the masters of pretending that side dishes are actually vegetables (see: cornbread, grits, sweet potato pie, etc.), and when eating Wisteria's mac & cheese, with braised greens stirred into it, this almost seems reasonable.
Elyse Albert/Thrillist
Druid Hills
What you're getting: House Mac 'N Cheese
Community's use of rigatoni instead of macaroni is genius because it provides more noodle surface area for the rich, custardy sauce. You'll only be able to eat five bites of this, but they'll be the best five bites of your life.
Multiple Locations
What you're getting: A Mac Bowl
With a name like Mac the Cheese, it's pretty clear that the truck has got, um, street cred, so try a Mac Bowl with fontina or sharp cheddar the next time you're at a festival and you won't be disappointed.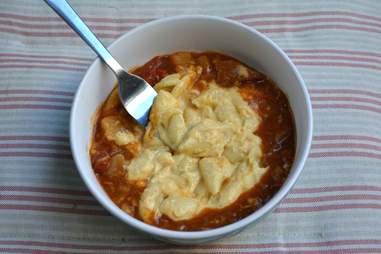 Elyse Albert/Thrillist
Candler Park
What you're getting: Fox-a-Roni
What's better than separate sides of mac & cheese and Brunswick stew? Both mixed together and still having just enough room to eat the legendary Frito Pie.
Cumberland
What you're getting: Heirloom's Mac
Heirloom Market isn't Korean BBQ -- it's American BBQ-Korean fusion, which might sound confusing, until you realize its mac & cheese gets an upgrade from kimchi, and the creamy, cheesy, and spicy result is addictive.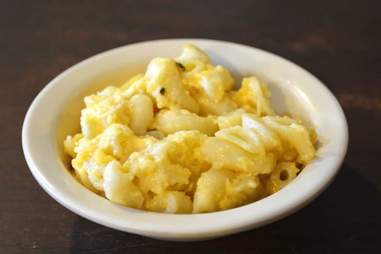 Elyse Albert/Thrillist
West End
What you're getting: Baked Macaroni & Cheese
This soul foodery has been serving some of Atlanta's best fried chicken since 1947, but its sides, like the ultra cheddar-y mac and cheese, are nothing to scoff at either. Bonus: it's categorized as a "garden fresh veggie," so it must be.
Downtown
What you're getting: Mac N Cheese (with bacon!)
Asante humbly lists the item as "Mac N Cheese" on the menu, but don't be fooled- there's bacon in there. And as they say, everything's better with bacon, if by "they" you mean us.
Elyse Albert/Thrillist
Atlantic Station
What you're getting: Smoked Cheddar Mac 'N Cheese 
This modern smokehouse takes its concept seriously: even the cheddar in its mac & cheese is smoked before it's served in a personal skillet, which means it crispy on top and gooey underneath. You won't be mad at it.
 
Multiple locations
What you're getting: House Mac-N-Cheese
Why have just one cheese in your mac when you can have four? SCK's mac & cheese proves that more is... um more (but also better), a point further driven home by the option to add lobster.
Sign up here for our daily Atlanta email and be the first to get all the food/drink/fun the ATL has to offer.