Since COVID-19's swift arrival in the country, the restaurant and service industry hasn't been the same. Many establishments have taken the financial blows and limped to takeout and delivery models, and some have shut down altogether. However, there is a select group of restaurants and bars that have decided to do things differently.

From distilleries like Old Fourth Distillery becoming hand sanitizer factories to restaurants like 5Church shifting their services to public service workers, Atlanta's food and service industry is getting creative. As a result, several restaurants have taken the charge of offering household essentials as well as meal kits by temporarily becoming grocery stores or bodegas. From fresh produce to DIY pizza kits, here is your guide to Atlanta restaurants providing groceries and prepared meals to the community.
Inman Park
Inman Park's staple for farm-to-table American cuisine currently offers pickup and delivery Wednesdays through Sundays from 4-9pm, but those looking for groceries can stop by any day of the week. Thanks to its newly adopted bodega model, One Eared Stag is selling to-go groceries, including locally farmed produce, meats, and herbs.
Midtown
Homemade pizzas are fun to make, but they rarely stack up against your favorite pizza spot. Thankfully, Varuni Napoli's own Chef Luca Varuni has decided to give hungry Atliens the tools to make an activity out of their next meal. In addition to takeout and delivery options, customers can also purchase at-home pizza kits. Also worth noting, Varuni Napoli is selling kitchen necessities like flour, extra virgin olive oil, and truffle oil.
Peachtree Corners
Since its opening in August of 2019, Georgia's first Lazy Dog has been making its mark, and that has become even clearer amidst COVID-19. The Peachtree Corners restaurant has cocktails, beer, and wine as well as several appetizing dishes available for pickup and delivery, but don't hesitate to try out their meal kits. From its Backyard Barbeque Kit to Brunch Kit, you'll have everything you need to chef it up at home.
Virginia Highland
While you're grabbing your curbside brisket or rib plate, be sure to check out DBA Barbeque's daily market ask well. Tuesdays through Saturdays from 11am-7pm, the Virginia-Highlands BBQ joint is offering contactless grocery shopping. Instead of rushing to a grocery store to see a hopelessly empty shelf, secure some toilet paper, bleach, and tissue while picking up your food.
Doraville
Although its Midtown location has temporarily closed, Food Terminal's Doraville location is still your best source for Asian street market food while you quarantine. Whether you're in the mood for it right now or planning your meals over the next few days, they've got you covered. Takeout and delivery continues to be an option, and you can also grab frozen plates that you can heat up whenever you're ready.
Virginia Highland
A restaurant that has completely ceased typical operations, 8ARM has transitioned to a completely different type of establishment. Every Thursday and Friday from 4pm-7pm, the 8ARM team facilitates pickups for CSA boxes (locally farmed grocery selections that vary week to week), pre-cooked plates, soap bars, wine, and more. In order to assure your food is ready for pickup, you must place your order by Wednesday at 10am.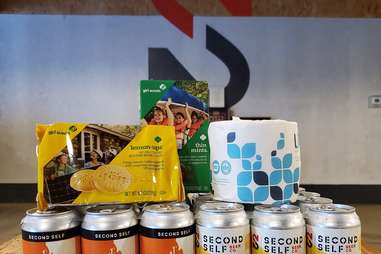 Midtown
While it doesn't quite offer meal kits or bodega-style shopping, Second Self Beer is selling a hot commodity that has become almost as rare as toilet paper -- Girl Scout cookies. Second Self's Survivor Kit earns its inclusion in this guide because it combines four six-packs of local brews with two boxes of Girl Scout cookies and a complimentary roll of toilet paper for good measure.
Ponce City Market
Although Bellina Alimentari, Ponce City Market's gourmet Italian mainstay, isn't currently offering takeout or delivery, its market products are still available. Customers can find an assortment of dried pastas, sauces, and Italian spices, and -- if you're up for a challenge -- a fresh pasta kit. Bellina's owner Tal Baum hosted a live streamed pasta making class on Facebook, so grab a kit and follow along for a virtual Italian cooking class.
Inman Quarter
Hampton + Hudson was an early adapter to the coronavirus pandemic, moving to a model void of in-person dining and establishing an online store. The bar and restaurant has converted into a general store, and literally has whatever you may need, from locally crafted cloth masks to almond milk.
Multiple locations
If you're somewhere between "I want to cook for myself" and "I want takeout," then Pita Mediterranean has a great option for you -- the Pita Family Meal Deal. Available for pickup or delivery, the meal kit features pita bread, your choice of two proteins (traditional gyro, chicken shawarma, falafel, or spicy falafel), and your choice of three sides (rice, grilled veggies, various hummus, and ghanoush). With locations inside and outside the perimeter, you've got the perfect excuse to throw a mini Mediterranean street market at home while you quarantine.
Sign up here for our daily Atlanta email and be the first to get all the food/drink/fun the ATL has to offer.
Josh Robinson is an Atlanta-based contributor for Thrillist.