Some of y'all -- and I won't name names -- are eating at what other people have told you are Atlanta's best Mexican restaurants, whether chains or single-location spots that everybody swears by. But you know in tu corazón that they're straight-up basura, getting by on reputation while serving completely bunk burritos, fajitas, tacos, enchiladas and un-special daily specials with mediocre salsas.
Stop the madness! Atlanta has incredible Mexican restaurants (especially OTP South, which you'll notice below), and you should start eating at them, pronto.
Recommended Video
Tuna Eyeball with Timothy DeLaGhetto and Ben Sinclair
Doraville
We have to start at Buford Highway, otherwise nothing else would be legit. And on BuHi, there are many fine traditional Mexican taquerias, but there can only be one king. The video on the website is more than enough proof that they've been doing things the right way (especially those cabeza, barbacoa, or chorizo tacos) since opening more than 15 years ago, but you should still test them by ordering one of the amazing soups (the spicy lobster is worth every penny of "market price"), or the parrilladas -- specifically the house special for two, which includes beef ribs, chicken, bacon-wrapped shrimp, and cheesy chorizo. Respect the crown.
Best Mexican when you're feeling fancy: Alma Cocina
Downtown
Not only is this sexy Peachtree Street spot one of the best Mexican restaurants in town, but it's also one of the best recommendations you can give someone about eating Downtown, period. Sure, "Contemporary Mexican Cuisine" sounds iffy. But when you eat it, you get it. The chicken chorizo meatball is where you wanna start, then get right into the salsa trio, and hang around for the shellfish ceviche and scallop crudo, both of which will change a vegan's mind about life. For dinner, get the chile-rubbed duck breast or the sherry-brothed snapper. Not that the heritage pork shank tacos and such aren't equally great, but it's worth it to see how the tourists are hogging some of the best Mexican entrees in town.
Westside
The tacos are excellent. The burritos are even better. And the margaritas are serious. The patio feels city-like, but also tucked away, deep into the industrial underbelly of Marietta Boulevard. The inside is completely decked out with Día de Muertos skulls and art, which you might notice are similar to what you see at The Vortex (pssst… it's the same owners). It's got a punk-futurist vibe, and while the servers might act weird at times, you can't knock the flavor. Just don't eat the spicy chicken taco unless you really want to burn yourself to the skeleton.
Best for Tex-Mex on the BeltLine: Superica
Inman Park
Don't come here looking for burritos -- they're not on the menu, though weirdly enough they're mentioned on the website. DO come here for Tex-Mex tamales, the awesome $12 lunch special, or house specials like mesquite-grilled quail, crispy whole fish, or slow-braised chipotle-molasses short rib. And everybody swears by the puffy tacos, though the basic hard-shelled joints are fantastic too.
Buckhead, Inman Park, Downtown
Folks don't lie about their favorite burritos, and if you ask people who seem trustworthy (check for dad-bod and other such signs), they'll tell you that Bell Street is either at the top (or very close) to it. They're San Francisco "mission-style" -- meaning big as hell -- and everything inside is cooked for maximum enjoyment, especially the chicken and broccoli, or the pork and green chile. It's also great that the owner, Matt Hinton, is a former adjunct theology professor at Morehouse, who started doling out delivery burritos after his teaching hours got cut due to budget restraints. He opened his first location in the Sweet Auburn Curb Market, and now has two others, and has expanded the menu to include quesadillas, tacos, and more. But seriously, start with the burrito.
Lakewood
You hear the term "prison tacos" and immediately think somebody's being an insensitive jerk. But then you remember that El P has bars on its windows, and sits across the street from the federal penitentiary. Carniceria is a restaurant in the back of a grocery store with tacos under $2 (don't leave without trying the barbacoa or al pastor), and makes its own carne asada and spicy chorizo tortas, along with a ridiculously great shrimp burrito. It's also a completely safe way to earn seriously delicious street cred.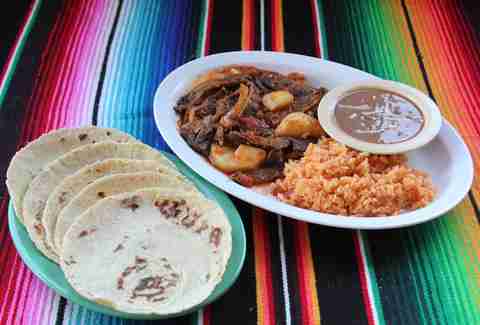 Jonesboro
If you think you've had Atlanta's best Mexican but have never visited this OTP-South restaurant, you're sadly misguided (and don't blame Google Maps). It's right on Mount Zion, and has been around in some form for 20+ years, starting out serving immigrant workers, stepping up into a food truck, and graduating to brick-and-mortar. Go there today for a Mexican sausage and steak taco (wildly underpriced even at $3.50), fresh fried huaraches, salsa verde pork ribs, super-stuffed gorditas, and stupid good chicken mole tamales. There's also the house specialty: a large, crispy tortilla topped with refried beans, Oaxaca cheese, jalapeños, avocados, and your choice of meat. It looks kinda like a Mexican pizza had a baby with a taco salad... but it tastes way better.
Best (only?) Mexican buffet in ATL: Taqueria Don Chon
Hapeville
When's the last time you've been to a Mexican buffet? Was it under $10, fresh, and actually good? Probably not. Now get your ass to this nondescript Tri-Cities rectangle of a restaurant, whether you're visiting and staying near the airport, tired of the traffic getting to BuHi, or just happen to be in Hapeville for some lucky reason. If you're STILL not convinced about the buffet, you can eat cooked-to-order burritos, corn-shelled tacos, legit pozole and menudo soup, and platefuls of some of the best slightly spicy shrimp ceviche in town. Be careful with the three pepper sauces they bring to the table, especially the orange one -- it's not there to look cute on the table. But if you wash it down with a hibiscus agua fresca; you'll be fine.
College Park
There's something about the charred meats that find their way into your tortilla shells that'll make you a believer, even though this is one of the most forgotten-looking places you can imagine. Situated a few hundred feet from Main Street at the border of East Point and College Park, you will not find this place if you're not looking. The key is that Southsiders are fine with that, if it means they'll get their tacos faster. And if the unmistakably authenticity doesn't grab you, the spicy green sauce they add to the street tacos will.
Best fast-casual Mexican fusion: Taqueria del Sol
West Midtown
Eddie Hernandez, who just put out a cookbook, pretty much upended the taco game in ATL since opening his first TDS -- a soulful mix of the Southeast, Southwest, and Mexico -- in what used to be a parking lot nobody cared about. Now that building sits at the edge of White Provisions with everything that's sprung up on Howell Mill, and many more people have had the brisket enchiladas, pork green chili soup, and of course, the egg-washed, corn masa-rolled, deep-fried tilapia tacos. And Hernandez has expanded into multiple locations in and outside Atlanta, including Athens and two in Nashville.
Best for mainstream Mexican dishes: La Parrilla
West Midtown
Sometimes it's not about having the best actual Mexican food; it's more about the entire experience. And you can't really front on La Parrilla -- Atlanta United's official Mexican eatery. Yes, it's a chain, and there's "fusion" stuff in there that's totally not Mexican (we see you, barbecue wings) but it's consistent, they have a great patio, and the basics are banging enough to keep you coming back, whether it's the skirt steak ranchero burrito, chicken tinga tacos, taquitos or chimichangas. And the biggest reason folks are always packing the house is the way their food matches majestically with some of the city's best, biggest, strongest, and cheapest margaritas and micheladas. Don't come expecting to be blown away by authenticity; come here for great deals on mainstream Mexican (instead of going to El Azteca or Uncle Julio's).
Brookhaven
There are more than 100 tequilas at Red Pepper, and they know exactly how to use them to get you as smashed as a taco shell. With its newest location inside the Town Brookhaven development north of Buckhead (as well as all of the locations) you could be fooled into thinking it's run-of-the-mill Mexican, but chef/owner Mimmo Alboumeh -- who's Lebanese but you'd never know from his culinary talent -- prides himself on fantastically fresh food, starting with the halibut ceviche and tuna crudo, the ancho-brothed chicken tortilla soup, and tacos that range from lamb pibil to blackened salmon. Go bigger with entrees like the brisket chile relleno, and stay for the churros. Also, Mexican brunch! It includes Mexican toast topped w/ bacon, caramel and arugula, along with poblano-peppered shrimp and grits, and a chorizo benedict. But seriously, be careful with the margaritas -- especially the serrano-infused Spanky.
Sign up here for our daily Atlanta email and be the first to get all the food/drink/fun the ATL has to offer.