The 5 best new smoked meateries in the ATL
By now you've eaten at all of Atlanta's best BBQ spots, right? Right?! Right, which is why a certain men's lifestyle site that rhymes with "illest" has generously rounded up the best Atlanta has to offer of something even better than BBQ: new BBQ...
Downtown
From the people behind Article 14, Der Biergarten, and STATS, this new Downtown spots is equipped with guess how many massive smokers, which they fuel using a proprietary blend of Texas mesquite and post oak that puts a Dirty South twist on the best examples of BBQ from all over the country.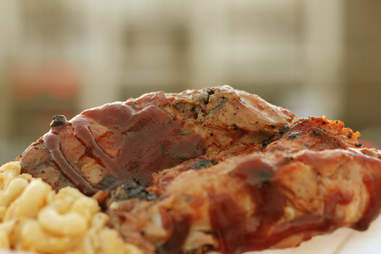 Sebastian Davis
Midtown
Started by a crew of meat-lovers (hmmm...wonder what their names are?), who wanted to share that love with the rest of the city, this shack on Ponce Ave boasts a menu anchored by pork, chicken, and sausage, but their smoked turkey ribs are something you won't find anywhere else.
Memphis BBQ Co.
Dunwoody
Melissa Cookston has the prefect last name for her profession, except maybe "Beefsmokerston", but either way this world champion pitmaster has brought her craft to Dunwoody, where she'll gleefully pile a handful of meats on your plate and dare you to down them in one sitting.
Sebastian Davis
Buckhead
The new meatery boasts badass versions of classics like brisket, pork, etc., but their BBQ'D Grilled Cheese might be one of the ATL's best new sandwiches, and best of all, no matter where you sit in their long dining room, you'll be pleasantly assaulted by the smell smoking beef.
Sebastian Davis
Midtown
Midtown's new beer-centric spot heaps delicate pulled chicken, onions, peppers, and bacon on their BBQ chicken flatbread. The 'cue is then suffocated in mozzarella and drizzled with a chipotle BBQ sauce. A dark, malty porter is the recommended beer pairing.
Sign up here for our daily Atlanta email and be the first to get all the food/drink/fun the ATL has to offer.