The 6 Best New Brunches in the ATL
We've already told you about the best places in Atlanta for some eggs, pancakes, and as much OJ, vodka, Champagne, and tomato juice as possible, but you know what's even better than a sweet brunch? A sweet NEW brunch. That's why we've rounded up the newest places in the ATL to cure your hangover, but you better get to 'em this weekend before everybody else finds out too. Oops...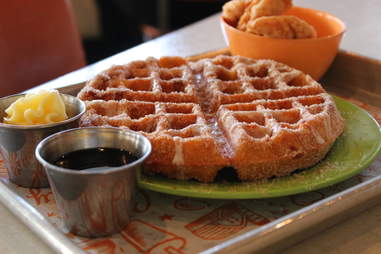 MADISON UMBAUGH
Atlantic Station
What you're getting: The Cinnamon Roll Waffle with chicken
A sweet cinnamon roll is pressed into an absolutely next-level waffle and topped with C-a-B's notoriously good fried chicken, instantly making 'em some of the most impressive chicken and waffles in the city. Honey butter and syrup can be smothered equally on waffle and chicken alike.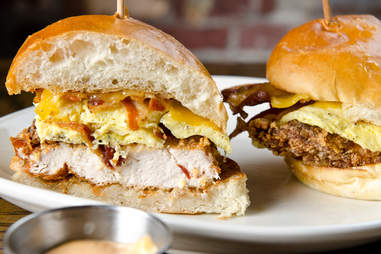 Courtesy of Diner
Atlantic Station
What you're getting: The Nasty McAlister
Covered with bacon, eggs, cheddar, and a secret house sauce on a freshly grilled bun at Ron Eyester's newest place just West of the connector (in the old Fox Sports Grille location) is the best way to try the chef's flash-fried chicken with what may be the best marinade in town.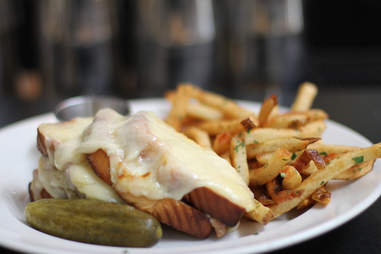 Sebastian Davis/Thrillist
Old Fourth Ward
What you're getting: The Croque Monsieur
Ham, cheese sauce, and a thick blanket of Gruyère is a hefty lift if you're going to dunk it in the powerful house mustard, but don't worry, it's worth it, and no one will blame you if you use your hands. It's probably the only meal you'll need all day, especially if you manage to get through all those salty, herbed fries (and their custom pickle).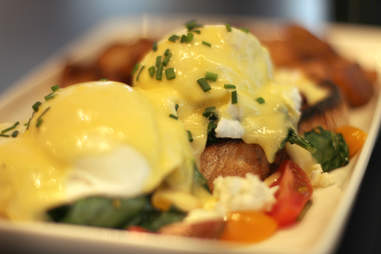 Sebastian Davis/Thrillist
Midtown
What you're getting: BLT Benedict
Thick, grilled slices of toast groan under a huge stack of thick bacon, spinach, heirloom tomatoes, poached eggs, Béarnaise, and goat cheese. Boulders of twice-fried and plenty salty potatoes are alongside if you can handle them. Otherwise, stick them in the cupholder for the ride home.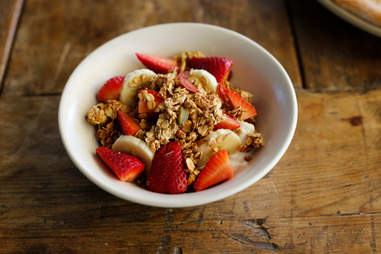 Courtesy of True Food Kitchen
Buckhead
What you're getting: Goji Berry Granola
Keep things a little healthy with Greek yogurt, bananas, strawberries, some walnuts, and puffed brown rice. After gorging on meats, fried foods, and cocktails all week, you gotta keep it clean for at least one meal.
Buckhead
What you're getting: Chorizo Scotch Eggs
Part bar food, part breakfast food, these chorizo-wrapped eggs are exactly what you need after a long night out in Atlanta's greatest bar district. Cured chiles, a nice fried coating, and cilantro are the tasty toppings (for the eggs, not your Bloody Mary).
Sign up here for our daily Atlanta email and be the first to get all the food/drink/fun the ATL has to offer.