You may have noticed that Atlanta had a significant uptick in quality restaurants in the last year. Sure, in the past five years or so there have been standouts, but this 2019 crop was special. Atlanta is finally less worried about being compared to the Charlestons and New Orleans and Austins and Nashvilles of the country, and more focused on the fact that we have amazing talent coming up from this city and streaming into it. If you're still unconvinced, here's all the proof you need: These are Atlanta's best new restaurants of 2019.
MORE: Check out the 12 new restaurants we named best in the nation this year
Recommended Video
Debatable: Is Shake Shack Really Fast Food?!?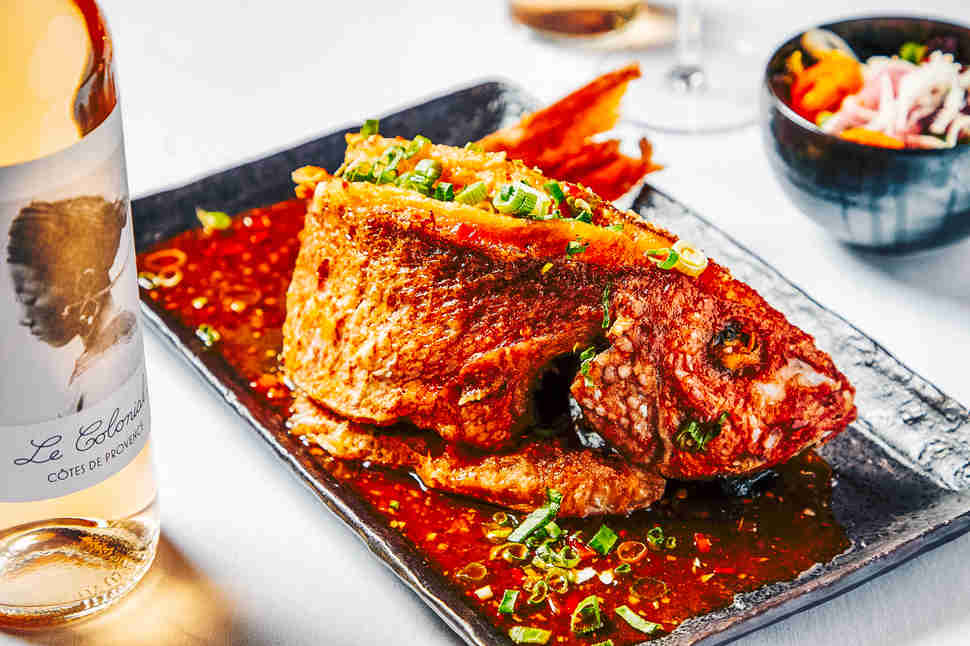 Buckhead
A French-Vietnamese classic finally arrives in ATL
The elevator that takes you up to Le Colonial is the first sign that things are on another level at this French Vietnamese restaurant, which didn't start in Atlanta (New York was first, followed by Chicago and others) but we're certainly happy to have it. Operating inside what was once Dolce, the space is now separated into several lavishly appointed rooms designed to represent 1920s-era Vietnam, with muted brown and white hues in the main dining room, a gorgeous floral mural in the 14-seat Lotus Room private dining area, and potted plants throughout the main dining area, lounge, and the Parisian veranda.
There's plenty on the menu for adventurous palates, but it's easy to stay safely within your comfort zone with menu offerings like spicy seafood ceviche, miso-glazed and roasted salmon with coconut lobster broth, and even stir-frys and curry dishes. The can't-miss dish is the whole fried red snapper: Both meat and skin stand up crisply to the chili garlic fish sauce that adorns it. Buckhead is better for its arrival.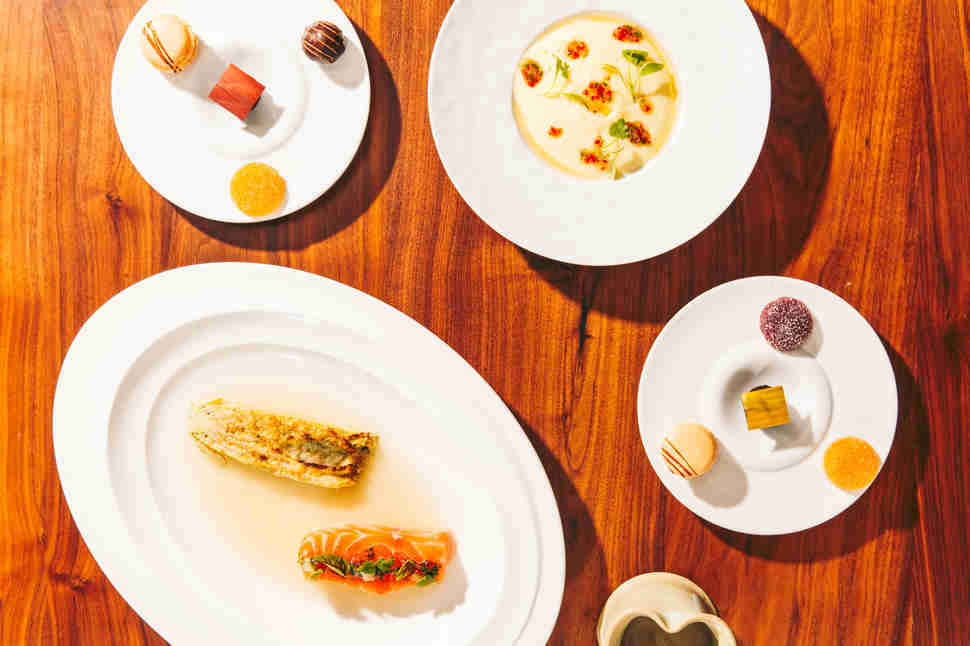 Candler Park
A prix-fixe splurge that's definitely Atlanta's best new restaurant 
This chef-driven Dekalb Avenue spot has seven- and 10-course tasting menus that, when paired with wine, cost at least $205 per person. Trust us, they're worth it. Ronald Hsu grew up on the southside of Atlanta in a family that owned seven Chinese restaurants, went to culinary school in Australia, then cooked and worked his way up to creative director at Le Bernardin -- the elite, three-Michelin Star French seafood restaurant in Manhattan.
Now, with siblings Anita and Howard, and partner Aaron Phillips, Hsu has launched what is undoubtedly Atlanta's best new restaurant, with a casual-yet-fine-dining theme turning out inimitable dishes like charred Spanish octopus with fermented black beans. The restaurant is named for Hsu's late mother and is a tribute to the lasting legacy of a Chinese immigrant who provided a way for her family to succeed through restaurateurship, and now inspires national recognition (see Thrillist's list of 2019's best new restaurants in the country) for what Atlantans can do with food when given a chance.
West Midtown
A chef's debut with direct, surprising plates
Zeb Stevenson, who ran the kitchen at Watershed on Peachtree and made his bones throwing the infamous blood dinner a few years ago, has opened his first restaurant in the former Bacchanalia space. Precise and surprising culinary ideas are expressed thoughtfully from every direction, whether you sit at the chef's counter in front of Zeb as he cooks and chats you up, or you take a seat along the wooden banquettes, soaking in the natural light from the huge windows that look out at West Midtown.
The beauty of Zeb's food is its simplicity and directness: The ingredients are the stars. You'll see and taste this in the grilled veggies, whether you prefer bok choy or okra, as well as the spaetzle, which arrives in butternut squash broth with chili oil and pickled mushrooms. The pan-roasted market fish, with sizzling scallion garnish on top, is presented so deliciously you almost don't need to eat it to taste it. The cocktails are made with dining and joyful digestion in mind, so with the exception of stronger concoctions like the "Better View Desired" (rum, armagnac, amaretto, green chartreuse, and sparkling wine), you'll probably want at least two mixed drinks if you're more about upping the buzz.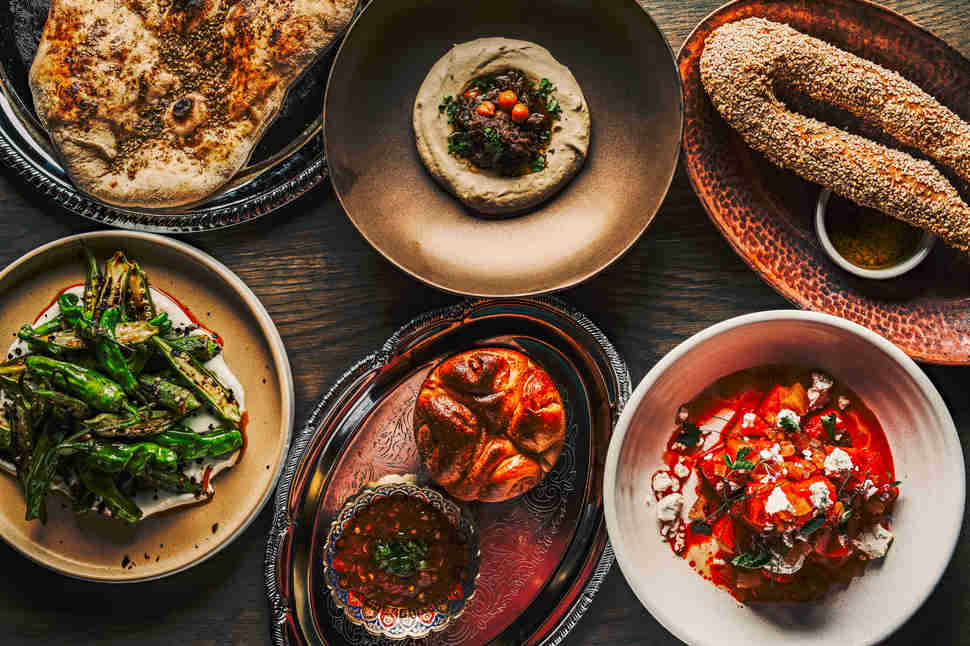 West Midtown
Modern Israeli dining settles in Westside Provisions 
Atlanta's food scene had quite the debate over whether or not Aziza was an "authentic" Israeli restaurant when it first arrived in July, but now we're just focusing on how good this food is. Even if you left after finishing the pull-apart kubaneh bread rolls, you'd leave impressed. But stay for the Jerusalem mix of veal sweetbreads, the octopus with squid ink tahini, the roasted duck breast with Morrocan carrots and spicy jus, or the humongous Akko prawns with falafel toast. There's a tasting menu at $65 per person if you don't want the pressure of choosing what to exclude. Maybe the biggest surprise is how well the food matches the beverage menu. You like spicy margaritas, but know for sure that they didn't originate in Israel? Order the "Harissa Explains it All," which is mezcal, red pepper juice, and agave, with malic and citric acidity. Oh, and that goat's milk ice cream? Get it when you're done with everything else, and enjoy the cozy-meets-brutalist design, welcoming vibe, and tucked-away location.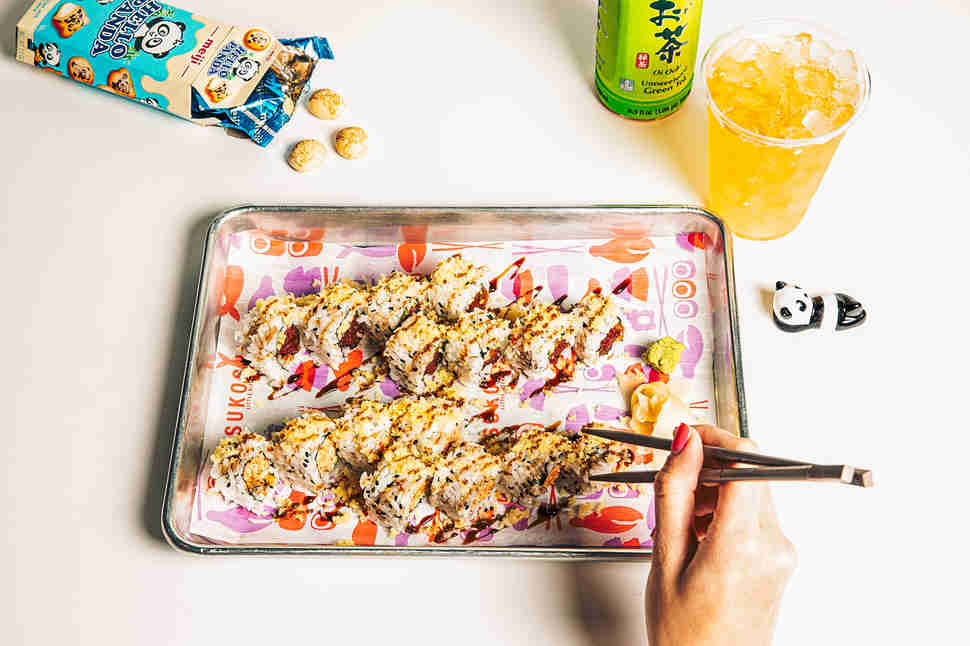 Midtown
Fast "fine-casual" sushi that's also excellent
Sukoshi is basically a fast-casual version of the ever-underrated O-Ku -- but it's being marked as "fine-casual" and is way better than it has any business being. Raw standouts include the "Wrap It Up" roll with both fresh and spicy tuna, sweet soy sauce, and sriracha aioli. For larger meals, get the ponzu Rainbowl with salmon, tuna, yellowtail, edamame, pear, and mango. There's also a chef's choice combo at the sushi bar, which for $24 might include ebi shrimp, yellowtail, freshwater eel, or more. Don't miss the first-come, first-serve 30-minute omakase for $30, or if you're in a real hurry just hit the grab-and-go counter or order via app and have your sushi waiting when you arrive.
Decatur
A hunter's dream reinvigorates the space of a former dining landmark
The food at The D&D boasts a refreshing spirit of independence and blends totally housemade dining with the kinds of dishes you'd usually associate with a game warden. There's pork-sausage-stuffed quail, lamb ravioli with creme fraiche, terrine made from octopus and shrimp in tomato bouillabaisse broth with Calabrian chilis, and rabbit, fried with caviar and fermented buttermilk, or served in a shepherd's pie. Potatoes should be fried in beef fat or come topped with sorghum butter.
There's also an adjacent coffee shop called B-Side open from 8am to 3pm, where you can get great cups of caffeine like the espresso and milk cortado, dried coffee cherry tea, and more, plus a nice turkey bacon club or pimento cheese sandwich on brioche. It all feels close to home in terms of comfort and pure ability to fill you up, but it's also far out.
West Midtown
A fun-loving Roman restaurant with perfect pasta 
Forza doesn't take itself too seriously, with papal paintings of the Catholic religious leader as a caped superhero, and another of the Pope standing on a stepladder to play tic tac toe. Antipasti like Peroni-battered cod, the puntarelle salad with anchovy and garlic vinaigrette, brown butter cauliflower, and a prosciutto di parma platter with mozzarella and olive oil kick off the menu.
It's definitely the pasta that you want, though, so pace yourself and bring friends so that you can try several plates, like the beautiful carbonara, the veal and beef ragu romano, housemade chittara puttanesca with Callipo tuna, and rigatoni in red amatriciana sauce. They have other spectacular entrees (herb-marinated quail, pan-seared whole sea bream fish with fennel and olive oil, etc.), but don't let that keep you from getting pasta anyway, because it's mind-blowing, and it's even better when you have it with drinks specifically created to help you eat more and not feel terrible. It's all aperitifs, digestifs, Italian beer and wine, and ongoing good Italian times.
Summerhill
Good people doing good things while serving great barbecue
This 5,000-square-foot barbecue spot has a huge wooden side patio with umbrellas and picnic tables, and natural light pours into the dining room thanks to floor-to-ceiling windows all around. Start with dry-rubbed, white-sauced smoked wings and a bag of boiled potatoes, then get down to business on half-pounds of other smoked meats, including whole hog, jalapeno sausage, St. Louis ribs, and Scottish salmon, with sides like smoked pork belly fried rice and pork and beans with burnt ends.
This is a serious addition to Atlanta's formidable barbecue scene, but WC's also notable for being community-minded, with recurring "Civic Dinners" where eight guests can join the Johnsons to discuss affordable housing and other neighborhood issues. They even have a game room with darts, shuffleboard, and a pop-up library stocked by the Atlanta-Fulton Public Library System.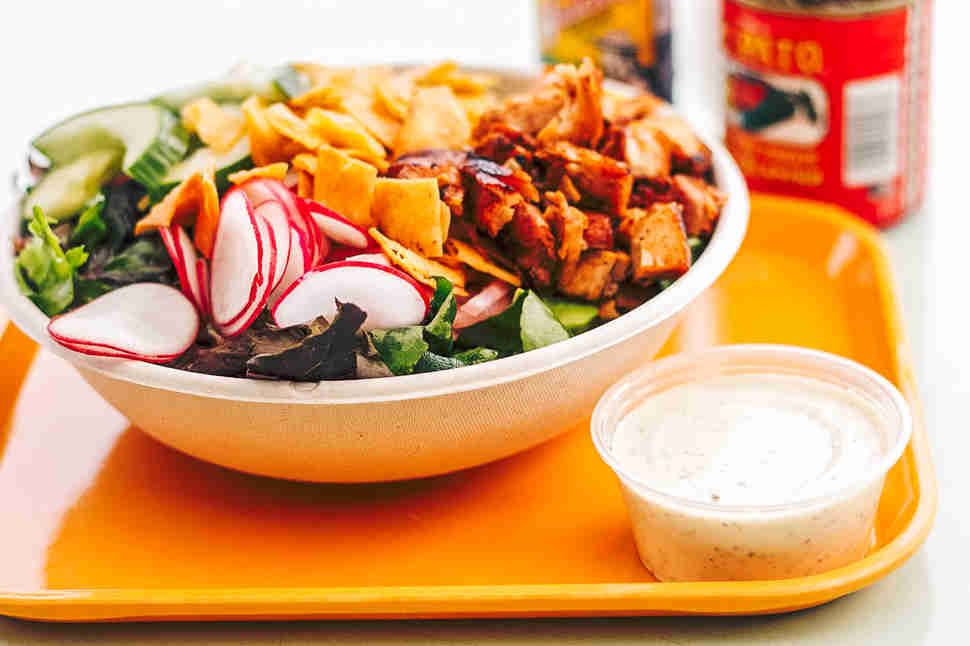 Piedmont Heights
A triumph of smoked chicken on Cheshire Bridge
The chicken here is so amazingly cooked -- specifically smoked, over hickory and mesquite, every day -- you might eat the bone if not careful. They've also got proper breakfast tacos, which Atlanta is obviously down with because we eat every other breakfast food from sun-up to sun-down... why not tacos too? It used to be a lounge and tattoo parlor that didn't seem to want anybody there but regulars, but now as Little Rey, it's one of the most easy-going establishments in Ford Fry's kingdom, with hanging plants, mustard-hued leather stools, and teal metal chairs, so everything just feels cool without much effort, kinda like tacos themselves.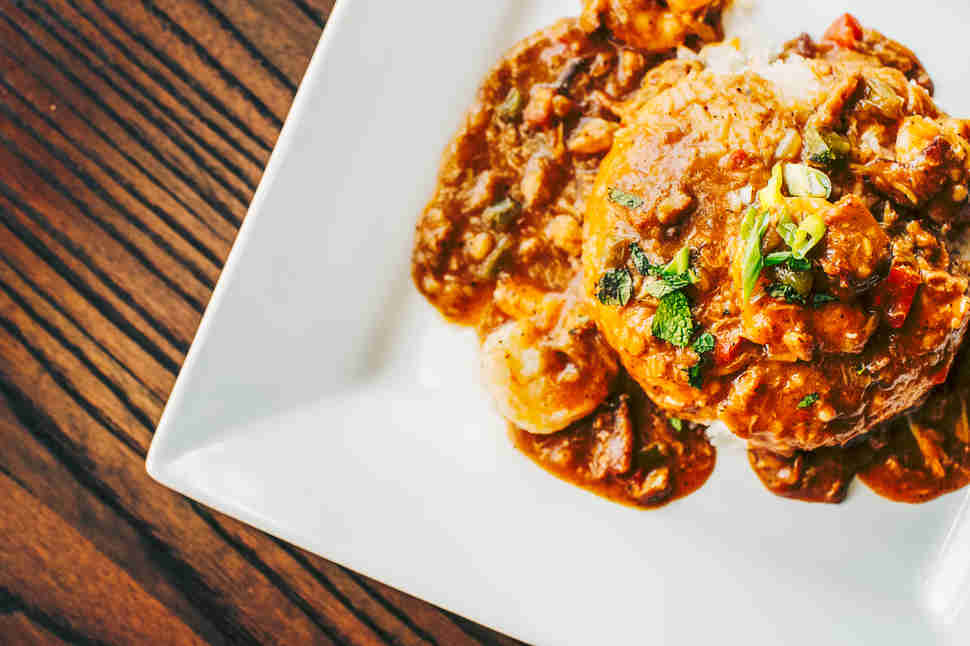 College Park
Gullah Geechee cuisine makes its long-awaited Atlanta arrival
Gullah Geechee food is finally coming into focus among so-called foodies. It originates from the first African-American settlement in the US near coastal South Carolina, and the cuisine has a history of being about survival and making the most out of what was available -- lots of rice and crab. But crab rice is just one of the things partners Gee and Juan Smalls serve at Virgil's, which opened mid-July and welcomes customers with a lush blue mural of Gee's father Virgil (painted by local artist C. Flux Sing), and tables decorated with palmetto roses in glass vases.
Gee uses family recipes in starters like sweet potato puree corn muffins and fried "shawk bites" -- or shark meat nuggets, if you don't speak the native tongue. As far as main dishes, you can't go wrong with the fried pork chop, broiled "Gullah butta" whiting, but the shrimp and crab gravy over rice is definitely not to be missed. For a proper meal's end, the light brown sugar Chucktown Chewie brownie topped with salted caramel ice cream is nothing short of indulgent. There's no better time for all of this -- with at least one Hennessy-spiked "Geechee Rita" -- than Wednesday night karaoke, which starts at 7pm.
Alpharetta
Superior seafood and an arsenal of mezcal 
Much of the menu from Alabama native chef Blake Hartley comes from the southeast, including crabmeat from Mobile County, Alabama, tuna from Louisiana, and oysters, shrimp and wild-caught fish from the Gulf of Mexico, and produce mainly from right here in Georgia. The sides here are appropriately hearty, so definitely grab the fried sorghum-glazed bread and an order of sea salt fried potatoes.
There's also a serious mezcal collection of 100+ varieties, which you can have by the ounce if you prefer, or in cocktails ranging from Oaxacan old fashioned to the La Protagonista with dark rum, banana, mango, egg white, and black lava salt. "Surf's Up" happy hour runs weekdays from 4-6pm, with $1 chef's choice oysters and small bites like fried shrimp or PEI mussels escabeche for $5 or less. Brunch is stellar, too, whether you like shrimp and grits with tasso ham, a shrimp BLT, or a French crab omelette. And it all happens in a clean white space with plush brown leather banquettes backing up against half-wood, half-rope walls, for truly nautical noshing.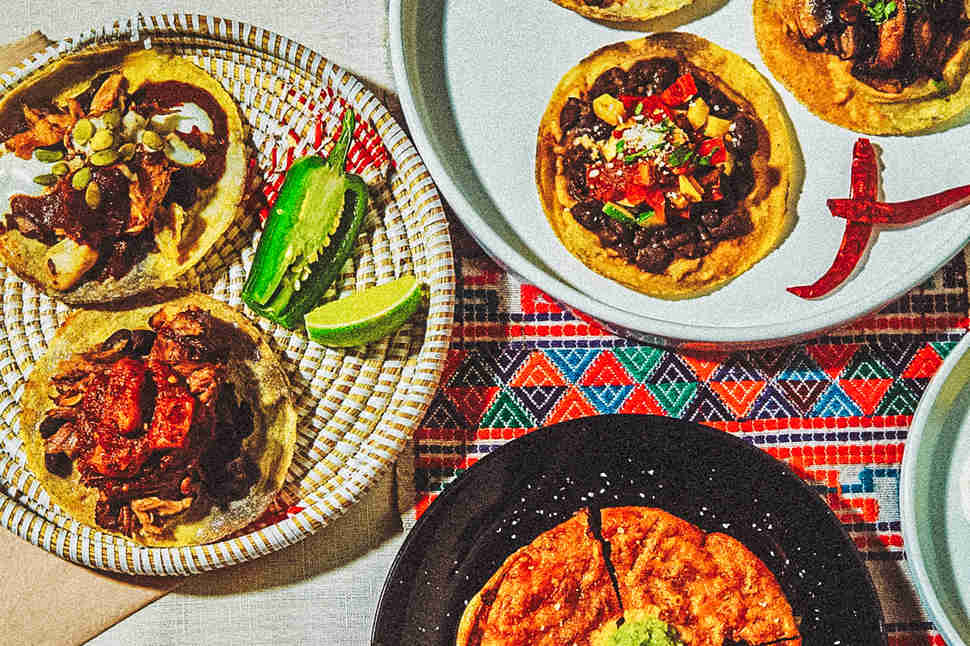 Reynoldstown
An instant-classic dinnertime taco stand 
Nhan Le deserves a statue at this point. He's gone from Wasabi in Castleberry Hill to So Ba in East Atlanta Village, to Octopus Bar, to the heralded but unfortunately closed Lusca, to 8ARM and beyond. Le open has now opened a taco place called Supremo, located across the parking lot from Grindhouse Killer Burgers, where people routinely pull up before doors open (Tuesday-Saturday; dinner only, folks!), hoping to convince someone to accept their $4 for a barbacoa, al pastor, mole poblano chicken, or even a damn black bean or mushroom taco. Even the churros taste special. Sure, it only just opened, but nobody who's had the shrimp, onion, puya, and cucumber aguachile tostada, or anything else on the menu, can say with a straight face that it doesn't deserve to make this list.
Sign up here for our daily Atlanta email and be the first to get all the food/drink/fun the ATL has to offer.