If you're interested in trying new things to eat in Atlanta you could just drive down Buford Highway until you find something good, or you could try cooking for yourself. Hahaha... just kidding! Definitely don't do that. Instead, try hitting ATL's 11 best new restaurants of 2014:
Recommended Video
Winter Starbucks Beverages Around The World
Chamblee
Southbund's continually evolving menu always surprises and pleases with its mastery of soul food classics like catfish, fried green tomatoes, and pimento grilled cheese, which will always have first billing. There's also a boatload of bourbon cocktails that're bound to make things go South quickly if you have too many.
West Midtown
Their name says it all: awesome tacos, awesome bar. The former features everything from wild boar to fried oysters and falafel. The people behind the latter are prepping margaritas and mojitos that come by the carafe, so bring friends. Or make new ones.
Buckhead
We're reluctant to heap any more praise on Ford Fry's much-heralded Italian/seafood masterpiece because getting a reservation's already darn near impossible. The the smart move is just telling everyone that the place blows. Just kidding! The smart move is actually finding a spot at the bar and feasting on clams, oysters, roe, and hamachi. A couple of their custom gin creations are sweet moves, too.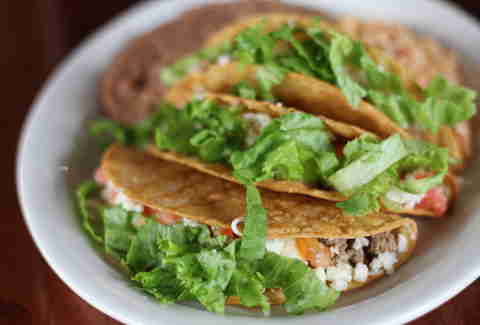 Kirkwood
Burritos the size of your forearm fill the menu with combinations of meat, cheese, beans, squash (?), and more. A massive patio and very respectable tequila selection make it your lunch/dinner/whenever eating and drinking spot on the Eastside.
Buckhead
The late-night boys from Octopus Bar have entered the daylight hours with their Buckhead spin-off, where excellent seafood (complemented by a slew of liqueurs, cordials, and wines) is, of course, the star, but they've also got things like pork chops and rib eye on the menu, too. Just in case.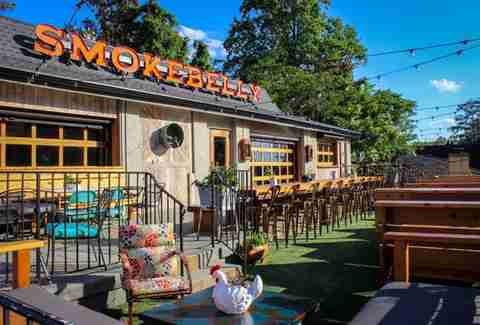 Buckhead
Buckhead's BBQ party boys have given the neighborhood that smoky, meaty ambience it's always needed thanks to overnight beef brisket meets a pimento BLT meets your mouth kind of menu that no 'cue aficionado can resist. At the bar, ask for the moonshine. Worry about whether they got it legally later.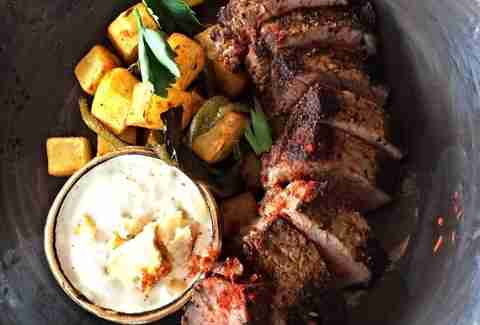 Buckhead
This Spanish spot from the dudes behind Big Ketch and Tin Lizzy's shares a kitchen/staff with The Southern Gentleman, but unlike that soon-to-open gastropub, this wood-heavy spots is plating refined Iberian eats like a Majorcan-style whole branzino w/ potatoes & piquillo pepper or a 32oz strip steak, plus there're some solid 'tails from behind a bar that's surmounted by a massive bull statue.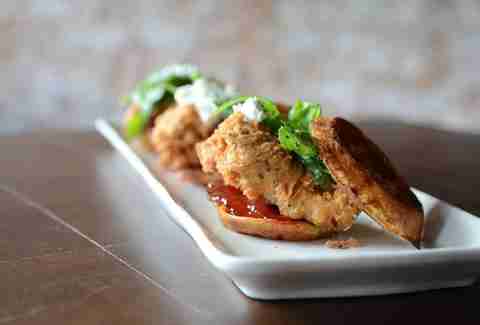 Avondale Estates
Avondale Estates is built on neighborhood places, and now there's new king. Local beers set the scene for turnt up comfort foods, like Knife and Fork Deviled Eggs (which are loaded with bacon and will actually make you like deviled eggs) and Braised Brisket Sliders, with enough horseradish to clear you sinuses so you can properly smell that beef.
Decatur
George Yu has given Decatur the Asian comfort food that your Hong Kong Grandmother would have made. Fresh, local, seasonal ingredients run through the food and beverage menus. You've also probably never had Ramyun (Korean ramen), so it's time to check that off the list.
Old Fourth Ward
The rustic trading post on the BeltLine is a lot more than granola and trail mix. Bacon-infused burgers join seafood and country-fried ham steaks to give you a campfire feeling, while moonshine cocktails add more interesting flavors to that white lightning that usually comes in a Mason jar.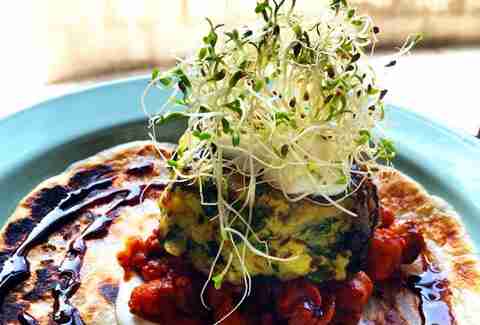 Old Fourth Ward
Asha Gomez instantly became an ATL food celebrity when this Westside attraction opened. Lunch and brunch -- which boast fresh takes on samosas, flatbreads, and vindaloos -- are packed every day, and no matter when you go, don't think you'll be able to plan ahead... ST boasts a new menu every day.
Sign up here for our daily Atlanta email and be the first to get all the food/drink/fun the ATL has to offer.