5 new Atlanta steak dishes you should try
Atlanta Atlanta loves beef. Just ask the people at some of our legendary steak destinations, or T.I. and Alley Boy, or T.I. and... well, lots of people. Or for even more proof, check out these five ATL steak dishes:
THRILLIST
Skirt Steak & Frites at Max's Wine Dive
Their Skirt Steak & Frites comes with smoked tobacco onions, baby kale, and buttermilk vinaigrette, and it is apparently "gluten friendly", which, if used as code for "just a shton of meat", isn't nearly as annoying of a phrase.
  Continue Reading
Thai Beef Salad at Doc Chey's Dragon Bowl
The multitude of options at this new Emory joint have the potential to overwhelm. We'll make one choice very easy for you: ribeye. Specifically a sliced one with a spicy Thai sauce that balances out all the greens and veggies they put it on for some reason.


Roasted Bone Marrow & Wood-Roasted Steak at King + Duke
These hunks of roasted bone marrow come with a marmalade made from the same short ribs and an herb & caper "salad", which is a fine accompaniment, just not as good a one as the the wood-roasted steak they bring at the same time.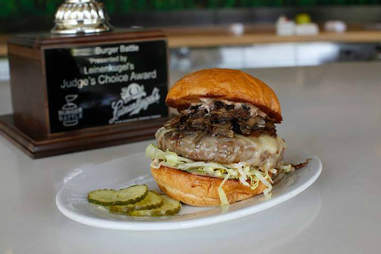 Zinburger
Kobe Beef Burger at Zinburger
Your knife and fork are not necessities when it comes to downing savory Kobe beef, which Lenox's newest meat destination is serving to you in between two pieces of bread with wild mushrooms, mayo, and plenty of cheese.
Flank Steak Salad at Rock 'n' Taco
A great slab of steak is spread over mixed cheeses, home-baked bacon, and then a bunch of greens, tomatoes, onions, and other veggie nonsense. It's literally the food pyramid piled right in front of you. Steak, of course, belonging right at the top.