T
he great ATL "pizza wars," which we thought were over after everybody went batshit crazy over Antico, are back. Trending now? Fast-casual pies that are made the way your Subway sandwich was, back when you weren't concerned with your health and thought Jared seemed like an OK guy (spoiler alert: he wasn't). And while those pizza parlors are decent enough, there are still a good number of places making hand-tossed, thin-crust, and even deep-dish masterpieces, and they deserve recognition -- as well as a place in your stomach. Here are Atlanta's best places for that ultimate Atlantan-American meal. Oh and shout-out to O4W's Ammazza, which will surely return to this list once the building recovers from
being hit by a damn car
.
East Atlanta
Great wood-fired pizza in a veritable nerd heaven
Not just a great beer bar, an analog arcade or comic book bruncher's dream palace, EAV's nautical-themed watering hole is home to way more than wooden sea creatures and owl murals. The wood-fired oven at the back of the joint slings tantalizing pies like the roasted garlic, asiago cream sauce-based Butternut Pie with black truffle honey pancetta; or the pepperoni/grass-fed beef/house-made sausage Mutiny on the Bounty, which according to the Beastie Boys is "what it's all about."
Buckhead
The internet-famous pizza is still standing in ritzy ATL
Jeff (Varasano) has never been shy about sharing his famous pizza recipe; that's why it's among the most Googled ones on the planet. It took him a decade and lots of house pizza parties to perfect what is considered one of ATL's best pies, and it doesn't hurt that the soppressata, capicola, and prosciutto are Old Country worthy. Sure, the Perimeter Mall location didn't make the rolling cut, but perhaps that's just because there was a lot going on (sports, tapped wine, a speak-easy in the back, Astroturf on the outside). Back at the Buckhead mothership, it's still an awesome pie that you've gotta try.
Decatur
Neapolitan-style pies from two brothers who grew up on the Amalfi Coast
Two brothers from Naples, who grew up spending weekends in a small country town on the Amalfi Coast named Agerola, moved to Decatur and started make the bossest pies in the suburb. That's really about it. If you like Italian meats, San Marzano tomatoes and all that other Neapolitan tradition, you'll be just fine here, especially if you order the Carnosa, which also includes bufala mozzarella, Italian sausage, spicy sopressata salame, and cotto ham.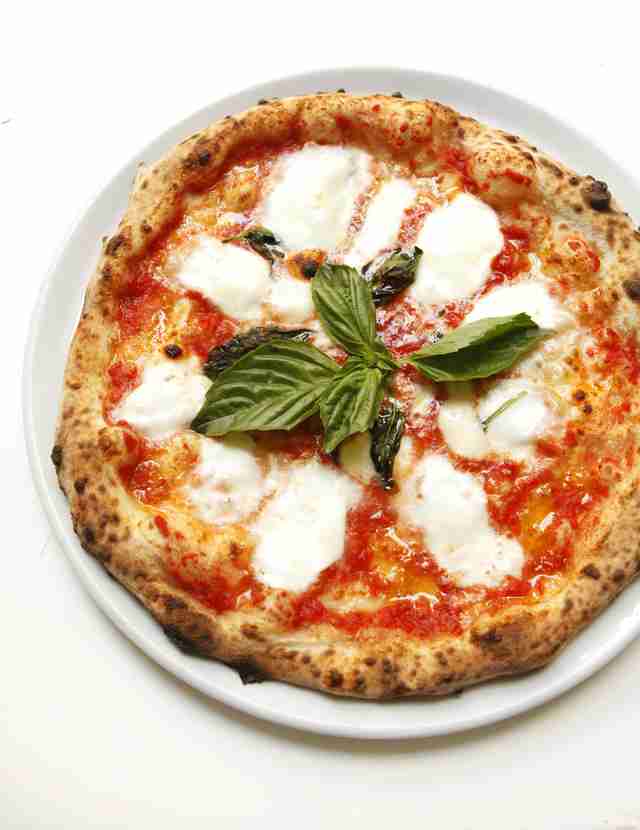 Midtown
Casually fancy pizza with an excellent vino selection
The NY-based guys who took over the old PIOLA spot quickly assumed the mantle of best Midtown's pie place. The small space delivers insane pastas and cheese (try the burrata), but really shines in the oven. The Neapolitan-style reds and whites are topped with all the classics, plus oddities like shrimp, fries, and hot dogs. And it's a great place to complement your pie with a delicious glass of Valpolicella Ripasso.
Brookhaven
A pizza so good you'll visit Brookhaven
Take a great neighborhood pizza pub that started in Decatur, combine it with people who have impressive sauce skills, and you have the best place in Brookhaven for your pizza fix. They seem to specialize in spicy pizzas, but the bravest among you will try the legendary Alla Diavola, or "deviled" pie. They require you sign a waiver for that one.
Little Five Points
A huge slice out of our nostalgic pizza-loving hearts
Though it began just outside Murder Kroger, that location has now closed due to the parking situation (not good). Still, the pizza remains as good as it ever was, and Cameli's now exists in ATL's most bohemian 'hood. Everything's reliable, but you really came for Cameli's Monster Slice -- a giant, cheesy welcome mat that makes it almost impossible not to love them and remember Old Atlanta's sketchier but still beautiful Poncey past.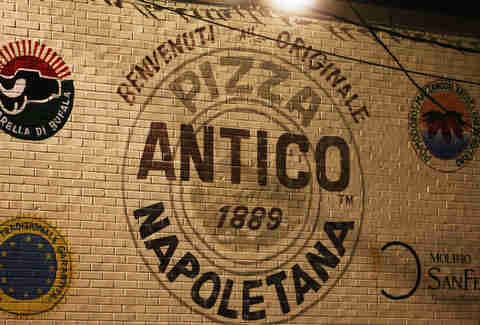 Home Park/Westside
The pizza that beat the crowd to the Neapolitan boom
Little Italy is now a thing just outside of Georgia Tech's campus, and it began with Antico. Though there have been lots of Neapolitan places that have sprung up since its success, Antico still has a loyal following and multiple locations now, including Avalon, The Battery at SunTrust Park, and even Miami. They still won't let you build your own pizza or make any mods, but the sausage and sweet red peppers are still perfectly deserving of the line that forms out the door every day.
Inman Park
Reasonably sized hand-tossed happiness that's been around but still feels brand new
Perfectly puffed crusts lie just beneath sauce and cheese (and pesto, and salami, and beef, and ricotta, etc.). Seriously, with approximately 30 houses recipes, you'll have to take your time getting through all of these.
Krog Street Market
True Neapolitan pie makes KSM's wait well worth it
It didn't take long before folks noticed the lack of pizza at Krog, but things were made right with the introduction of Luca Varuni's beloved recipe of all-Naples-sourced ingredients. With a stretched 800-square-foot counter stand that lets you see the action going in and out of the tiled ovens, Varuni Napoli offers a faster version of its heavily praised Morningside location's pies, letting you choose toppings to build your own from a margherita or bianca base; or order a few standards from the menu like the buffalo mozzarella Nonna Mia or the pepperoni and pork sausage Bastardo. It's also hard to not love a pizza you can order with a tapped Negroni Reserva cocktail.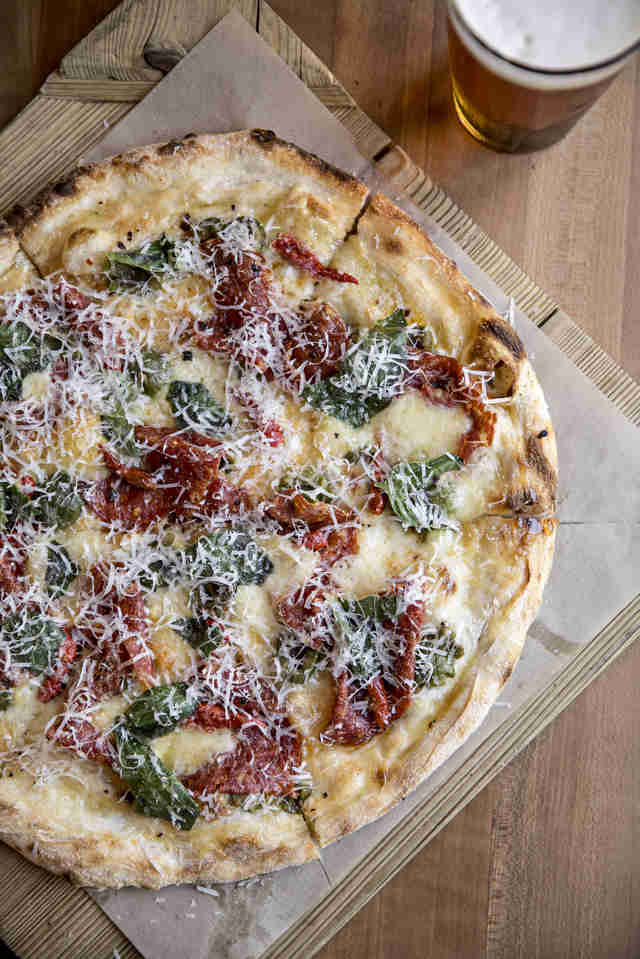 Alpharetta
Show-stealing pizza in a flossy Italian restaurant
That wood-fired pizza oven puts out one of the tastiest pies in the metro area -- one that's actually worth the drive to the Avalon shopping center off 400 North. The crisped crust makes a fantastic margherita or even prosciutto pizza, which comes with ricotta, pickled baby bell peppers, fontina, and garlic, and you'll enjoy it enough that you might not try their upstanding duck ragu pappardelle, lump crab, and shrimp farfalle, or other pasta dishes.
Downtown
Consistently good crustiness from hot coals
Those who remember Max's will tell you it's worth braving the traffic around Marietta Street in order to get a boxful of these quick cooking pies. There are 18 topping choices (capicola, crimini mushrooms, etc.) and 10 steady menu options, ranging from the four-meat salumi to the arugula and prosciutto pie, which is dressed with lemon pepper arugula. They keep things quality by the use of what they say is "the only genuine coal-burning oven in Georgia."
Little Five Points
The OG of L5P that makes one of ATL's greatest pies
It's hard to say exactly what makes Savage so good, because it predates most of the pizza spots that are doing the Neapolitan thing. It's just always reliable, simply delicious, still the same ol' pizza that has an honesty you don't need to double-check. You can still get a 9-inch small with four slices, a six-slice medium 12-inch, or go large on 16 inches and eight slices. They don't kill you with cheese, they don't slop you with sauce, and they don't collapse with the crust. This is how you quietly survive almost 30 years of whatever "pizza wars" you've been hearing about in ATL.
Sign up here for our daily Atlanta email and be the first to get all the food/drink/fun the ATL has to offer.