Look, nobody better say ANYTHING bad about beloved local spots Fellini's, Cameli's, Oz, Slice, or Jack's. They're the pizza partners who've kept us alive for years, and they deserve total respect. But though we love our round-the-way pizzerias, boy oh boy do we cheat on them when some hot new round thing comes to town, slinging that pie all in our hungry/thirsty faces like the edible version of Becky with the good hair. Here to steal you away from your Bey are ATL's current best bakeries of cheesy, saucy bread circles.

Perimeter
It became famous years ago -- when it first opened in Buckhead -- as one of Rachael Ray's favorite pizza spots in America. Now this gourmet parlor has taken a nightclub turn with its second location, bringing together enough TVs to be a sports bar, an Astroturfed patio, and a secret-entry interior lounge called The Vanguard where you can read old Playboys and play DJ with a selection of house vinyl. Oh! And the pizza's still good as hell, using natural ingredients to make stellar pies. And yep, you can still hit the website for the recipe if you want to try making them at home.
Sandy Springs
Unlike the George Clooney movie nobody saw, this ristorante's "The American" pizza is totally worth checking out. It's got San Marzano tomatoes, shredded mozzarella, provolone, sausage, caramelized onions, and roasted peppers. It's also unique because it cuts the pies with scissors instead of those handlebar-ish blades you see at Pizza Hut... not as fast, but twice as fancy, and very fitting for high-quality pies.


Home Park
There's no way to avoid the crowds at Giovanni Di Palma's trattoria, but why would you want to when it uses the finest small-batch dough, San Marzano tomatoes, fresh mozz, etc., and cooks it all up in ovens handmade in Naples?
O4W
This Napoletana-style pizza house imports the essential ingredients from Campania, but also sources sustainable meat and produce from the ATL's wide array of community farms. The result is a menu that includes things like its signature Ammazzare with artisan Italian sausage, Vidalia onions, house mozzarella, and roasted peppers.


Inman Park
Pizzas -- like the Bianca, with bufala, fontina, pecorino, and smoked mozzarella, or the meat-heavy Maialona, with hot salame, cotto ham, sausage, pancetta, and black olives -- are cooked in a 1,000-degree wood-burning oven, and served whole (never sliced) directly at your table.
Roswell
Yes, calling itself "Rome in Roswell" is a little weird, especially because we all know there's an actual Rome, GA just up I-75, and who the hell wants pizza from there? But when you hit OM, you'll understand that the two brothers -- graduates of Roswell High School and global culinary travelers -- mean Italian business. And though the pies are flat, when it comes to flavor, all three house specialities are fat on taste. You can also build your own, with toppings such as farm egg, grilled zucchini, bay scallops, or select charcuterie from coppa to bresaola.


Midtown
It almost feels wrong to look at everything at this eatery, which is adjacent to Piedmont Park, and say, "Nah yo, I want pizza." But fortune favors the bold, and when you bite down into the fresh mozzarella over San Marzano tomato sauce, and through the expertly charred crust, you almost can't believe you've never ordered it before. There's also a charcuterie pie with mortadella, soppressata, and an arugula pesto. And it's bomb. But trust us -- go simple here.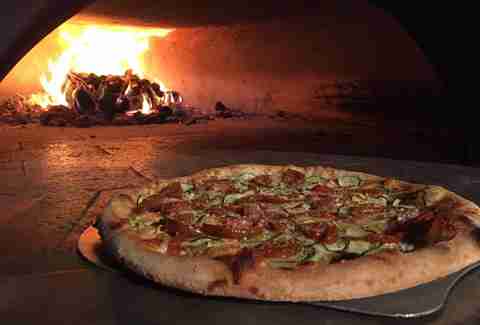 Downtown
The coal-fired brick oven gets hot as hell, and not just because good pizza is supposed to burn the skin off the roof of your mouth. It's because the crust should be charred crisp without burning the cheese, and it all mixes nicely with flavorful San Marzano tomatoes, or whatever sauce you pick. Max's seems to get more tourists than in-towners, but on the low, it does the best pizza job in ATL Downtown, and you don't get the Centennial Park proximity surcharge that other nearby restaurants throw at you.


Old 4th Ward
Not many people would brag about doing something "Jersey-style," but that's precisely what O4WP owner Anthony Spina is doing with his ultra-thin, super-saucy, somehow-still-crusty pies. Frills are on level zero as far as the interior is concerned, but the flavor is major, particularly when you order the rectangular-cut "Grandma," or build your own and get Ant's family-recipe sausage on top of whatever you're hankering for.
East Atlanta Village
Until 2am nightly, you can hit EAV's big funky beer bar and put a variety of amazingly delicious 14in pies down your throat, ranging from veggie-topped (like the pepperoncini, spinach, and goat cheese "Mermaid") to the "Don-A-Tello," slapped with black truffle pancetta from The Spotted Trotter. It also does one-off nightly specials like smoked trout, duck confit, and the corned beef "Shamrock" on St. Patty's.


Brookhaven
Started just outside Downtown Decatur, Avellino's took its talents where there's similar -- or greater -- money, because you can do that when you make pies with imported, finely ground 00 flour, San Marzano tomatoes, and all-local everything else. If you're brave enough to try the "IL Diavolo," which is spicier than hell (and we've been, so trust us), just know you'll have to sign a waiver first, because it contains ground red savina, habanero, jalapeño, and ghost peppers, and that's before you even get to the peppers on top. Die happy!

Sign up here for our daily Atlanta email and be the first to get all the food/drink/fun the ATL has to offer.

Mike Jordan is the king of pizza. He once ran a family pizzeria in Chattanooga, and knows where there's a tiny little secret pizza shack on the Westside that didn't make the list this round but is super-official and highly underrated. He'll tell you where it is if you ask him on Twitter at @michaelbjordan.