It doesn't need to be winter or even cold outside to enjoy a nice, hot, satisfying bowl of ramen here in Atlanta. Granted, our food scene has so many ramen restaurants now it's hard to even walk down the street anymore without getting slapped in the face by random noodles whipping around mid-slurp, so figuring out which spots are worth your time has become a bit of a problem. Well, here's your solution. These are the best spots for ramen in Atlanta. 
Midtown
A sushi family takes ATL's advice and goes ramen
After the folks behind Eight Sushi Lounge on the west side started winning the Atlanta Ramen Festival in 2016, they realized they'd better get to the money. We now have the recently opened E Ramen +, which has that brand-new vibe thanks to clean interior design that includes a gorgeous marble and wood bar. Sit here and get yourself a bowl of butter-garlic lobster ramen, in lobster miso broth, because there's literally nothing better you can do for yourself. They've got plenty of other options that impress (brothless, vegan, spicy chicken, and more), but seriously -- lobster ramen. Yes, $20 a bowl. You deserve it and so does Atlanta. 
Doraville
Pull up on these freshly hand-pulled noodles now
Ramen that has been recently pulled by the hands of human noodle gods is something you don't know you're missing out on until you have it. At LanZhou, you can watch these imperfectly perfect, edible strings of super gluten being stretched and formed by hand through a window, and then you can eat them. And since that's the real point of coming (you'll only go mad staring at noodles so beautiful without eating), go ahead and decide your noodle size (from regular to thin and down to flat), then get them in a bowl with one of dozens of proteins, including oil-poured spicy chicken.
Ponce City Market
Almost-sinful slurping in the Central Food Hall
Guy Wong's Miso Izakaya held Atlanta down for years until closing two summers ago. But what we lost on Edgewood Ave was gained by Ton Ton, Wong's PCM noodle bowl bar. The hanging red and white banners stealthily cloak you and whoever else is lost in the almost-sauce-rich broth of the Hakata Tonkatsu, the lighter Shoyu chicken broth with pork belly, the brothless Invincible Dan Dan Mazeman, or the vegetarian Yasai with shredded stir-fried cabbage and carrots. Add one of the "bombs" (butter garlic corn, chili paste) to step things up even richer or hotter.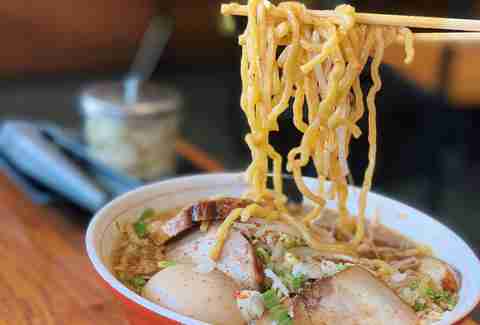 Buckhead
It's may be a national chain, but it's delicious
Not going to Jinya just because you insist on eating local may work in the case of, say, Cook Out, but not if you like really good ramen that looks too sexy to eat and tastes even better. Do the "Cha Cha Cha" (literally and figuratively), which is fish and pork broth with braised pork belly and lots of garlic, or the thicker-noodled shrimp wonton ramen, which gets shrimp and chicken wontons inside a shrimp and pork broth. Then go somewhere super-local if you really feel that guilty for eating some of the best ramen in town from a chain that just happens to have originated in California.
Duluth
Ramen worth a trip to Duluth
Do you like fried chicken? How about ramen? Well guess what... you've found the promised land where these two things come together. Get the Chicken Karaage ramen, whose perfectly fried nuggets come on the side. Or get the Sutamina version, which comes with a raw egg, minced garlic, crunchy tempura crisps, and spinach for just $2 more. Or just keep coming back and try every style of ramen on the menu, multiple times. You can't miss; this is seriously some of the city's best ramen, and the long ride out to Pleasant Hill for anybody not near Pleasant Hill will be pleasantly rewarded, though probably not by traffic later. 
Midtown
Irresistible chef-driven ramen
While it's far from the only thing worthy of devouring, the ramen at Momonoki is too good to pass up, even if you're intent on getting a Japanese cutlet sandwich (also incredible). Get the Yuzu Shoyu ramen, and while you're at it, get the famous Tsukemen ramen special, which comes with its own separate hot dipping broth, or just really stuff yourself with the huge, XL Tonkotsu with chicken breast, cabbage, and more. It's almost $20, but again, you're here for a reason, and that's to lose yourself in soupy nirvana.  
Grant Park
15 types of ramen bowls and beer for the gourmet types
There are nine adventurous ramen options on the menu at restaurateur Alice Wong's house of noodles and iron-griddled foods -- 15 if you count spicy versions of a few popular items like the broth-free Zha Jiang, which is minced chicken with a soft-boiled egg in black bean sauce. Not only do the recipes successfully push beyond familiar territory (see/eat the honey-roasted Asian BBQ pork), but they've got Asian-style beer made by Andy Tan, brewmaster of the always-amazing Chamblee brewpub Hopstix (which also has a great miso ramen bowl on its menu). 
East Atlanta Village
Counter-order ramen in the We Suki Suki food hall
Ever since Seven Chan and Ken Yu blew everybody's minds a few years ago with their sushi burritos at Poke Burri, they've been on a flavorful warpath against wack and lame food. Their foray into the We Suki Suki food hall in EAV is no different, as the counter-order ramen shack has become another hit, thanks to bowls like the Angry Zuko, with its creamy/spicy pork broth, bork belly, marinated egg and black mushrooms. Plant-based people will dig the 1-UP for its vegetarian broth and fried tofu strips, while folks who like food that once swam will be all about the spicy seafood ramen, with mussels, shrimp, squid, and roasted seaweed.
East Lake
Eating this ramen is your good deed for the day
It's always nice to have fewer choices when you're just in dire need of a bowl of noodle soup. With six ramen bowls on the menu, and the trust of anyone who went to Son of a Bear and Taiyo Ramen before they closed, Michael Lo and George Yu are keeping it simple enough to be eaten as easily and enthusiastically. Named after Japanese white-collar workers who work way too much and are known for being a little too happy to be corporate types, Salaryman also has an additional incentive to drown yourself in Tonkotsu broth or fill your face with the scallop and crab meat seafood ramen: for every bowl they sell, $1 goes to a monthly changing local charity.
Sign up here for our daily Atlanta email and be the first to get all the food/drink/fun the ATL has to offer.