Here in Atlanta we typically use our "noodles" for thinking of creative ways to fry food, but they're actually pretty good to eat too, as evidenced by the eight spots on our list of the ATL's best ramen joints. Feast your eyes...
Chamblee
Packed inside a strip mall, LZ offers about as authentic of experience as you will find in the metro, because the English is very sparse and they rarely bother to translate the menu. Instead, point to the number you want, make your meat choice, and enjoy a large, fragrant bowl their thick, fresh, and savory noodles.
Smyrna
Their yakitori and sushi is about as good as we get here, but you've got to go for the house specialty: spicy tonkotsu, with what is often rated the best pork broth in the city. The reddish-orange base won't blow your chopsticks out of your hand, but it will certainly give you the wake-up call you needed to handle the traffic around the new Braves stadium.
Westside
Another serious contender for best tonkotsu, the little shack next to Georgia Tech has a great patio and hot, fresh, homemade noodle-based eats.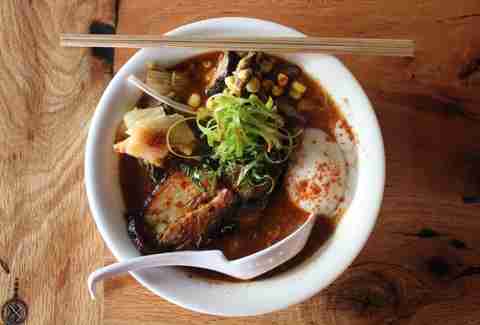 Decatur
The downstairs Chinese-Korean hybrid holds its hand-pulled noodle game to the same standards as its pork belly bun game. The broth is cooked overnight from a pork and chicken base, then gets some miso, poached egg, Sun Noodles, and, of course, roasted pork belly.
Norcross
Walk down a long hallway, past a cloth-draped entrance, and you'll be greeted in (surprise!) English... or maybe Japanese, but either way you'll then be seated for a very blue-collar ramen lunch. A stronger broth, pork belly, egg, spinach, and aromatics don't try to be too fancy but will definitely fill you up to the point that you will probably get just one order of their unagi.
Emory
The most thorough build-your-own-bowl spot in Atlanta starts with noodles, then pork, shrimp, ribeye, chicken, shrimp, veggies, and a great variety of sauces. Just don't screw this up.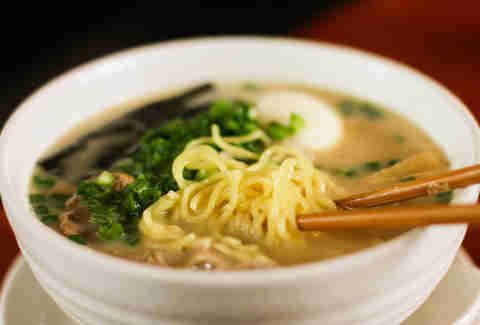 Buckhead
You have limited windows during which you can hit this swanky wooden Buckhead food dojo -- between 11:30am-2pm for lunch during the week, and 5:30-10pm on the weekends for dinner --  but the shoyu and miso broth varieties are well-worth the effort.
Westside
The Korean Ramyun bowl at this new Westside location crams more ingredients in front of you than an all-the-way hash brown order at WaHoo. Bacon, carrots, fried eggs, and anything else they can find cover velvety noodles and a deliciously dark broth before inevitably finding their way to your belly.
Sign up here for our daily Atlanta email and be the first to get all the food/drink/fun the ATL has to offer.