The Best Restaurants & Bars in All of Auburn
Auburn, known to locals as "The Loveliest Village on The Plains," is serving up far more than Alabama football this season. This is a town built on Southern cuisine, spreading out from Toomer's Corner, that can trigger anybody's twang. Between award-winning chefs stealing national attention and restaurants that serve you just like momma used to, Auburn's food scene is striking up just the right balance of chic flavor and home cooking. You'll kick yourself if you don't try out these delicious spots on your next visit.
124 Tichenor Avenue
Farm to table? The South practically invented it, and chef Robbie Nicolaisen of The Hound is doing it right. Their iconic shrimp and grits will put any South Carolinian to shame, and the presentation beats staying home for overcooked eggs any Sunday morning. Located in the heart of downtown, The Hound serves up decadent french toast, redneck benedict, and a bison burger that will have you in a food coma all day.
129 East Magnolia Avenue
Pizza as big as your head. Meatball subs that should not be eaten on a first, second, or fourth date. Beer pitchers every night. Auburn's Little Italy is everyone's favorite pizza dive joint. It is typical to see a line stretched out of the door on a normal Tuesday. If a customer does not stay for the food -- which they will -- they will stay for the kind and attentive staff. Eating at Little Italy is a five-senses experience.
Best date night idea: Acre
210 East Glenn Avenue
Award-winning chef David Bancroft banks on a tradition of impressing everyone who tastes his creations -- which could help anyone on a first date. Dining on the patio could put anyone in the mood for romance, especially when surrounded by raised gardens where Bancroft grows vegetables and herbs for his sophisticated Deep South creations. Acre is a prize jewel.
2328 South College Street
Pannie-George's Kitchen is everything people say about great Southern cooking on one plate. This meat 'n' three will loosen your belt and warm your heart. Between their fried okra, fried green tomatoes, cornbread, collard greens, fried chicken, and a dollop of sweet potatoes, there's nothing better. Don't forget to grab a cup of sweet tea to wash it down.
106 North College Street
The drinks are just the start, but watching them make them is the whole show. The bartenders at Avondale are notorious for knowing exactly what you need after a long day. Locally crafted art hangs around the dark leather, crescent moon booths, and adds color to the woodsy space. They offer live music and a view of Toomer's Corner that not many venues can beat. Test the bartenders' spirits knowledge and start your next tab here.
136 West Magnolia Avenue
Sky Bar is the largest bar in the SEC, and it is the place to go for a crazy night on the town. Surrounded by medieval torches, the rooftop bar is a welcoming venue for a relaxed night with the boys. The Boom Boom room hosts live bands and Auburn's favorite DJ Ben Bruud on the weekends. They serve a variety of domestic and craft beers, as well as any mixed drink or shooter you can imagine.
905 Short Avenue
You will smell Chuck's before you see Chuck's. This down-home barbecue joint is located in Auburn's sister city, Opelika. Check the daily specials before you order and don't shy away from getting as many sides as humanly possible. You can worry about the calories later. Stick with the basics and be sure to try their Brunswick stew.
120 North College Street
Big Blue Bagel Deli is a quaint shop with big flavors. The Tiger Melt sandwich and their bagel chips were once named as two of the "100 Dishes to Eat in Alabama Before You Die." The Nova, a bagel sandwich served with smoked salmon and cream cheese, is perfect for the sophisticated palate of the group.
1629 South College Street
Winning best Mexican food in a southern town is a fight to the end, because Mexican restaurants in Alabama are as common as Starbucks in New York. Nonetheless, La Plaza is the rightful winner of such a title. Snuggled in an old strip mall, La Plaza serves traditional Mexican dishes and drinks. The al pastor and chorizo tacos are little blessings of delight. Try out the array of sauces and if you struggle with the heat, take a sip of La Plaza's homemade horchata.
124 Mitcham Avenue
The Depot was formerly a hub of activity in the 1860s. A series of attacks destroyed the depot until it was rebuilt in 1870. Today, The Depot is one of Auburn's finest seafood restaurants, and the history of the building is alive and well. The restaurant is known for its premier-grade seafood and has been recognized by the James Beard Foundation. (This is a great spot for going big on a celebration.)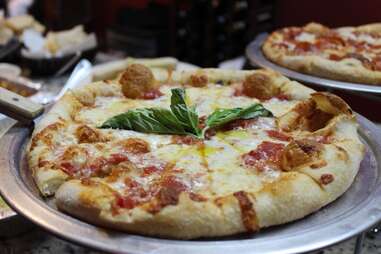 1445 South College Street
A nice evening with red wine and a hearty plate of spaghetti do not sound bad, and those coming to Auburn will go to Fratelli's for just that. The Fratelli brothers moved to Auburn, started their restaurant and found their "American Dream" on the Plains. Be sure to read the specials marked on the chalkboard to see what fresh catches they are working with that night.
414 South Gay Street
Mama Mocha's is an Auburn institution. It grew from a small, run-of-the-mill coffee shop into the Emporium it now calls itself. The brews are strong and varied. The staff is kind, welcoming, and helpful. The shop is a perfect gathering place for groups or for a quiet study session. There seems to always be something new to look at or a new drink to try.
Sign up here for our daily Atlanta email and be the first to get all the food/drink/fun the ATL has to offer.
Lily Jackson is a contributing writer for Thrillist. Follow her on Twitter at @lilygjack for more Southern culture.