Here at Thrillist Atlanta, we tend to keep the focus on Georgia's largest city (and with good reason!), but we do know that there are actually a whole slew of eateries across the state worthy of praise, celebration, and loose-fitting pants. So here they are, the 11 best wayyyy OTP restaurants in Georgia.
Augusta
Only the freshest regional ingredients are used at the FHT, including (of course) Georgia peaches, watermelons, and tomatoes, and while that's all well and good, the real stars are the local shrimp, quail, and house-made sausage. Oh, and the grits rule too, so you'll want to pair them with pretty much everything else you order.
Dillard
This North Georgia mountain farmhouse sits in the Southern end of a giant forest and hosts the Southern food feast of your dreams: ham, trout, fried chicken, catfish, country-fried steak, turkey, salmon, and tenderloin are just a few of your meat options. There are vegetables on the menu too... but did you see all those meat options?!
Clarkesville
This rustic, wood and stone-heavy spot serves a slew of sweet signature dishes, so we'll choose for you: the sautéed shrimp w/ peppers & andouille sausage in an applewood-smoked tomato sauce -- it not only comes with two meats in one dish, but it is also served with a fried Parmesan grit cake.
Savannah
Their Conquistador Chicken Sandwich was a finalist for Adam Richman's Best Sandwich in America thanks to sheer simplicity. Roasted chicken on lettuce and tomato with a little sauce doesn't sound like a lot, but when you grab one of these superstars, you will know sandwich heaven. Their other meals are pretty boss, too, but you've got to get there in the scant six hours they are open during the day. Food this good can't be too easy.
St. Simons
They've probably got the largest variety of BBQ sandwiches you'll ever find in one location: brisket, chicken, pork, sausage, and turkey are all there in unimaginable quantities. Oh, and you can grab a grilled pimento cheese sandwich for the ride home, too.
Blue Ridge
Grab a table near the giant hearth and prepare yourself for rustic, meat-heavy options like steak, duck, and the best damned chicken livers you can find on the North, Northside. They even do a "hot brown", which if you're unfamiliar, is a hot, open-faced turkey & bacon sandwich that tastes a thousand times better than it sounds.
Athens
Taking full advantage of the local farmers and producers that thrive in Georgia's Northeast, these artisanal meat-slingers produce the best rillettes, confits, mousses, and trotters. Not sure what all those terms mean? Um, you should probably eat first and ask questions later.
Athens
This Athens legend has made its name despite the number one handicap of all: no meat. Seriously. But their brunch more than makes up for being bacon-less by turning out unbeatable pancakes, biscuits, French toast, and breakfast burritos, all of which they'll gladly pair with as many mimosas as you can reasonably handle.
Roswell
The Sedgwick brothers have an angle on French food that isn't exactly "traditional". Their interpretation involves plenty of pizza, $10 burger & a beer deals, and Southern seafood. What is traditional is their focus on quality, and their killer cheese... er, "fromage", menu.
Duluth
One of the few remaining meat-and-twos inside a drug store, the food here is more powerful than a lot of the stuff behind the raised counter. Everything is handmade, from the fried okra to the meatloaf to the pies and mac 'n cheese that will ruin your Grandma's recipe.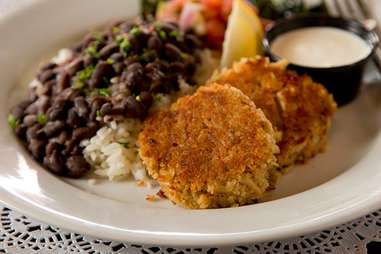 Savannah
Don't call it a comeback. She has, in fact, been here for years, and despite some recent "unpleasantness", Savannah's Queen of Butter still has a line out the door every day. Your options include the deep-fried crab cake burger, deep-fried green tomatoes, the fried okra, the fried chicken... you get the idea.
Sign up here for our daily Atlanta email and be the first to get all the food/drink/fun the ATL has to offer.