The 9 Best Sandwiches in Atlanta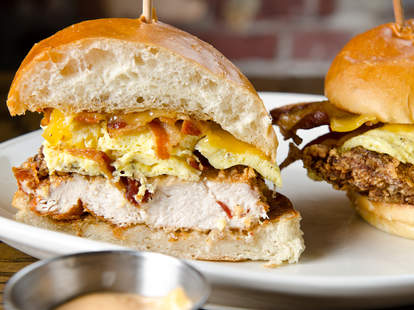 Given that the average American eats approximately 200 sandwiches each year, it shouldn't be too hard -- despite the proliferation of all the sweet, new Atlanta restos -- to eat the nine best... provided you know which ones they are. That's where we come in...
Sebastian Davis/Thrillist
The CheeseSteak
Woody's CheeseSteaks (address and info)
Midtown
The little wooden shack outside Piedmont Park slings slices of beef and cheese (plus beer!) seven days a week. While turkey and veggie are on the menu, stick with the 1/3lb shaved Angus with peppers, onions, and mushrooms, which are glued to that beef with white cheddar, provolone, or liquid orange "whiz."
Sebastian Davis/Thrillist
Victory at Sea
Victory Sandwich Bar (address and info)
Decatur
Subtly tart and creamy white anchovies are tossed in a lemon-butter aioli, rested on crispy frisee, put on a crunchy roll, and served with peppered chips. To go with it, grab a cheap canned beer, a Jack & Coke slushie, or maybe a few of your friend's chips.
Sebastian Davis/Thrillist
The Dogwood
Urban Cannibals (address and info)
East Atlanta
Cast your eyes on what may possibly be the most ingredients two pieces of sourdough could ever hold: house-roasted turkey, house-roasted Berkshire pork, pastrami, Genoa salami, Black Forest ham, cheddar, provolone, Swiss, smoked Gouda, "bodega" mayo, honey mustard, a spring green mix, tomatoes, and sweet onions. Oh, and you can also get this beast on multigrain or marbled rye for the same amount of (sour)dough.
Sebastian Davis/Thrillist
Bánh Mi Thit Nuong
Quoc Huong Banh Mi Fast Food (address and info)
Buford Highway
The ATL's best version of this Vietnamese-French 'wich (which starts with slow-roasted, marinated pork that's finished on the grill, then gets a house-spiced mayo, the usual daikon/carrot blend on top) can only be found, of course, on our famous I-85 parallel.
Courtesy of Rosebud
The Nasty McAlister
Rosebud (address and info)
Morningside
This brunch special takes the best ideas that Top Chef contestant Ron Eyester has ever had and puts them on your plate. Buttermilk-marinated fried chicken is topped with a scrambled egg, which is topped with smoked bacon, which is topped with Tillamook cheddar, and then dropped on a soft bun.
Sebastian Davis/Thrillist
Cuban
Havana Restaurant (address and info)
Buford Highway
Delicious roasted pork, ham, pickles, and mustard are topped with a touch of white cheese, and grilled between two long slices of pan Cubano. Simple, filling, and best served off the little lunch counter that has found its home in Atlanta's most diverse neighborhood.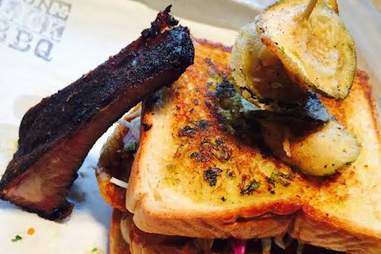 Courtesy of Caren West PR
Yo Mama's Sweet Meat Heartburn Remix
Bone Lick BBQ (address and info)
Westside
Mike LaSage has taken his little pop-up from roadside shack to a must-attend for locals (and out-of-towners alike). His most awe-inspiring creation drops expertly smoked pork, slaw, and cheese sauce on top of freshly-fried porky rinds, puts it between slabs of Texas toast, adds a skewer of fried pickles for pizzazz, and then leans one of their incredibly wet, yet dry-smoked spare ribs on the side.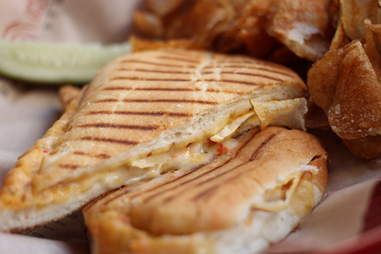 Courtesy of Caren West PR
Greatest Grilled Cheese Ever
Ocean Market (address and info)
Midtown
The most desirable sandwich in this Midtown shop has nothing to do with the ocean, but it does involves rivers of melty smoked Gouda, triple crème brie, and homemade spiced pimento cheese that're... um, sandwiched between two pieces of perfectly grilled bread.
 
Shrimp Po' Boy
Star Provisions (address and info)
Westside
Fried and seasoned shrimp, spicy Cajun mayo, tomatoes, pickles, and a little lettuce are layered on a fluffy hoagie. It's a pretty simple recipe, but to make it great, each of the ingredients need the expertise that Anne Stiles Quatrano gave to Bacchanalia and Abattoir.
Sign up here for our daily Atlanta email and be the first to get all the food/drink/fun the ATL has to offer.