Sebastian Davis
Sebastian Davis
Sure, Atlanta's got a few problems, but the biggest one is that no matter how many great new restaurants open, there are never enough great sandwiches available. Thankfully Atlanta's five best new sandwiches are here to help solve said problem...
Victory at Sea
Victory Sandwich Bar (address and info)
Decatur
Atlanta's premiere 'wich-crafter is throwing caution to the, presumably, ocean winds. They start with a ciabatta roll and then top it with mayo-marinated anchovies that, unlike the pungent canned ones you grew up with, are actually delicious.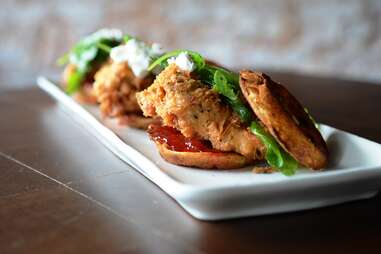 Chicken & Waffle Sliders
The Bishop (address and info)
Avondale Estates
The Bishop's signature fried chicken gets a creamy pasting of goat cheese and strawberry jam, is topped with arugula for a little color and crunch, and then it's... waitforit!... sandwiched between mini waffles, making it your new brunch go-to.
Bengali Fish Fry Sandwich
Chai Pani (address and info)
Decatur
Crispy North Carolina fried catfish is the American host for some sweet and spicy Indian flavors, including ginger-chili mayo, tomato chutney, slaw, and two griddled buns.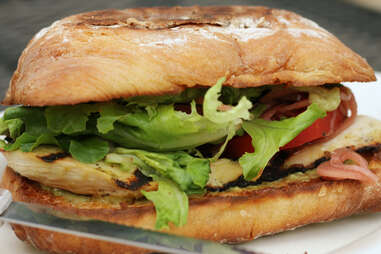 Grilled Chicken Torta
Holy Taco (address and info)
East Atlanta Village
A warm, grilled bolillo roll plays host to guacamole fresca, pickled shallot, roma tomatoes, lettuce, and a big old hunk of grilled Mexican chicken. Oh, and a can of Holy Taco's "mystery beer" (only $2) is a great guest at your sandwich party. Might as well have her bring all her can friends, too.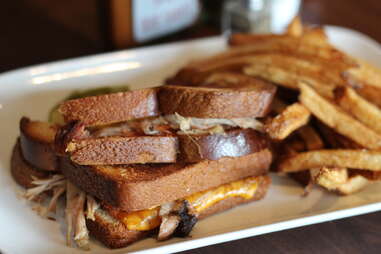 BBQ'D Grilled Cheese
521 Kitchen & Que (address and info)
Buckhead
Your choice of slow-smoked meat is given a warm home inside of buttery toasted white bread next to piles of American and cheddar cheeses, jalapeños, tomatoes, and spices, but that's just a temporary living situation since they'll be taking up residence on your hips shortly.

Sign up here for our daily Atlanta email and be the first to get all the food/drink/fun the ATL has to offer.