Photo courtesy of Twisted Soul
Whether you're originally from Atlanta or you're a transplant from a far-off city, you've probably realized by now that the South does soul food differently. And even though our sports teams may have had a tendency to disappoint in the past, Atlanta's soul food has always been undefeated. Thanks to half-century-old eating establishments and innovative new chefs who specialize in Southern-style eats, the city's soul food scene has a lot of great options. If you've been yearning for that special type of a meal that can fill your belly and replenish your Southern spirit, you can't go wrong with any of the following eateries. These are the best Soul Food spots in Atlanta.
Castleberry Hill
Atlanta native and Xscape alum Kandi Burruss-Tucker and her husband Todd knew what we all have always known—old ladies make some mind blowingly good soul food. They, however, used that knowledge to their advantage and opened up Old Lady Gang, a classic soul food restaurant led by the OG OLGs: Joyce Jones, Bertha Jones & Nora Wilcox. The Camp Creek location is currently closed for renovations, but you can still pull up to the Castleberry Hill location and enjoy your favorite Southern staples, from shrimp and grits to barbecue rib tips. Plus, craft cocktails like the Stubborn Atlanta Mule and the Sneaky Georgia will make sure you stay lit throughout your entire meal.
Castleberry Hill
Like soul music, soul food is a direct extension of a chef's lived experiences, so if you want your food to taste as great as Etta James sounded in her music, you want to visit a soul food restaurant with decades of experience. The easy answer: Paschal's Restaurant in Castleberry Hill. Founded in 1947, Paschal's is probably the same age as some of the elders in your family, so expect to have what the restaurant calls a "historic and soulful dining experience." Menu highlights include the 1947 Old Fashion fried (or baked) chicken sandwich, the jumbo deep-fried shrimp served alongside Paschal's special dipping sauce, and of course, the tried and true two-piece fried chicken meal.
West Midtown
Having previously worked as a flight attendant before transitioning into a career as a culinary expert, Chef Deborah VanTrece brings a global perspective to soul food, and at Twisted Soul Cookhouse & Pours, it shows. Wondrously unique entrees like the Southern Marinated Fried Chicken, Hoisin Glazed Oxtails, and Stewed Neckbones, Twisted Soul has one of the most eye-catching soul food menus in the entire city. Plus, "Pours" is in the name of Chef VanTrece and Chef Robert Butts' restaurant for a reason—so make sure you try the P-Valley-inspired "No Cryin' At The PYNK," "Teenage Fever," and all of the other exceptional signature cocktails on its drink menu.
Cascade
Unless you've been sleeping in late every weekend for the past few years, you already know that brunch in Atlanta is a vibe. For an even tastier, Southern-style brunch experience, you have to visit Milk & Honey at Cascade. First off, brunch is available at Milk & Honey anytime that it's open(which is Friday through Monday), and more importantly, the menu is packed with soulful twists on brunch standards. At Milk & Honey, you can order a fried fish biscuit, have some lobster gumbo and grits, chow down on some crab hash, and even get a little boozy with the Georgia peach cognac french toast. Due to COVID-19 concerns, the indoor area remains closed for dine-in, but you can still come in to grab some take out and enjoy your meal on the outdoor patio.
Decatur
Who's Got Soul Southern Café is a neighborhood soul food spot that really takes pride in culture, tradition, and high-quality homemade ingredients. With no pork seasonings, no canned vegetables, or no MSG in Who's Got Soul's hearty plates, you can indulge in some well-earned soul food without feeling guilty. And for all the locals who have already been hip to Who's Got Soul Southern Café for quite a while now, consider giving its newest location, the Who's Got Soul Southern Grill, a shot. The new Duluth offshoot showcases the evolution of soul food and offers more healthy takes on Southern cuisine.
Bankhead
K&K Soul Food is another classic soul food restaurant in Atlanta that's been around since the Civil Rights Movement. Founded in 1968, Bankhead Restaurant was born and eventually it became what the city now knows as K&K Soul Food. The small, Black family-owned eatery brings a simplistic, yet delicious approach to soul food, and its extensive menu features everything from fried tilapia, chicken sausage, and cubed steak to meatloaf, ribs, and turkey wings. Order yourself a plate from K&K and feed your soul.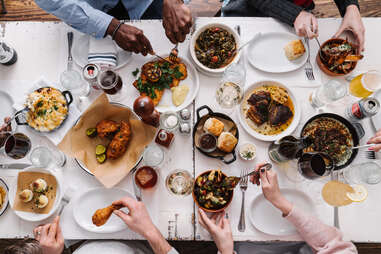 West Midtown
Just because soul food has the power to make you feel right at home, it doesn't mean that Southern-style restaurants are incapable of being luxurious. If you're not yet convinced, look no further than JCT. Kitchen & Bar in the Westside Provisions District. Lunch is currently not available due to it being "docked and quarantined," but you can still head over for an elegant dinner. With menu options like duck frites, Gulf shrimp and Carolina "gold" grits, and black grouper, you'll be surprised that Southern-style cuisine could even get this fancy.
Buckhead
Atlanta loves chicken, like in all forms. Whether it be Chick-fil-A throughout the week or wings at Magic City on the weekend, chicken holds a special place in all of our hearts, and that especially holds true when it comes to soulfood. For a Southern take on chicken that doesn't come deep fried, Roasters gets the job done. The eatery's famously slow roasted rotisserie chicken comes served with Roasters' homemade BBQ sauce, and if you're somehow tired of chicken, then give their country fried steak a try.
Brookhaven
Another upscale soul food spot is Roc South Cuisine on Buford Highway. The Atlanta Hawks' own Lou Williams recently shouted out the Black-owned business during an interview on First We Feast, and if hometown hero Lemon Pepper Lou is a fan, you should be too. In addition to your typical soul food go-tos like fried chicken and fried catfish, Roc South Cuisine also offers mouthwatering entrees such as a fried lobster tail, jumbo lump crab cakes, a whole fried snapper, and lamb chops. As a restaurant that puts the same level of effort into its $6 sides that it puts into its pricier $40 entrees, Roc South Cuisine should definitely be on your radar.
Vine City
You can't utter the words "great soul food in Atlanta" without mentioning Busy Bee Cafe. The go-to Southern-style eatery of politicians like Vice President Kamala Harris and hip-hop superstars like Lil Baby, Busy Bee has earned itself a reputation as one of Atlanta's respected soul food institutions. Its fried chicken is perhaps more famous than all of the city's most prominent entertainers combined, and now that dining in is an option again, there's nothing stopping you from having a homemade meal away from home.
Joshua Robinson is an Atlanta-based contributor for Thrillist. Follow him on Instagram at @roshrisky.