Sure, Washington DC might be the actual capital of the United States, but Atlanta is something much more important: it's the soul food (and, yes, strip club) capital of the world, which means that if you want to be one of the ATL's best soul food restaurants, you've gotta be at the top of your collards and fried food game. Here're 10 spots -- in strip malls, under tin roofs, and even real restaurants -- that are...
Murrell's Cafe
West End
All-you-can-eat fried fish, mac and cheese, and even neck bones for just $10? Yup.

Paschal's Restaurant
Castleberry
Fried catfish, fried chicken, fried shrimp, and fried green tomatoes lead the way on a menu that is so tremendously rich, you'll need some time on the porch in your rocking chair to "work" it off.
K&K Soul Food
West End
Boasting buffet-style service from authentic Atlanta grandmothers, this West End location delivers on the classics, but also on lesser-used staples like oxtail and turkey wings, so it's always worth it to come by for a surprise. And because... shhhhhh... your grandmother doesn't cook like this.

JCT Kitchen & Bar
Westside/Home Park
This contemporary soul food-slinger is still doing old-school eats including apps like deviled eggs, fried oysters, and a rich pork rillette; as well as mains like their signature fried chicken w/ tiny biscuits, which Sir Mix-a-Lot is ambivalent about, but you should totally try.
Sweet Georgia's Juke Joint
Downtown
In the heart of Downtown, SG's is the perfect place to grab a handful of crawfish tails, smoked wings in peach BBQ sauce, or some fried Vidalias with your visiting friends before hitting Atlanta's more "adult" establishments.
Roasters
Sandy Springs
This local chain has nothing to do with the old Kenny Rogers chicken joints (fun fact: the gambler does live in Atlanta), but it does have a lot to do with making you think that badass rotisserie chicken, brisket, and thick slabs of ribs are something you can get at a fast-food spot.

Who's Got Soul Southern Cafe
Decatur
Not only are their dishes pretty darn delicious, but the rib tips, cornbread dressing, or smothered pork chops are also potential nicknames for your next girlfriend.

This is It! BBQ & Seafood
Multiple Locations
If this is it... doooo wop... please let me know, 'cause we're gonna want to hit Butch Anthony's burgeoning BBQ empire for some chicken, fish, pork, and even chitterlings, before it completely blows up.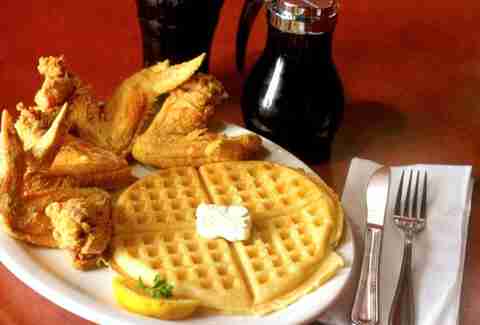 Gladys Knight's Chicken and Waffles
Multiple Locations
The "Empress of Soul" earns her title with much more than sweet and savory chicken and waffles: she mixes it up with "sassy" BBQ turkey wings, and fish and grits that aren't "sassy", but may make a crack or two about how the Falcons are playing.

Wyatt's Country BBQ
Kirkwood
You can smell Wyatt's smoking ribs from miles away, but don't eat so many of those delicious, saucy suckers that you don't have room left for one of their pig ear sandwiches, or their sweet potato cobbler, or their... oh, you get the idea.