All right, guys, we get it. Atlantans love brunch. I mean, hungover weekend recaps over omelettes, biscuits, and mimosas? What's not to love? Turns out, plenty actually: long lines, even longer waits for food, weak-ass Bloody Marys, overpriced dishes, the list goes on. Sometimes, it's nice to be able to just walk into a spot and order up a good, old-fashioned Southern breakfast. With that in mind, we rounded up some local eateries that serve up solid breakfast and brunch fare, without all the pomp and pretension.
Recommended Video
Debatable: Is Shake Shack Really Fast Food?!?
Reynoldstown
The trick to getting a seat at this down-home Reynoldstown eatery? Dining on a weekday or, on the weekends, arriving before 9am. Once you sit down, settle in -- this menu of chock-full of Southern breakfast staples (read: you may need a quick nap after the caloric smorgasbord, but it'll be worth it). Far and away, Home Grown's most beloved dish is their Comfy Chicken Biscuit, a plate of fried chicken served open-faced and positively swimming in HG's signature sausage gravy. Sit in the back to admire the funky folk art and the wares being sold in Sew Thrifty 5 & Dime, the in-house thrift store.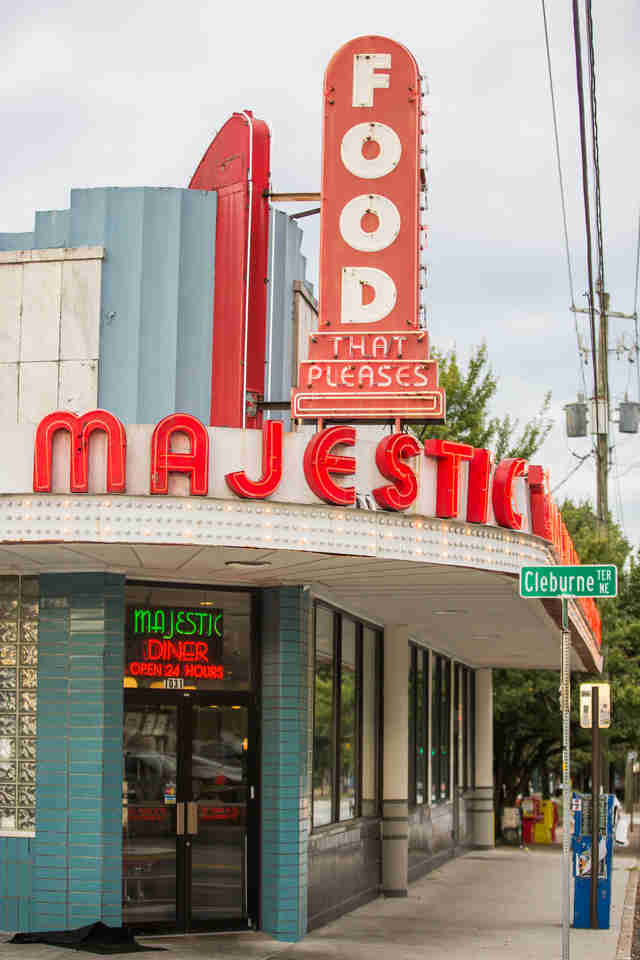 Poncey-Highland
This vintage-style Poncey-Highland diner has a reputation for being a late-night post-bar joint, and it's great for that. But the Majestic's no-frills breakfast options taste just as good when sobered up in the light of day. Mid-to-late-morning hours rarely see a crowd, and their extensive menu is sure to satisfy whatever type of sweet or savory breakfast eats you're craving -- from classic eggs and bacon, omelettes with grits and Southwestern-style options, to sandwiches, biscuit specials, French toast, and all the standards.
Candler Park
If you made the rookie mistake of trying to hit up Candler Park's Flying Biscuit outpost during peak brunch hours, remedy that by moseying across McLendon Ave to Gato. It's inside an unassuming storefront with a wooden, cat head-shaped sign out front. This quaint restaurant transforms into a variety of pop-up restaurants at night, offering a rotating variety of foodie-attracting dishes. But by day, they keep it simple: vanilla buttermilk pancakes, huevos rancheros, tofu scramble, Intelligentsia coffee. Is your server a dude you saw playing in a band at The Earl last night? Maybe. Is the food worth coming back for? Definitely.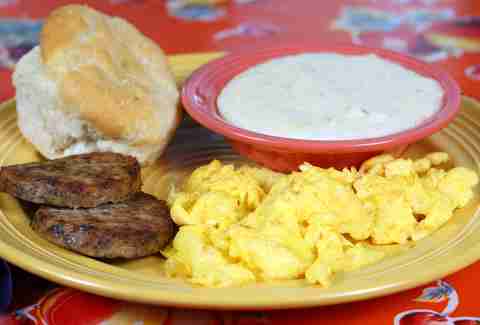 Midtown (& other locations)
With 20-plus years of business under its belt and more than a dozen locations dotted along the Southeast, Flying Biscuit isn't exactly a hidden gem. But they still make this list because the menu has stayed true to its roots, which are planted in serving up classic Southern breakfast food with their own signature twist. You'll be hard-pressed to find creamier grits or tastier apple butter, save for a trip up the highway to a roadside stand. Plus, each location reportedly bakes nearly 5,000 biscuits per day, so they must be doing something right. Avoid the brunch-time line by making an earlier morning visit, or switch it up and take advantage of the breakfast-all-day option after dark.
Cabbagetown
Whether you're ready to greet the day with an 8am feast or you need a bagel sandwich to soak up last night's libations while wearing sunglasses indoors closer to noon, Carroll Street Cafe's got you covered. This rarely crowded Cabbagetown cafe boasts an impressive coffee menu (including Cuban coffee and a Cabbageccino, aka cappuccino with brown sugar) and a smattering of dishes that are more elevated than a diner, but less than places hawking $10 artisan cinnamon rolls — think eggs Benedict, shrimp and grits, croissant sandwiches, Belgian waffles, and plenty of morning cocktails to boot.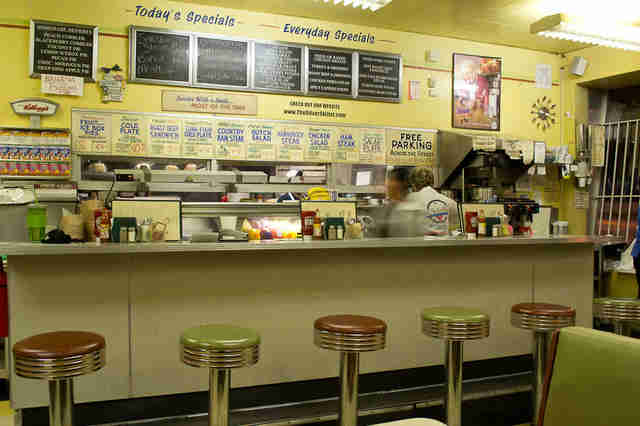 Westside
For an old-school Westside diner, Silver Skillet's got quite a history in the spotlight. It's been featured in TLC's "Destiny" music video, the film Remember the Titans, and controversial founder of Flavortown Guy Fieri even stopped in to film his show Diners, Drive-Ins & Dives. But SS's staff hasn't let fame go to their heads. They're still offering up classic Southern menu of "Skillet Favorites" like country ham with red-eye gravy, grilled chops with grits and toast, skillet-made French toast -- hell, they'll even give you dry cereal with a side of whole milk if that's what you're into. Head in anytime and order up. They ain't judgin'.

Sign up here for our daily Atlanta email and be the first to get all the food/drink/fun the ATL has to offer.