There's no way of knowing if Atlanta residents have ever been to Salisbury, New York. But from what we know about the "steak" that shares the city's name, it's clearly not one of America's most tasteful towns. Luckily for us, there's some serious beef being served around the ATL area if you know where to look, starting with the spots listed below.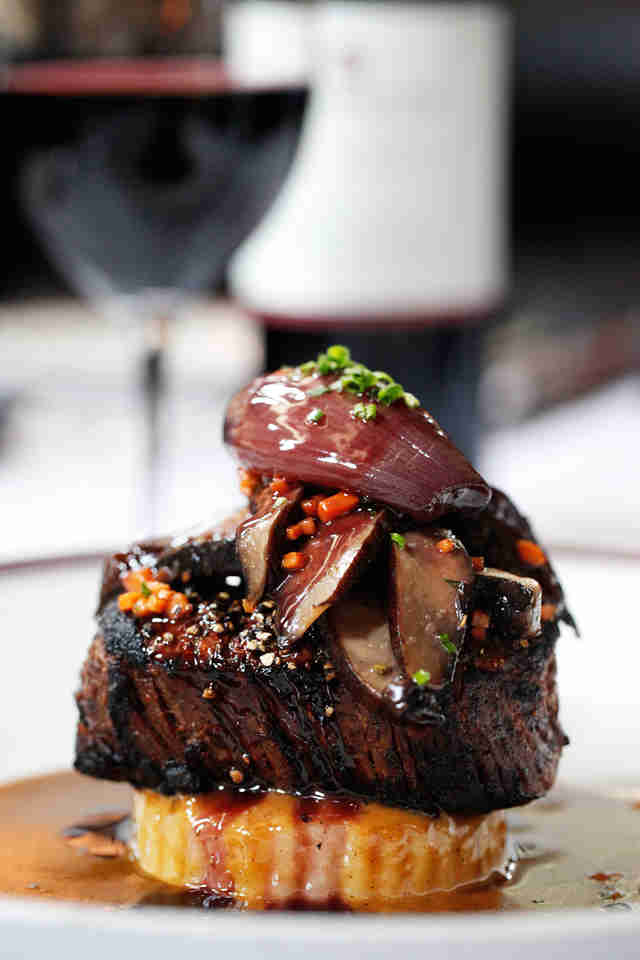 Buckhead
There is a reason this is the only restaurant in Atlanta ever to receive a shipment of A5 Kobe beef with a BMS (Beef Marbling Score) of 12 out of 12. The best beef in the world lives under these huge, tiled arches because Chef Ryan Delesandro treats it with the love, care, and respect that these sweet cuts deserve.


Old Fourth Ward
The man behind a decade's worth of nationally ranked steak basically founded the entire O4W dining scene. Get into the Iron Chef contestant's flagship spot for beef that is treated right. Kevin is one of the few chefs to advertise a steak cooked "blue," which is the rarer than rare version that is right for every real carnivore.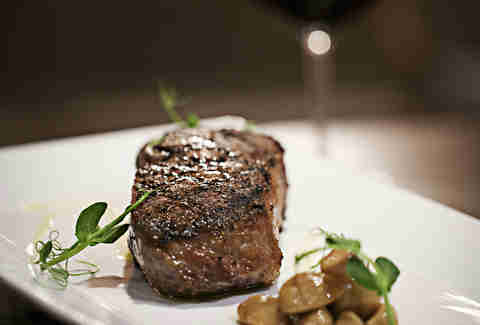 Buckhead
They've got Kobe beef meatballs and a better-than-a-street-vendor Philly on the menu, plus a giant wall of wine boasting a slew of solid bottles, but the next-level selection of ribeyes, sirloins, and filets are the stars of the show. A show you can watch being made from the chef's counter overlooking the kitchen.
Midtown
Celebrating the simplicity of a great steak by removing all those showy "vowels," STK boasts a porterhouse and a cowboy ribeye that'll fill you up, as well as anyone in the city, and the black truffle aioli tartare is the perfect way to start your meal... SKOR!
Roswell
You could find yourself literally lost in sauce from its wine decanting service, or the 100+ offerings of Scotch, bourbon, and whiskey, if you don't plan ahead to eat the steak in this top-notch chophouse, which is set in a former antique shop on Downtown Canton St. Most of LAS's cuts are provided by famed Chicago butcher Meats by Linz, although they also offer an American Kobe beef program of wagyu steaks certified at 10+ BMS (Beef Marble Score), which is equivalent to the highest quality Japanese beef available: Kobe A5. Try the 35-day-aged, baseball-cut, 12oz sirloin if you go that route, and let us borrow some of that Kobe money before you take 60 shots and bow out.


Dunwoody
The '40s aren't just the price range of these Midwestern USDA Prime rib eyes, porterhouses, and filets; it's also the era you enter when you feel the old-school, Sinatra-esque vibe of this single-location, independently owned steakhouse (which was once a nightclub). The standout is the 24oz chef's cut bone-in ribeye, but anything dry-aged will do just fine.
Buckhead
Everything from the leafy-green, French Quarter-esque balcony, to the gumbo and crawfish on the menu make it clear that this laid-back eatery is inspired by New Orleans, but the bone-in ribeyes and filet au poivre make it clear that Hal's is also one of the city's best steak spots, and the perfect place to go before hitting some of Buckhead's sweet bars.


Downtown
Branded under the initials of its famed French chef/partner, who ran a three-Michelin-starred restaurant in France (and a former NYC restaurant named Cello), the Atlanta location of Bistro Laurent Tourondel is one of eight in the continental US. It offers American wagyu, certified Black Angus, and USDA Prime cuts, all naturally aged, herbed, buttered, and seared in cast-iron pans. Our branch is run by chef de cuisine Matt Ratcliffe, an ATL native who started here as a sous chef and now crafts menus based on his international cooking techniques and expertise in butchery, charcuterie, and other words that rhyme but basically amount to "steakery."
Decatur
The Scott brothers appropriately said that Decatur "desperately" needed a real steakhouse, and they have fulfilled that need with a dozen different delicious cuts that they improve upon with a rich selection of toppings like blue cheese, lobster oscar, and béarnaise.
West Midtown
You'll know why your steak isn't cheap -- whether it's the $45 filet or the almost-$160 porterhouse for three -- when you take that first bite into Ford Fry's beef. All of it is aged at least 30 days, wet or dry, inside this elegant steakhouse, which turned the brutalist space once occupied by meat-centric restaurant Abattoir into a banquet hall where you can ball out of control. Pro tip: wait until 10pm and get major late-dinner discounts.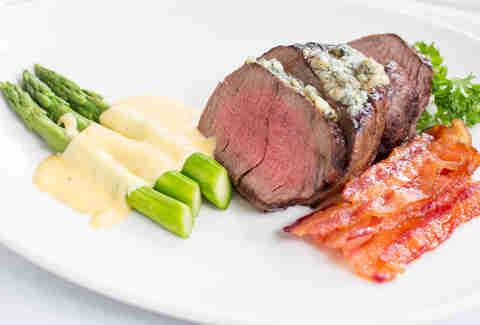 Sandy Springs
The newest comer in the meat game makes a statement in Sandy Springs with a Spanish-American hybrid menu that can easily please you with lamb, sea bass, foie gras, etc., but all the leather inside this wood-heavy space should remind you what you're here for: the Braveheart Black Angus Beef.


Buckhead
The jackets, big red booths, and white tablecloths have been around since 1979, but just last year Bone's received the highest rating for food and service of any steakhouse in America. That means almost everything here, like the dry-aged, bone-in, 20oz ribeye, is perfect.

Sign up here for our daily Atlanta email and be the first to get all the food/drink/fun the ATL has to offer.

Mike Jordan once ate at Peter Luger's in New York City, and completely understands how a steak can be worth more than your college degree. He's seen how some of these restaurants prepare them, and it's pretty similar; if your budget only allows one or two of these spots this year, ask him on Twitter at @michaelbjordan, and he'll share the secret, because steaks is high.