Some things about potatoes are obviously up for debate -- if they're good for you, how they're spelled (we're looking at you, Dan Quayle) -- but there's absolutely no doubt that tater tots are the best way to eat 'em. However, so many of Atlanta's chefs are turning these crispy nugs into spudly masterpieces, that picking the best tots can actually be pretty tough. Luckily, we did it for you...
5. Zesto
Little Five Points
What you're ordering: Chili Cheese Tots
Quick, fast, and oh-so-delicious, Zesto's tots have a street-food-ish style that's perfect after a night out in Little Five. This simple staple is like the Waffle House of tots: always consistent, and always filled with people who really should cut down on the carbs delicious.
4. Flip Burger
Poncey-Highland
What you're ordering: Sweet Potato Tots
Richard Blais' sweet potato tots are made with an appropriately Top-Chef-y coffee and BBQ mixture that gives them a sweet, smoky flavor that's like potato candy.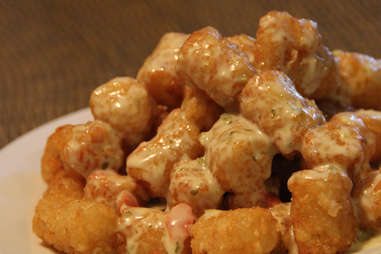 3. The Vortex
Midtown/Little Five Points
What you're ordering: Cheesy-Cheese Goo
This burger mainstay's Cheesy-Cheese Goo is like fondue, but without all those French pretensions like long forks and vegetables. Pro tip: smother your tots in it, but let them sit for just a minute. The coagulation gives you little tot bunches.
2. The Highlander
Poncey-Highlands
What you're ordering: Tots All The Way
The Highlander's tots are suitably hardcore given's this boozer's badass metal bar rep. You'll get a massive heap of just-crunchy tots smothered with toppings that would make any plate of nachos jealous.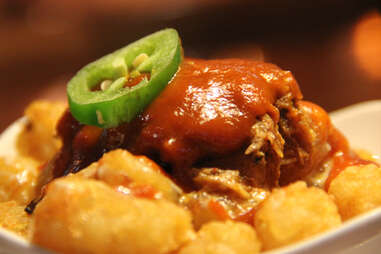 1. The NookPiedmont Park
What you're ordering: Redneck Totchos
Piedmont Park may not have any double wides in it, but that doesn't mean that you can't enjoy that authentic trailer park flavor. Pulled pork, barbecue sauce, and a little jalapeno for heat make these tots a full meal, whether your house has wheels or not.