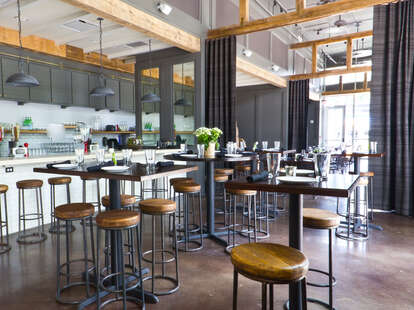 Biggie Smalls might have preferred filling his belly with a T-bone steak, cheese eggs, and Welch's grape, but when you hit the sexy new wood-laden date spot, Saltyard, from the gang behind Italian pasta house La Grotta, you'll be filling yours with what they're calling "biggie small" plates of locally sourced cheese, veggies, charcuterie, and other nosh so good you can stop eatin' five-cent gums, 'cause you know where your next meal's comin' from.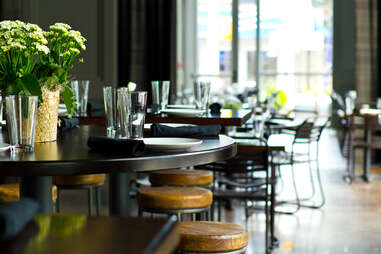 The design rock stars at Square Feet Studio warmed the Buckhead space with dark wooden tables, and the kind of intimate lighting that'll make... um, almost anyone look good on a first date.
Show your girl your sensitive side and start with some fancy roughage like this asparagus/heirloom tomato salad w/ Pecorino cheese & a farm-fresh poached egg on top, or a gold beet carpaccio served w/ green apple, fennel & something the Knicks wish ranch fan Eddy would have tried sometimes: a curry vinaigrette.
In a rare fit of honesty, tell your date you like it raw, then as she contemplates why she ever got on Match.com in the first place, order this classic German steak tartare w/ quail egg & white anchovy; oysters w/ Sriracha mignonette; or scallop crudo w/ orange & pistachio.
The aforementioned "biggie small" section of the menu means things like a cutting board of house-cured salmon chips w/ lemon-dill mascarpone & salmon roe, lemon & ale braised chicken thighs, and a Juicy hanger steak w/ so many fries you'll be Ready To Die by the time you finish.