Joining the illustrious ranks of East Andrews Entertainment District spots like Atlanta Improv Comedy Club, Czar Ice Bar, and Prohibition, Stillhouse is a... um, Prohibition era-inspired barstaurant lacing you with smoked/infused moonshine 'tails, and a slew of handcrafted burgers, the latter of which are so next-level, it's safe to assume the chefs have gotten into the former.
Recommended Video
Is Dessert Pizza Really a Pizza?
Decked out in dark woods, with vintage tin ceiling tiles, and Troy & Sons whiskey barrels used as highboy tables, Stillhouse's old-school tavern-y feel will make your grandpappy feel right at home... until he realizes it's 730p and Jeopardy's not on any of the TVs.
The menu boasts 15 burgers, all served "upside-down" 'cause the chef's hitting the moonshine, remember?! meaning the sauce-/cheese-laden top is flipped up. For example: this PB&J burger stacked high w/ two beef patties, GA peanut hummus, fig jam, sliced peaches & topped with melted blue cheese and pecans.
The Steak & Eggs burger features two steak patties, deviled eggs, green tomato relish & a sharp cheddar cheese sauce, and is the perfect way to start your day... but too bad, sucka! This place doesn't open 'til 5p!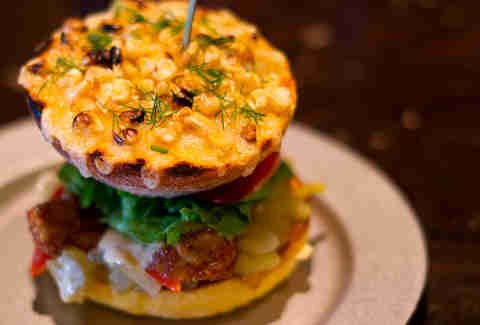 Don't want beef? Then you probably shouldn't record a song in which you claim to have had sex with Biggie's wife, Tupac! But you probably should try the Fried Oyster burger w/ lemon remoulade, green tomato relish, Jack cheese & grilled corn...
... or the Skeeter Branch Duck burger w/ ground duck patties, pickled beets, duck confit & SC goat cheese.
Small bites include mussels in moonshine, fried green tomatoes, and these thick-cut fries smothered in pork gravy, which are like an awesome poutine but without the cheese curds, so they're whey better.
The bar boasts 45 different moonshines (give or take whatever the chefs are drinking), which Stillhouse is infusing with everything from ginger to peaches, and using to make sweet cocktails like the Thyme to Shine w/ Troy & Son's Platinum hooch, muddled fresh blueberries, honey, grapefruit juice and... waitforit!... thyme.