Kevin Gillespie Was Destined From Birth to Be Atlanta's Culinary Hero
Kevin Gillespie, a 34-year-old Top Chef vet and the owner of Gunshow and Revival in Atlanta, is a local culinary hero. And like so many heroes in popular culture, he bears certain marks (no, not the tattoos) that signify his status as someone exceptional. Over coffee at Revival, his upscale take on a meat-and-three, he explains how two birthmarks and a peculiar family belief bolstered his rise to celebrated chef and restaurateur.
"This is some Old World shit," he begins with a chuckle. When he was born, his paternal grandmother, Granny Geneva, noticed a slit in his earlobe and a streak of white hair on his leg, still visible today. The birthmarks were identical to those of her late husband, an imposing patriarch who had passed away just a month before. She dubbed the infant the reincarnation of Pa Clint, and no one argued.
Granny Geneva put black coffee in his baby bottle, because that's what Pa drank.
Thanks to those marks, the young Scotsman got special, sometimes strangely grown-up treatment throughout his childhood. For starters, Granny Geneva put black coffee in his baby bottle, because that's what Pa drank. When he could hold a mug, Gillespie continued the coffee habit, and "nobody ever bothered to hand me the milk or sugar like most of the other kids," he says (he was never a good sleeper anyway). At his grandmother's dinners, he got first dibs on the most succulent pork chop and fluffiest wedge of cornbread.
Granny Geneva also granted him recipes. Starting around age 7, he learned to make Southern standards like smoky greens, whipped sweet potatoes, and cornmeal-crusted catfish while his cousins played in the sun. Being a favored child had its burdens, too. It fueled fights with his sister and cousins. His working-class family in Locust Grove, Georgia, pressured him to make straight A's and get a science degree from a top university. "Attention was put on me to be the one who broke the cycle of poverty," he says. He applied to Ivy League schools but subtly sabotaged himself by leaving out a required essay here, a letter of recommendation there. He had his sights on the riskier path of cooking.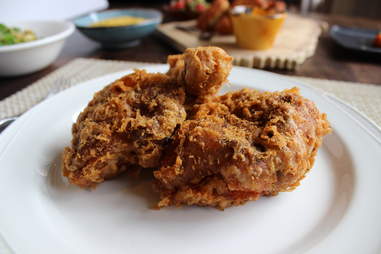 Revival

| Courtesy of Revival
He chose the culinary program at the Art Institute of Atlanta. "I thought my family was going to be heartbroken when I told them that I wasn't going to MIT, because everyone expected that of me," he says. He remembers the murmurs of disapproval: "Why would he waste this magical thing? Why would he waste that on cooking?"
After graduation, Gillespie threw himself into modern American cuisine at Atlanta's Ritz-Carlton, and later Woodfire Grill. It was less magic than talent -- and a fierce work ethic -- that propelled him to executive chef and part owner of Woodfire by age 27. His journey to the finals on Top Chef Season 6 brought a swell of bookings to the high-end restaurant, but it seems Gillespie's inner patriarch wanted more creative control, more flexibility in the dining experience.
He applied to Ivy League schools but subtly sabotaged himself. He had his sights on cooking.
Our red-bearded protagonist left in late 2012 to plan Gunshow, named for a favorite weekend activity he used to share with his father. Gillespie sited the dangerously original restaurant in the Glenwood Park neighborhood, near the trucking terminal where Pa Clint reported for work. The chef chose a loose format that spawns invention and surprise: Around eight young cooks, led by Executive Chef Joey Ward, create the menu of small plates with seasonal products weekly. Ephemeral dishes such as chicken-fried lobster and pork belly larb, as well as staples like warm banana pudding under an epic dome of meringue, circulate the sparse dining room on a dim sum cart. Gillespie also shares the open kitchen with renowned guest chefs from around the country, dubbed "Hired Guns" (think Bryan Voltaggio, Vivian Howard), who showcase their own dishes during two-day events.
In 2015 Gillespie followed with Revival, a suburban, family-friendly eatery that values comfort over novelty. He modeled the wainscoted rooms after the farmhouse of his late maternal grandmother, Coylene Higgins. The restaurant's decor includes her Depression-era candy dishes, hurricane lamps, and even the contents of her sewing box. Along with Executive Chef Andreas Müller, Gillespie developed a traditional Southern menu that emphasizes seasonal vegetables and other "trimmings" for guests to share, the way Granny Geneva always cooked for company. Signature dishes include fried chicken, hickory-smoked local greens, and a popover-style cornbread that's a family secret -- his great aunt anointed him with the recipe when he was a child, naturally.
Gunshow

| David Crawford
Gillespie's family now celebrates his choice of saucepans over beakers. They gather for important occasions at Revival, such as Granny Geneva's 90th birthday last year. The matriarch offers high praise in her subtle way, he explains: "If someone says, 'Granny, will you make a pot of greens?' She'll say, 'You should call Kevin. His are better than mine.'"
The chef's culinary feats extend well beyond the family circle: three James Beard Award nominations, two cookbooks (a third is underway), top marks for Gunshow, and frequent appearances on TV shows such as CBS This Morning. "I do still feel if [my family] believed so much in me, then I don't want to let them down," he says. "I think I push as hard as I do, even on the days when I don't really want to, because I feel like I owe it to them."
It's true what they say: not all heroes wear capes. Some don coffee-stained aprons and will save you from a bad meal with the best chicken-fried lobster you'll ever have.
Sign up here for our daily Atlanta email and be the first to get all the food/drink/fun the ATL has to offer.
Jeanée Ledoux writes about great food, design, and destinations. When she's not busy running her freelance business, FinelyCrafted.net, she's scouring a vintage store for midcentury treasures, doing yoga, or playing fetch with her blind dog.