This insane pork belly pizza is made with beer
The greatest combinations of all time -- pizza & beer, peanut butter & jelly, the three numbers ending in 69 that opened your locker in 7th grade -- are hard to improve upon, which is why it's taken this long for someone like the mad scientists at Slice & Pint to think of a way to make the first of those examples better. They're turning some of the beer, specifically the yeast, that they make on site into super-tasty 'za dough, and topping it with things like locally sourced pork belly and Pimento cheese.
Opened in the space that used to house Decatur 'za institution Everybody's, S&P is planning to pour 500 14 local craft brews and, by the end of the year, a slew of their own proprietary suds, which means they should have a beer to please... waitforit... everybody.
But screw that, you're here for gorgeous farm-to-table pies like this hyper-locally sourced Southern Pie w/ Spotted Trotter sorghum-infused pork belly, fried green tomatoes & Pimento cheese just like the owner's grandma used to make... Seriously, it's from her recipe.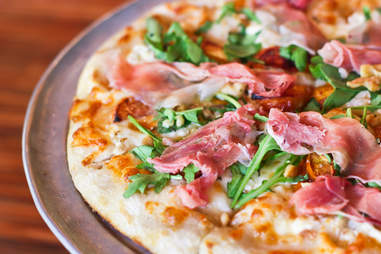 Additional 'za options include this sexy GA peach & prosciutto pie with toasted walnuts & arugula, and a cheddar-/ mozz-/ Vidalia onion-topped Swine Pie, which may sound like an intoxicated response to the question, "What are you drinking?", but is actually a reference to all the Riverview Farms pulled pork they also put on it.
Non-pizza eats include these "loaded" cheese fries topped w/ bacon & jalapenos, house-made Parmesan-stuffed sweet potato tots, and...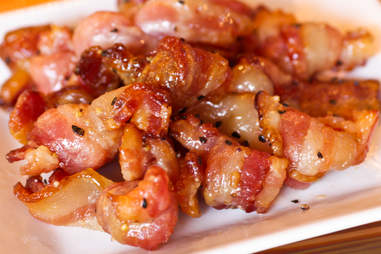 ... these off-menu candied bacon knots that are totally delicious, and totally secret... oops!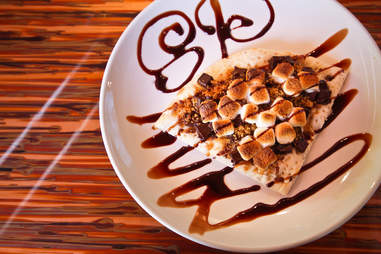 If that's not enough, you're probably not height and weight proportionate... and you might want to take a dessert pie topped with another one of the greatest combinations of all time: quarter-circle forward + punch with Ken in Street Fighter II! Just kidding, it's chocolate and marshmallows.