Don't sleep on before getting gourmet sammies, ice cold brews, and Jack & Coke slushies, as Victory's expanded their much adored Inman Park flavor-dream to Decatur. The shop serves Hambos with prosciutto, mozzarella, arugula & apple, slow-roasted pork Castros with pickles and Fontina cheese, and spiked sodas like the Victory Libre with lime, rum, and Mexican Coke.
Recommended Video
Stay Classy This Winter With a Spiced Pear Tom Collins
Previous Venue
Next Venue
Venue Description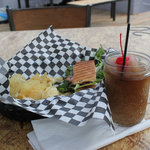 1. Victory Sandwich Bar Decatur
340 Church St, Decatur, GA 30030
The Victory Sandwich Shop in Decatur is known for its small but mighty selection of tiny, affordable, and cleverly named sandwiches. The pressed squares' flavor combinations range from the Tea Bird, with chicken, ghost pepper jack, tomato, lettuce, and sweet tea mayo, to the Okie Dokie, with Brie, confit tomato, artichoke, arugula, and pesto. If you're looking to mix it up, salads and sides are also options. On the beverage side of things, get a brain freeze from a "world famous" Jack and Coke Slushie or sip on a spiked soda.