The best way to impress that girl you met on OkCupid is to... um, not be the kind of guy who meets girls on OkCupid, but the second best way to impress said girl is probably by taking her to Ink & Elm, a meticulously designed eat/drink space boasting a massive dining room, a tavern, and a scotch lounge, each supplying distinctive eats (from cheeseburgers to next-level ribs) and enough sweet libations that, at the end of the night, she might just say, "Ok... I guess I'll go out with you again."
The bar focuses on cocktails made with champagne, and various types of whiskey, as evidenced by this combination of Redemption High Rye, Malbec, fresh lemon & orange, which, if you added an "'s" to the middle of its name, would perfectly express how Giants fans feel about the fact the Falcons are so much better than them this year: NY Sour.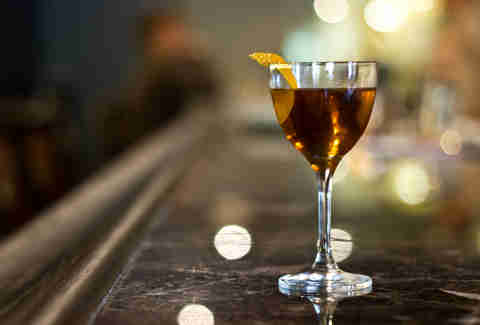 But they've also got this subtle mixture of Plymouth gin, sweet vermouth, Fernet Branca & orange bitters called the Hanky Panky, which thoughtfully allows you to start your evening getting what you probably won't be getting at the end of it.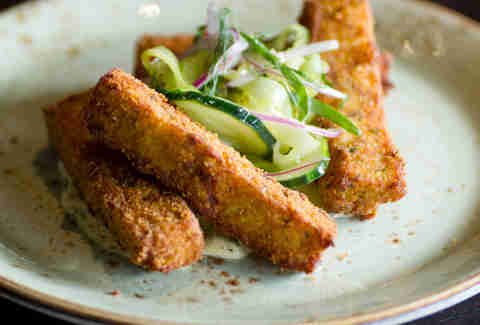 Menu offerings range from more casual eats like these Tennessee catfish fritters w/ pickled green tomato, cucumber & country remoulade on the tavern side of the establishment...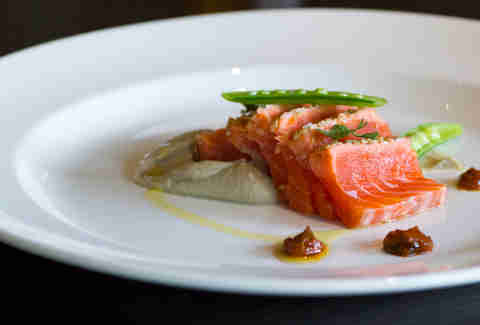 ... and fancier vittles, including wild salmon (as opposed to wild John Salmons, which is only available in limited minutes at King's games) that's seared rare and served w/ harissa, an eggplant puree, benne, and snap peas.
Heftier entrees mean the I&E cheeseburger with velvety Velveeta fondue (seriously!), arugula & Worcestershire aioli on a benne bun with a side of crispy potato wedges.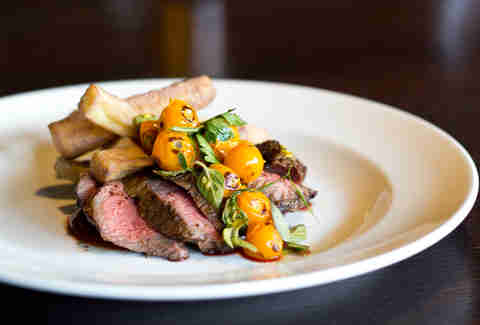 In the end though, the ultimate way to impress your date is to keep your mouth shut about still living in mom's basement forchristsake! order the steak frites w/ perfectly grilled culotte steak, eggplant frites & charred baby tomatoes.